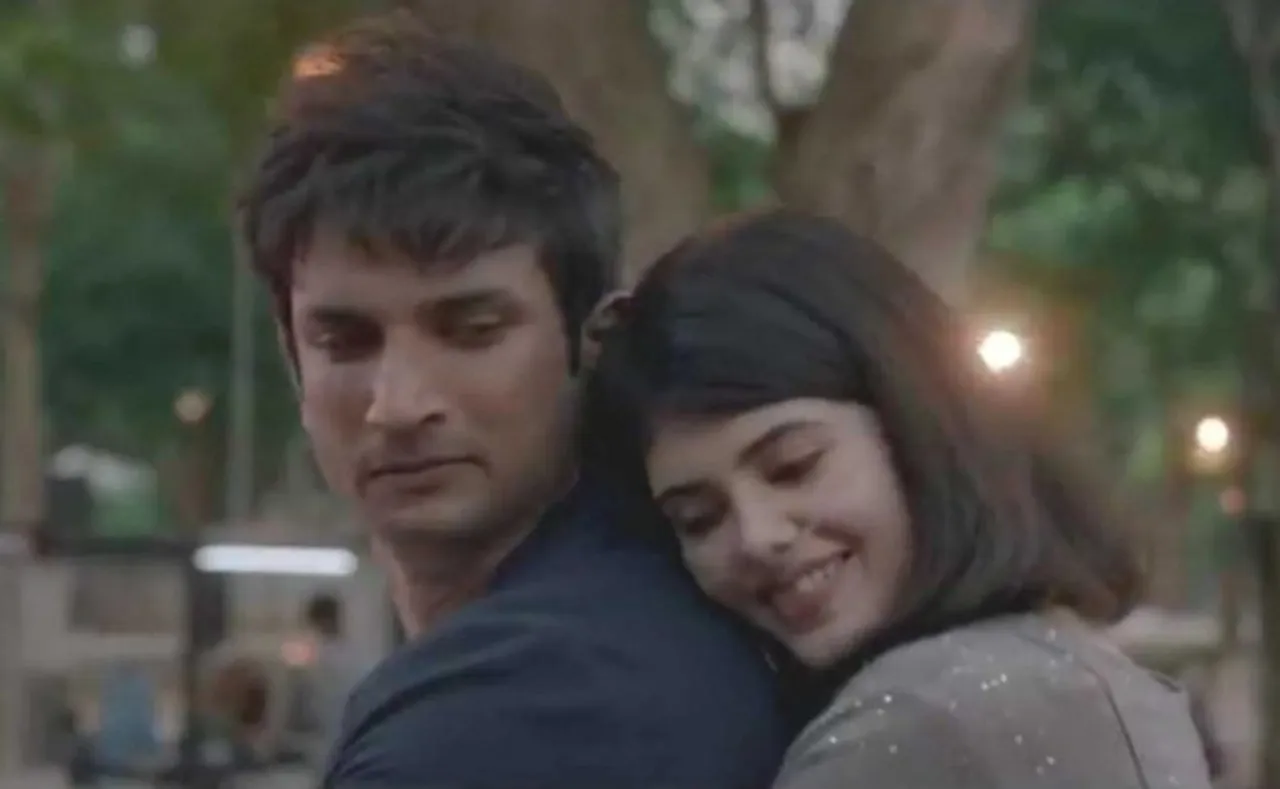 Watching Dil Bechara was a painfully surreal experience. How often does it happen that watching a character onscreen somehow bridges the gap between reality and fiction? Actor Sushant Singh Rajput, who died by suicide last month, plays a terminally ill character in the film. And the audience is mostly aware of how this tragedy is going to pan out, both in reel-life and in real-life, given the film's source novel, The Fault in Our Stars.
Dil Bechara, as stated above, is the Indian adaptation of John Green's Young Adult novel. Sanjana Sanghi and  Rajput step into the parts played by Shailene Woodley and Ansel Elgort in the Hindi adaptation scripted by Shashank Khaitan and Suprotim Sengupta. The film is the directorial debut of casting agent Mukesh Chhabra. It also stars Sahil Vaid, Saswata Chatterjee, Swastika Mukherjee in pivotal roles. Saif Ali Khan also makes a guest appearance in the film. The melodious soundtrack is composed by none other than the music maestro A.R. Rahman himself. The film— Rajput's only posthumous release—premiered on Disney+Hotstar on July 24, and is free to watch for subscribers and non-subscribers both.
 The Setting
Set in Jamshedpur, the film is narrated in a voiceover by Kizie Basu ( Sanghi), a college student dealing with thyroid cancer. Her illness forces her to rely on an oxygen tank to breathe. Kizie is an introvert and a loner, who wanders around in graveyards and gatecrashes funerals in the hope of preparing herself for the impending doom that she feels is soon coming for her. But all of Kizie's life plans go for a toss when she comes face to face with Immanuel Rajkumar Junior or Manny (Sushant Singh Rajput). Manny is a bubbly college alumnus who makes light of his disability that was caused by osteosarcoma. And although his antics initially annoy Kizzie, the two soon start to bond over Thalaiva Rajinikanth's movies and an incomplete music album.
The low-key courtship then begins: he has a prosthetic leg; she has to lug around an oxygen cylinder; time is running out for both, but neither wants to let the inevitability of terminal diseases weigh them down. From hospital beds to Jamshedpur streets to Paris hotels, the film journeys through a whole range of places, as the audience rides along through a whole range of emotions.
Debutante Sanjana Sanghi is an impressive and confident actor who keeps the character of Kizie natural and engaging. Both Saswata Chatterjee and Swastika Mukherjee bring depth to their performances as parents of a child suffering from cancer. Although the same cannot be said about the direction of the film, for Chhabra's rendition seems crazily hurried. It ends up trampling the essence of some very fundamental relationships, like that of Kizie and her parents. There was also a gnawing feeling that Rajput, who notched up several fine performances in a tragically brief career, perhaps deserved a more stimulating swansong.
Also Read: Before The Release Of Dil Bechara, Here's Looking At Some Of Sushant's Best Performances
But having said that, the film has and will always remind us of Sushant Singh Rajput, and the life he lived. Had the circumstances been different, the perspective on the film would perhaps have been different as well. But it's hard to look at Manny, the character, and not, Sushant, the actor. And maybe that is where this story about the ephemeral nature of life almost takes a poetic turn for itself.
Farewell Sushant
"Pain demands to be felt"—Hazel's favourite book from The Fault in Our Stars did not make it to the Hindi adaptation, but its famous line still held true to its spirit as the country sat down to watch Sushant for the last time onscreen. His character Manny says somewhere in the film, "can we just pretend that I'm not dying, that I'm not going anywhere?" And that is perhaps we all did: pretended to hold on to the phenomenal talent that was lost last month.
Also Read: I hope you're finally at ease, Sushant. Here's why we failed you.
The film's message of rejoicing in life and love, even in the face of impending death, is bittersweet and poignant. The last part of the film is heartbreakingly similar to the real-life situation of the film's release. As the end credits roll, it is hard not to feel deeply moved by Manny's voiceover: "We don't get to decide when we're born or when we die. But we do get to decide how we live our lives." And to be very honest, the character of Manny does end up taking a special place in one's heart. Like Rajput himself, the character teaches us how to live, and how to dream. And the film, in reflection to this character, rejoices not in grandeur, but in its tiny heartfelt moments.
Dyuti Gupta is an intern with SheThePeople.TV. The views expressed are the author's own.