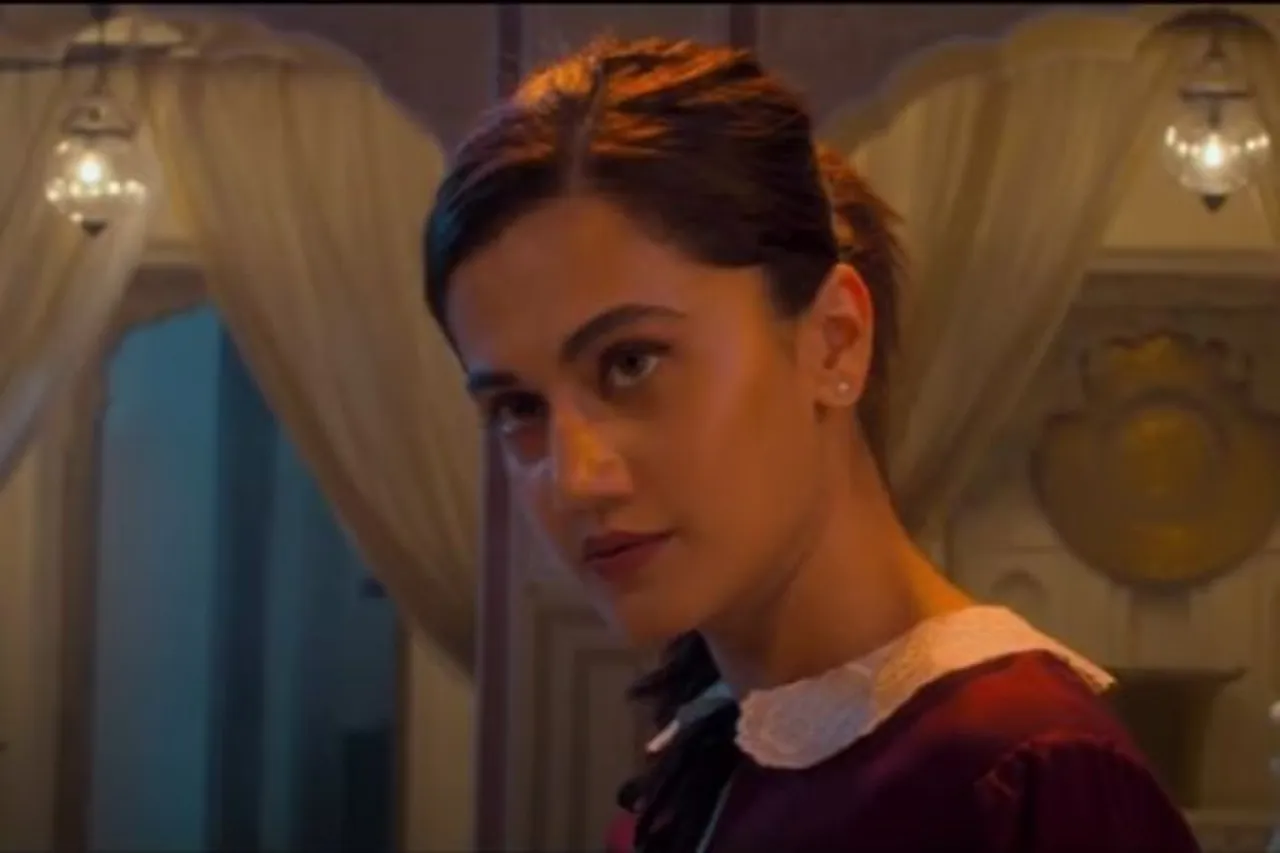 Wondering where can you watch Annabelle Sethupathi online? The horror comedy will release on OTT soon. The trailer dropped on August 30 and viewers are eagerly waiting for the movie.
Taapsee Pannu and Vijay Sethupathi will be seen in the lead roles in this Deepak Sundarrajan directorial.
What does the trailer reveal?
The trailer tells us the story of a king (Vijay Sethupathi) who built a castle for his fiancée, Annabelle (Taapsee Pannu) in the 1940s. Then comes Jagapathi Babu who has his eyes set on the architectural wonder, which appears to be haunted. However, the king refuses to sell it because it reminds him of his beloved. In 2021, the king falls in love with a woman who resembles Annabelle. What follows is a comedy of errors, where a number of ghosts try to befriend the woman.
What do the actors say?
The lead actors of Annabelle Sethupathi shared the movie's first look. "Coz sometimes one life is not enough to see it all," wrote Pannu on Twitter. She added that the movie will be available in Tamil, Telugu, Hindi, Kannada and Malayalam.
Coz sometimes one life is not enough to see it all. #AnnabelleSethupathy

Streaming in Tamil, Telugu, Hindi, Kannada and Malayalam from September 17 only on @DisneyPlusHS pic.twitter.com/DTm9WGIf77

— taapsee pannu (@taapsee) August 26, 2021
Sethupathi also shared the posters featuring the movie's name in different languages and tweeted, "Here it is#AnnabelleSethupathi first look."
Here it is #AnnabelleSethupathi First look.

Streaming from Sep 17th on @DisneyplusHSVIP @taapsee @IamJagguBhai #RajendraPrasad @realradikaa @iYogiBabu @vennelakishore @SDeepakDir @Sudhans2017 @jayaram_gj @PassionStudios_ @goutham_george @PradeepERagav @tuneyjohn @sureshnmenon pic.twitter.com/t8LYeS62DV

— VijaySethupathi (@VijaySethuOffl) August 26, 2021
Pannu announced the release of the film's first video song Vaanil Pogum Megan sung by Armaan Malik and Chinmayi Sripada. She took to her Twitter handle and wrote, "The first video song of #AnnabelleSethupathi is here to take your heart away!"
The first video song of #AnnabelleSethupathy is here to take your heart away! https://t.co/cRd2GWifmE

— taapsee pannu (@taapsee) September 6, 2021
Watch Annabelle Sethupathi online on this streaming platform
Annabelle Sethupathi will be releasing on Friday, September 17 on Disney+Hotstar. Taking to her Instagram handle, Pannu shared a picture of herself and her co-star from the sets of the movie on Monday. Her caption read, "Us entering the release week be like...#AnnabelleSethupathy streaming on @disneyplushotstar from 17th September. Come visit our world with your family this festival season!"
Pannu's fancy fedoras and floral dresses have caught the attention of the viewers. Vijay Sethupathi only makes an appearance in the second half. The total run time of the film is around two hours and 14 minutes. It is drama set in a palace about ghosts and incarnations. Even though the film tries to raise curiosity the film has however, failed to impress the Hindi speaking audience in it's dubbed version.
The film has been co-produced by Sudhan Sundaram and G Jayaram. You can watch the trailer below:
Suggested readings:
Here's Where To Watch Annabelle Sethupathi, Taapsee Pannu's Upcoming Horror Film
Taapsee Pannu Starrer Annabelle Sethupathi's First Song Out Now!
Taapsee Pannu Releases Annabelle Sethupathi Trailer, Film To Release In September