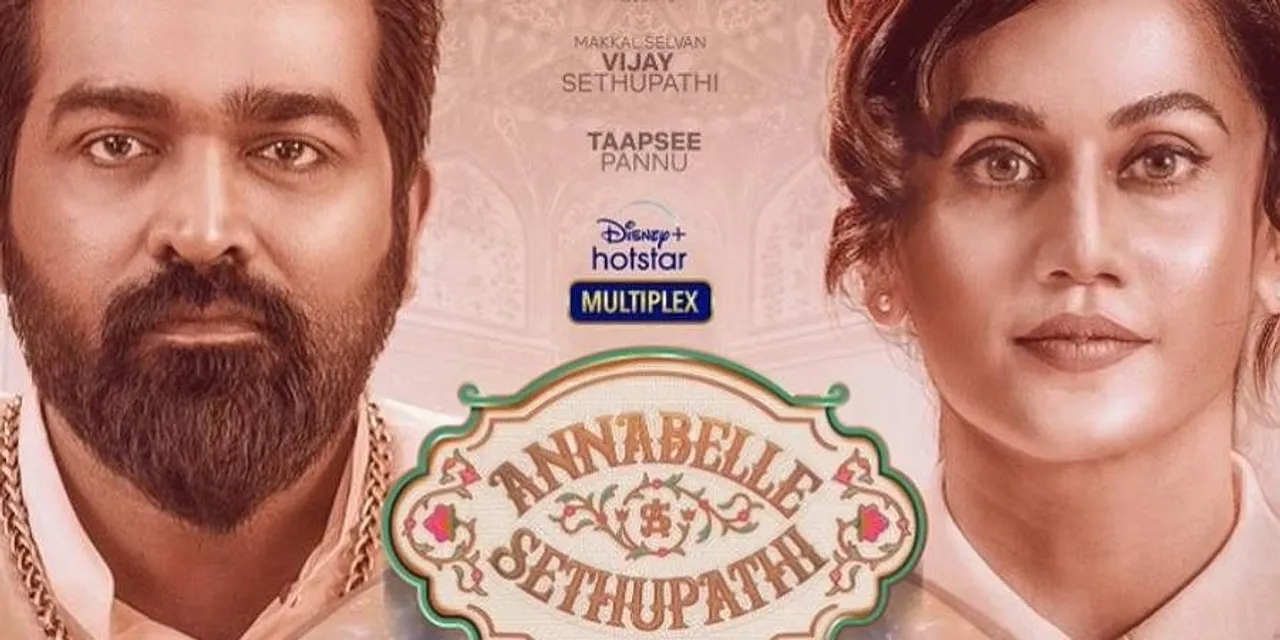 Annabelle Sethupathi trailer: Taapsee Pannu shared the trailer of Annabelle Sethupathi which is her upcoming South Indian film alongside Vijay Sethupathi.
Pannu took to her handle on Instagram and wrote while sharing the trailer of Annabelle Sethupathi, "Kelambidichuppaa kelambidichu! Peyellaam koottamaa kelambidichu. Enge?"
Here it is #AnnabelleSethupathi First look.

Streaming from Sep 17th on @DisneyplusHSVIP @taapsee @IamJagguBhai #RajendraPrasad @realradikaa @iYogiBabu @vennelakishore @SDeepakDir @Sudhans2017 @jayaram_gj @PassionStudios_ @goutham_george @PradeepERagav @tuneyjohn @sureshnmenon pic.twitter.com/t8LYeS62DV

— VijaySethupathi (@VijaySethuOffl) August 26, 2021
In the first look of the poster, Taapsee Pannu and Vijay Sethupathi are seen dressed as opposites as Sethupathi dons on a Sherwani while Pannu wears a gown and bow. The film is being directed by the son of the veteran director Sudaranjan, Deepak. It is being produced by Sudhan Sundaram and G Jayaram under Passion Studios.
What is Annabelle Sethupathi about?
According to reports, Taapsee Pannu will be seen in a dual role. One would be as a queen and the second would be the complete opposite, burglar. The film is going to be a horror-comedy as King Veera Sethupathi builds a palace for his beloved Annabelle in 1948 which becomes haunted in 2021.
When and where can it be watched?
Initially, Annabelle Sethupathi was planning for a theatrical release but because of the prevailing conditions of the pandemic, things took a different turn. The film will be directly releasing on the OTT platform of Disney + Hotstar. On Twitter, Vijay Sethupati shared the various links of the trailer being available in different languages. It is going to be available in Tamil, Telugu, Hindi, Kannada and Malayalam. The film Annabelle Sethupathi will be released on September 17, 2021.
Here it's #AnnabelleSethupathiTrailer.

Tamil : https://t.co/CIg4q2qVYx

Telugu : https://t.co/ALU2lRVOxK

Hindi : https://t.co/K5WqJMcSvz

Kannada : https://t.co/K5WqJMcSvz

Malayalam : https://t.co/Gey6F3aoNT

Streaming from Sep 17 on @DisneyPlusHS #AnnabelleSethupathi pic.twitter.com/J5cSZoYuo7

— VijaySethupathi (@VijaySethuOffl) August 30, 2021
The director of the film Deepak Sundarajan said, "Annabelle Sethupathi is a truly special story. This isn't just a fantasy-comedy, Annabelle Sethupathi is rich and promises a ride of emotions - laughter, tears, emotion, drama, thrill, fear and love. I am thrilled that more people will be able to enjoy Annabelle Sethupathi in the comfort of their homes as it makes its grand premiere on Disney+ Hotstar."