If the saying "love never felt so good" had a human representation, it would be this dynamic duo: cricket sensation Virat Kohli and the actor Anushka Sharma, affectionately known as #Virushka.  The duo, often hailed as one of the most celebrated couples on and off-screen, has shattered the myth of choosing between a thriving career and love. Together, they've proven that, with your biggest cheerleader and confidant by your side, conquering the world is not just a possibility but a beautiful reality.
Moments after the Indian cricket team lost to Australia in the ICC World Cup Final at Narendra Modi Stadium in Ahmedabad on Sunday, actor Anushka Sharma was seen hugging husband and cricketer Virat Kohli near the stands.
Kohli, who was named the player of the tournament for his stupendous runs, was named as the top-scoring batter but that wasn't enough for him to get his hands on the trophy. Kohli scored a 63-ball 54 before being dismissed by Australia skipper Pat Cummins.
Chasing a target of 241 runs, Australia won on Travis Head's 120-ball 137 to clinch their 6th ODI World Cup title.
Virat Kohli hugged Anushka Sharma after the World Cup final lose.

- He is Heartbroken...!!!!!! 💔 pic.twitter.com/m7t79l0QOX

— CricketMAN2 (@ImTanujSingh) November 19, 2023
In 2015, when India faced defeat against Australia, the internet was ready to bash Anushka for Virat's performance. Instead of letting the storm of criticism break them, Virat held Anushka's hand, walked out of the airport, and showed the world that they stand united in every dark time amidst the world of trolling.
Fast forward to November 15, 2023, on the evening of the semi-final between India and New Zealand, Anushka, clapping the loudest in the stadium, witnessed Virat living one of the most precious moments of his life, proving that they've come a long way together.
In this heartfelt feature, we delve into the top 8 internet-favourite moments that unfolded during Ind vs NZ semi-finals in Mumbai, showcasing how this power couple makes us believe in love, both on and off the cricket pitch.
Flying Kisses and Shared Glances
Virushka moment at Wankhede Stadium. 😭❤️@imVkohli • @AnushkaSharma • #ViratGang pic.twitter.com/hz38BZwjuX

— ViratGang.in (@ViratGangIN) November 15, 2023
The evening began with a heartwarming and sweet exchange of flying kisses between the cricketer and the actor. Caught on camera, this moment showcased their deep connection, leaving everyone gushing about their inseparable bond.
Anushka's Sigh of Relief:
November 15, 2023
During the recent semi-final, when Virat faced an early LBW shout, the tension in the stands was palpable. Anushka's reaction, folding her hands in gratitude and heaving a sigh of relief when Virat survived, mirrored the couple's shared journey through ups and downs.
The Worried Cheerleader:
Anushka's genuine concern for Virat's well-being was evident as she passionately cheered for him. When he tripped while taking a run, her worry mirrored the emotions of every fan, creating a relatable connection between the couple and their supporters.
Celebrating Milestones Together:
Virat's emotional tribute to Sachin Tendulkar after hitting his 50th ODI century was a poignant moment of the match. Anushka's joy knew no bounds. The stands witnessed a shower of flying kisses from Anushka to Virat, marking a celebration not just of cricket but of their shared victories.
Pov : She was there at your worst ; so you never miss to appreciate her at your BEST 🤌🏼

[#ViratKohli #AnushkaSharma #Virushka] pic.twitter.com/DEBZkc8jZX

— GONE CASE ♡ (@gonecasef) November 16, 2023
Virat Seeking Anushka in the Crowd
Men in love is something very different 🥹❤️ #ViratKohli𓃵 #anushkasharma pic.twitter.com/gejjkrjJpi

— Yasha Mishra (@Yasha_yaar) November 15, 2023
In a touching moment captured on video, Virat could be seen searching for Anushka in the stands. This small, yet intimate moment, showcased their connection as Virat leaned and looked for his wife, emphasizing their shared journey in the midst of the cricket frenzy.
Anushka's Instagram Ode: A Public Display of Affection
After the match, Anushka took to Instagram to pen a touching note for Virat, calling him "God's child" and expressing gratitude for their journey together.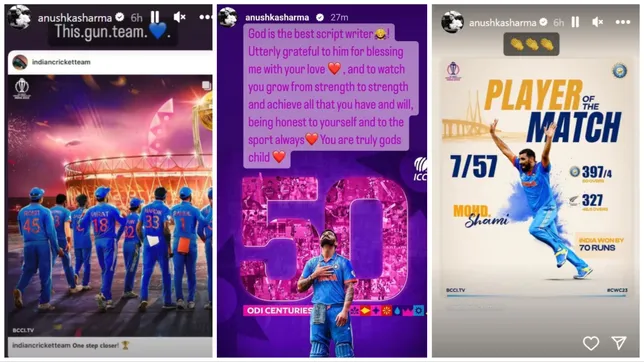 "God is the best scriptwriter! Utterly grateful to him for blessing me with your love, and to watch you grow from strength to strength and achieve all that you have and will, being honest to yourself and to the sport always. You are truly God's child."
Holding Hands in the Spotlight: A Walk of Togetherness
Virat kohli Spotted with Anushka Sharma at Team Hotel after the match ❤️#viratkohli #anushkasharma #virushka pic.twitter.com/pepHOpYxFP

— 𝙒𝙧𝙤𝙜𝙣🥂 (@wrogn_edits) November 15, 2023
Exiting the team hotel, Anushka and Virat, dressed in matching outfits, walked hand in hand, epitomising togetherness through thick and thin. Fans on social media couldn't help but gush over the couple after the match, calling them "major couple goals."
In a world where fame and success often come at the cost of personal relationships, Anushka Sharma and Virat Kohli stand as classic example, proving that love, support, and partnership can be the driving force behind both professional and personal triumphs.
---
Suggested Reading: Virat Kohli Dances To Anushka Sharma's Song At Kolkata Stadium