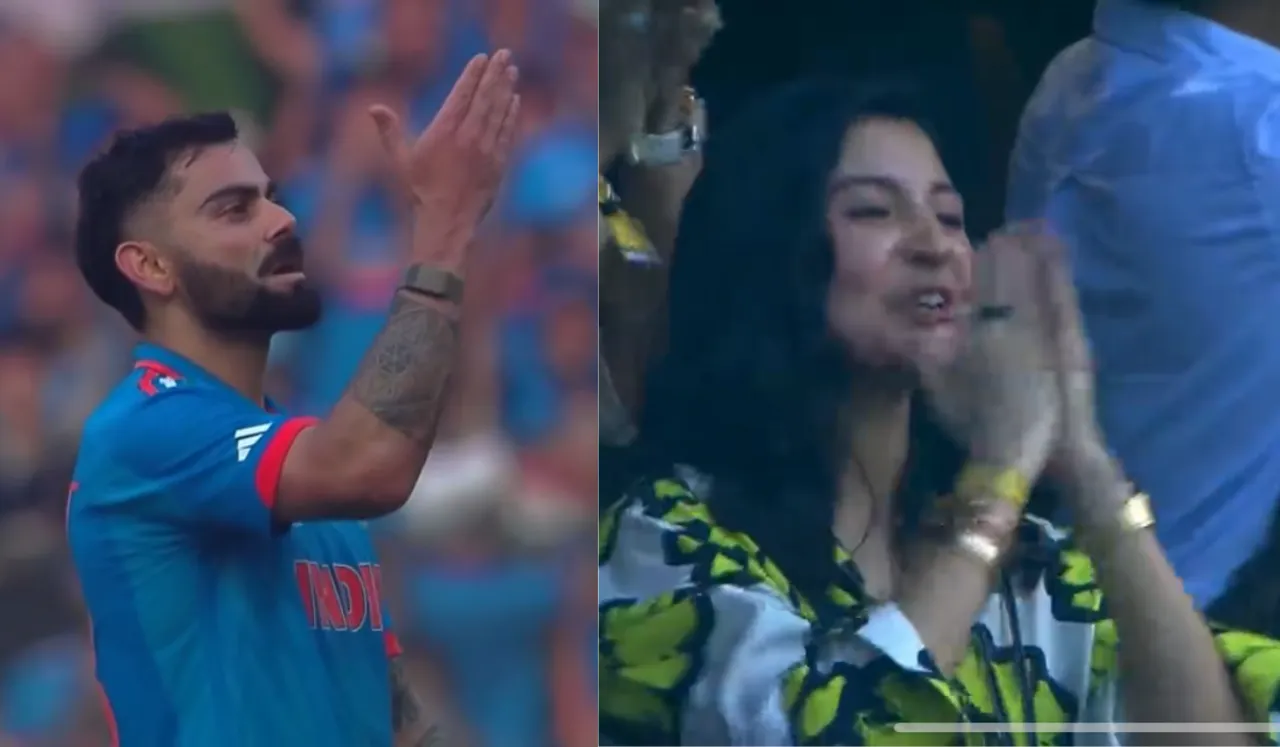 Anushka Sharma was seen in the stands during the World Cup's first semi-final between India and New Zealand, cheering for her husband, cricketer Virat Kohli, as he scored big once more.
Anushka Sharma was seen enthusiastically cheering and reacting to each of Virat Kohli's shots during the India vs. New Zealand World Cup semi-final held at Mumbai's Wankhede Stadium on November 15.
Social media has been flooded with pictures and videos capturing Anushka's presence and vibrant support for Virat and Team India. A heartwarming moment was caught on camera as the couple exchanged flying kisses after, Virat Kohli achieved his 50th ODI century during the ongoing ICC Men's Cricket World Cup, solidifying his position as the all-time leading century scorer in ODI history.
#ViratKohli𓃵 ladies and gentlemen pic.twitter.com/FUcCrDCYZA

— Diksha (@brainybeauty_) November 15, 2023
On November 12, Virat Kohli achieved another milestone by claiming his first wicket in the World Cup. He successfully dismissed the Netherlands' captain, Scott Edwards, during the second over he bowled. The catch, taken by KL Rahul behind the stumps, led to a celebration among Kohli and his Indian teammates. Anushka Sharma was present in the stands, and her priceless reaction has gone viral on social media.
In a display of all-around excellence during the 2023 World Cup, Virat Kohli not only showcased his remarkable batting skills, marked by two centuries and four half-centuries but also left a mark with the ball. He exhibited his bowling prowess, claiming his maiden wicket of the tournament. This moment occurred in the 25th over of the final group game, where Kohli successfully dismissed the Netherlands' captain, Scott Edwards. The wicket not only added to Kohli's personal achievements but also played a pivotal role in solidifying India's position in the crucial match.
Following this unexpected success with the ball, Virat Kohli couldn't contain his joy, and a spontaneous chuckle escaped him. In a heartwarming moment, he looked up towards the stands, where his wife, Sharma, was seated. The two shared a lighthearted exchange, both caught in a moment of shared laughter that resonated with the spectators and fans alike.
A video capturing this joyous interaction between the couple has since gone viral, circulating widely on social media. In the video, Sharma, adorned in a white kurta, is seen grinning from ear to ear, clearly relishing the success of her husband. 
Check it out.
India has secured their spot in the semi-finals of the 2023 World Cup and is set to compete against New Zealand in the knockout match scheduled for November 15. The semi-final showdown will unfold at the renowned Wankhede Stadium in Mumbai, a venue with historical significance for Indian cricket as it was the site of their last World Cup triumph more than 12 years ago.
---
Suggested Reading: Meet Orry Aka Orhan Awatramani? B-Town's BFF Reveals What He Does