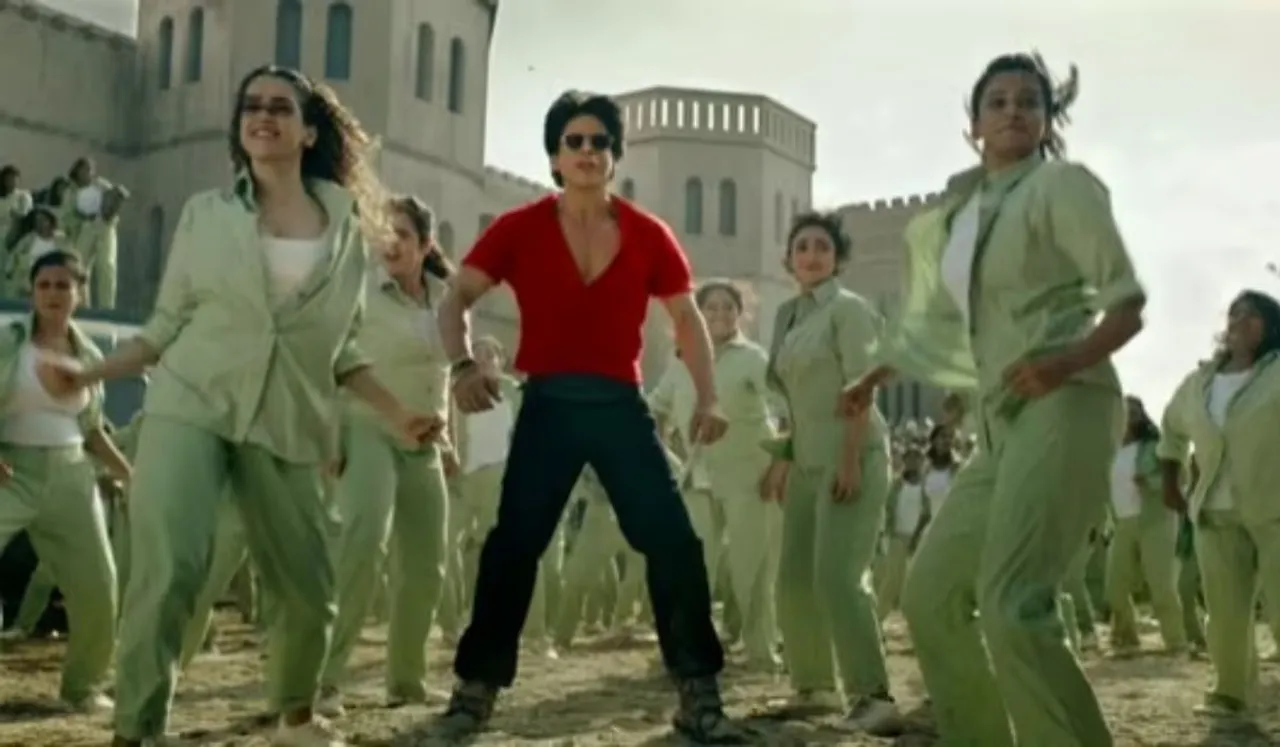 On Monday, actor Shah Rukh Khan released the music video for Zinda Banda, the first song from his upcoming action thriller film Jawan.
He took to Instagram to share a clip from the video and expressed his gratitude towards poet Wasim Barelvi for allowing him to use the beautiful couplet, albeit with a slight modification. The song's lyrics were penned by Irshad Kamil, while the music was composed by Anirudh Ravichander. Shah Rukh Khan captioned the post with a powerful message about fighting for principles and how such battles make one feel truly alive.
Jawan Song Zinda Banda Out
In the nearly four-minute-long music video of the song Zinda Banda, Shah Rukh Khan makes a grand entrance, dressed in a vibrant red shirt and black pants. He is warmly greeted by a lively crowd of girls donning green and white outfits, who cheer enthusiastically for him. Alongside Shah Rukh, the song also features Sanya Malhotra, Priyamani, and others, adding to the energetic vibe of the video.
The song itself is a delightful and groovy number, with catchy beats provoking you to dance along. T-Series shared the music video on its YouTube channel, offering the song in three languages: Hindi, Tamil, and Telugu. While the Hindi version is titled Zinda Banda, it goes by Vandha Edam in Tamil and Dhumme Dhulipelaa in Telugu. The music for the film Jawan has been composed by Anirudh Ravichander, adding to the overall appeal of this thrilling action movie.
Fans had an overwhelming response to Shah Rukh Khan's song Zinda Banda, expressing their deep admiration and love for the superstar. One fan emphasised that SRK is not just a Bollywood star but an emotional connection, an irreplaceable favourite actor, and the undisputed king of their hearts. Another comment highlighted the undeniable allure of Anirudh's music and Shah Rukh's swag, guaranteeing goosebumps for the viewers.
Many fans reminisced about the golden era of SRK's romantic movies, appreciating the unique charm he brought to those films. The song's infectious beats compelled one user's body to start dancing, showcasing the captivating power of SRK's performance. The sentiments expressed were profound, with one comment stating that Shah Rukh Khan is not merely a name but an emotion shared by billions of people across the globe. The overwhelming love and admiration for the megastar continue to prevail among his dedicated fanbase.
Atlee's highly anticipated film, Jawan, is all set for a worldwide theatrical release on September 7 in Hindi, Tamil, and Telugu languages. The movie features an impressive ensemble cast, including Shah Rukh Khan, Nayanthara, and Vijay Sethupathi in prominent roles. Additionally, Deepika Padukone makes a special appearance in the film. Fans can also look forward to captivating performances from Priyamani, Sanya Malhotra, and Ridhi Dogra, who play crucial characters in the movie.
---
Suggested Reading: Deepika Mimics Ranveer From Rocky Aur Rani, Alia Bhatt Reacts