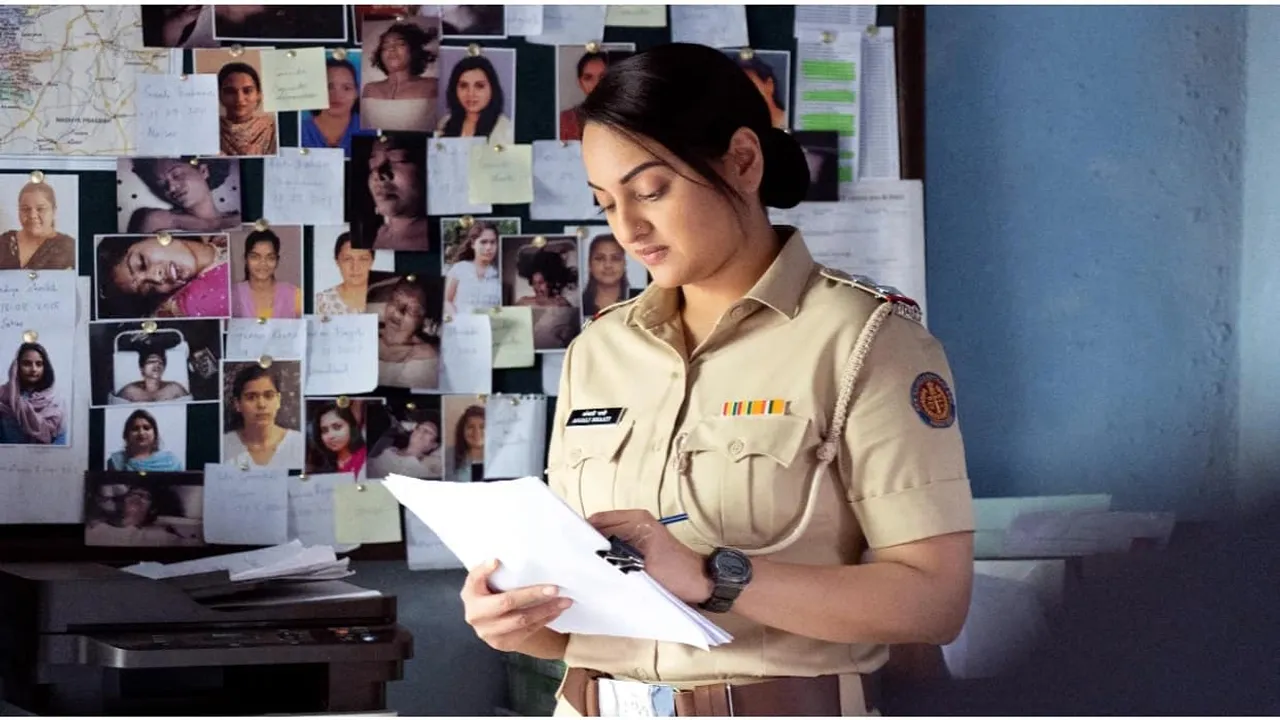 The political class and patriarchy pretend to protect women, when they only seek to exploit
Three films have been in the news over the last month for the same reason. They tell the story of women in India who disappear for no inexplicable reason, and the ensuing search for them plays out.
Three Stories of missing women
I just finished watching the highly acclaimed Dahaad, the Sonakshi Sinha-Vijay Varma starrer famously produced by two of the most celebrated production houses in the country, Tiger Baby-Excel, and directed by Reema Kagti and Ruchika Oberoi.
Almost 30 women are found dead in public toilets across Rajasthan's villages, dressed in their wedding attire, foaming in the mouth and with the bathroom door bolted from inside. Sinha, a 'lower-caste' policewoman whose father encouraged her to rise above her social status, cracks the case in this eight-part series. She chases the pattern of the serial killer and finds all the women have been lured into marriage and a morning-after pill laced with cyanide. She also finds they all belong to 'neechi jaati', or the 'lower castes' as India's Dalits and Scheduled Castes are rudely called, which is why the deaths have fallen by the wayside.
In the Yashowardhan Mishra-directed Kathal, two jackfruits go missing from the home of an influential man in a Madhya Pradesh small town. While solving this case, police woman Sanya Malhotra, also a 'lower caste' discovers that a girl has gone missing too, but no one else paid attention including the upper caste cops in the police station. A recently sacked gardener is the main suspect in the case of the missing jackfruits. Once Malhotra goes to question him, she discovers that his daughter has been missing but the police refused to file a missing person report. Malhotra then turns the missing daughter into a suspect, just to get the police to look for her. The satire eventually unearths a human trafficking racket.
The third film has crossed Rs 100 crore in its cinematic release, but I won't be watching it. The Kerala Story chases a fictitious tale of 'love jihad' in the southernmost non-BJP state where more than 30,000 women have been abducted/ kidnapped/ lured into jihad by Muslim men of the state to Yemen and Syria. The filmmakers have been forced to state via disclaimer that the story is fictional, and the real number of missing women in the state is just 3, but somehow even that didn't serve its purpose. Propaganda is propaganda and those who want to believe that night is day shall continue to do so.

But three films on women going missing in India is hardly a coincidence. I cannot imagine how three scripts with similar themes would release within weeks of each other.
Perhaps it is serendipitous, as they were meant to drive home the point. That our girls are running away. Maybe they need 'rescuing', maybe not. What they definitely needed was to be heard and to be seen.
Dahaad's women are a lost lot, most of their families would not report them as missing. Women who elope – most likely with a man of another caste or against their parents' wishes – are better off being considered dead since losing their 'honour'. In one case, a victim's brother lies to local politicians saying his sister ran off with a Muslim just so they could force the police to register a case, albeit as a politically motivated 'love jihad'.
Feminist website BehanBox reports on the data provided by the National Crime Records Bureau (NCRB): Over 1.1 million Indian women have been reported missing between 2017 and 2021, at an average of 182 women per 100,000 people. From this number, more than 264,000 were minors and over 884000 were adults. Only 67% of these missing women were traced.
Almost as a paradoxical image to the victims of Dahaad, Sinha as a Dalit woman is someone we haven't met before. Her Anjali Bhaati truly rises above her social standing to be a dynamic woman with the agency over her career and sex life. She knowingly mocks the men in the police station, whether senior in rank or status. She spells out the Constitution to a Thakur who won't let her step into his haveli. She tells off her mother who wants her to get married, by showing her photos of the murdered women who had died because of choosing the wrong man in a bid to avoid parental pressure.
Dahaad shows that women go missing to seek love. They choose the love of a near-stranger over their own family, stifled by patriarchy and the golden cage that becomes their home. Quite simply, if love marriages were the norm in India, these women wouldn't end up missing. Or dead.
In Kathal, it's lower-caste women versus the political class. Men, and patriarchy, in a bid to 'protect' women, have only encouraged their exploitation.
In the politically motivated The Kerala Story, the women need saving from Muslim men. But in real life, when some of India's strongest women ask for safety for themselves, like our wrestlers have been doing, the police are sent after them to get them to keep quiet and bear it.
Missing girls and 'gone girls' (rude slang for a female psychopath), India doesn't seem to know what to do with women who won't toe the line drawn by men.
Views expressed by the author are their own. Feat image: A still of Sonakshi Sinha from Dahaad. Credits: Amazon Prime Video
---
Suggested Reading: Why Does The Justice System Continue To Fail Women?