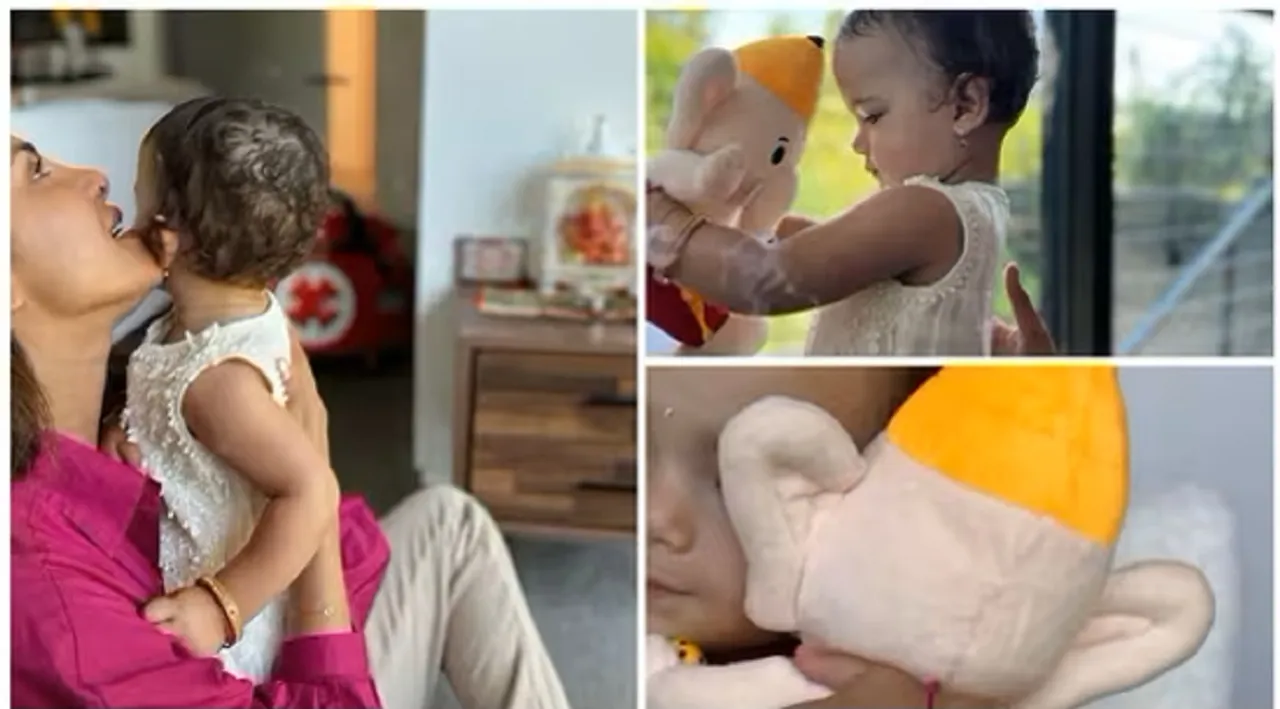 Ganesh Chaturthi, one of India's most widely celebrated festivals, holds a special place in the hearts of people, especially in Mumbai. It marks the return of Lord Ganesha from his heavenly abode on Kailash Mountain to be with his mother, Goddess Parvati.
The festivities associated with Ganesh Chaturthi are known for their grand and joyful nature, spreading happiness across the country. Bollywood and TV stars eagerly participate in the celebrations, visiting Ganpati Pandals to offer their respects.
Priyanka Chopra

Priyanka Chopra took to Instagram and dropped a series of photos of her daughter Malti. In the pics, Malti can be seen wearing bindi and bangles, adorably playing with a toy Ganpati alongside a decorated Ganesha idol.

Shilpa Shetty
Shilpa Shetty, a well-known name in the industry, brings home a Ganpati idol every year, accompanied by her husband, Raj Kundra. Their celebrations are not just limited to hosting Lord Ganesha; they also bid him a grand farewell with a heartfelt ceremony.
This year, Shilpa Shetty brought Ganpati Bappa with her husband, Raj Kundra. Watch this year's video.
Shah Rukh Khan
Shah Rukh Khan actively celebrates all festivals at home with his family. In a touching gesture last year, he shared a snapshot on Instagram featuring the Ganpati Bappa idol alongside his younger son. He expressed his feelings in a heartfelt message, emphasising the importance of hard work, perseverance, and faith in God.
Kartik Aaryan
Kartik Aaryan is known for his annual visits to various pandals during Ganesh Chaturthi. Last year, he paid a visit to Lalbaugcha Raja in Mumbai, accompanied by his parents, Manish and Mala Tiwari. He expressed gratitude, thanking Lord Ganesha for a "life-changing" year and hoping that all his wishes would continue to be fulfilled.
Salman Khan
Salman Khan is another Bollywood superstar who actively participates in Ganesh Chaturthi celebrations. He hosts Lord Ganesha at his home every year, ensuring he is in the country during Ganeshotsav. Salman Khan and his entire family are devoted followers of Lord Ganesha, and they enthusiastically engage in the festivities, often hosting them at their residence in Galaxy Apartments.
These Bollywood celebrities, among many others, wholeheartedly embrace Ganesh Chaturthi, reflecting the joy and devotion associated with this beloved festival.
---
Suggested Reading: Watch: Shruti Haasan Faces Disturbing Fan Encounter At Airport