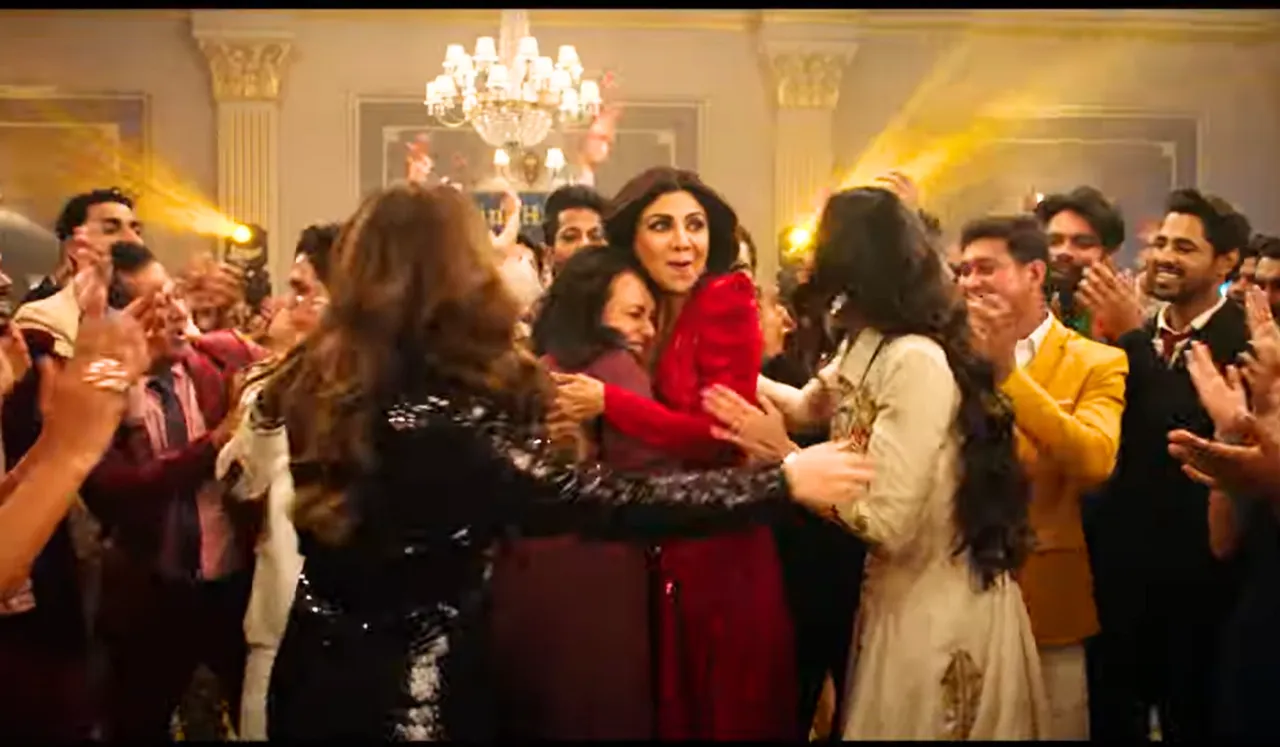 Shilpa Shetty earlier revealed her upcoming movie, Sukhee, set to release this September, promising a dynamic celebration of womanism with an exciting ensemble cast. Today, both the film's creators and cast members unveiled the movie's first trailer.
Shetty will be seen back on big screens in the titular role of Sukhpreet Kalra, a housewife in a Punjabi household. The film also stars Kusha Kapila, and Dilnaz Irani in leading roles who can be seen in the poster as Sukhee's friends along with Pavleen Gujral, Mridula Oberoi, Amit Sadh, Chaitanya Choudhary, and Kiran Kumar in pivotal roles. 
Watch Sukhee's Trailer Here
The trailer begins by showcasing Sukhee's efforts as a homemaker to ensure her family's happiness, only to find that they remain unsatisfied. As the trailer unfolds, it portrays a middle-class housewife who, for the first time in her life, requests a break, leading to a transformative experience for her family. During this break in Delhi, Sukhee and her group of friends defy societal stereotypes and embrace a 'Bedhadak, Besharam, and Beparwah' lifestyle.
The actor dropped the trailer today with the caption, "Get ready to experience the joy of being Sukhee! ✨"
More About Sukhee:
Sukhee will narrate the story of a 38-year-old Punjabi housewife Sukhpreet Kalra 'Sukhee' and her friends on a journey to attend a school reunion in Delhi to relive their life back when they were 17. As Sukhee relives her 17-year-old version she goes through a plethora of experiences and a roller coaster of emotions as she sits back for herself after years after the most difficult transitions in a woman's life from being a wife and a mother to being a woman again. 
The cast posted the film's poster along with the release date on their Instagram handles while Shilpa Shetty captioned the poster with "Yeh Kahani hai meri, aapki, hum sab ki. Miliye aapke hi jaisi Sukhpreet Kalra yaani ki #Sukhee se. aur aaiye meri duniya me."
The movie marks the directorial debut of Sonal Joshi and is produced by Bhushan Kumar, Krishan Kumar, Vikram Malhotra and Shikhaa Sharma. The film is slated to be released on September 22 in theatres. 
Moreover, Shetty will also be seen in Rohit Shetty's OTT debut Indian Police Force starring Vivek Oberoi and Siddharth Malhotra which will be released on Amazon Prime Videos. She will also be seen in the role of Satyavati in the film KD-The Devil along with Sanjay Dutt and V Ravichandran which will be a pan-Indian film releasing in Tamil, Telugu, Kannada, Malayalam, and Hindi. 
---
Suggested Reading: Shilpa Shetty Returns To Kannada Cinema After 18 Years As 'Satyavati'