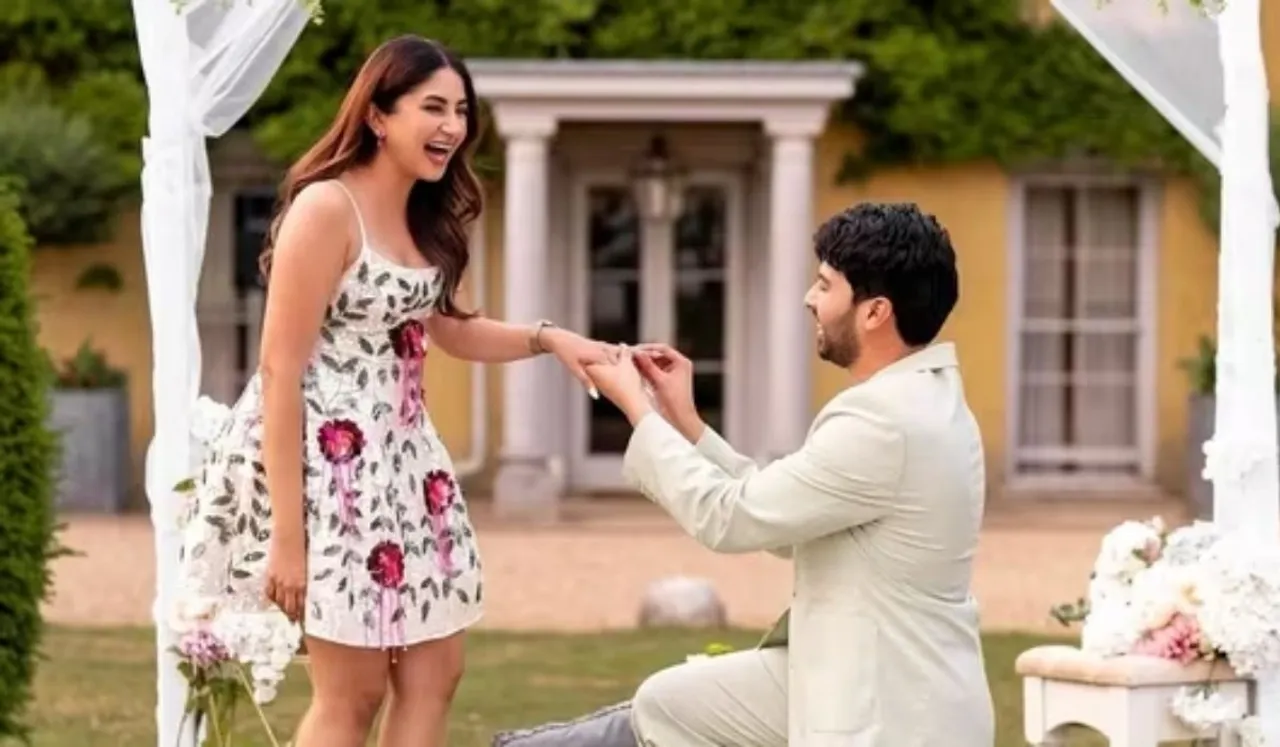 Armaan Malik and Aashna Shroff recently celebrated their engagement in a captivating ceremony. The singer marked the occasion by sharing pictures on social media on August 28th. 
In a series of captivating photos, Armaan Malik captured and shared the beautiful moments of his engagement with Aashna Shroff. For the proposal, Aashna adorned an ornate white and red outfit, while Armaan chose a beige suit. 
One of the snapshots particularly stands out, featuring the singer on one knee, proposing to Aashna in a heartwarming display of affection. The other two images showcased the pair in affectionate poses, with one portraying Armaan tenderly kissing Aashna's forehead during an outdoor photoshoot.
Sharing her thoughts alongside the proposal images, Shroff expressed, "Your leap of faith made me put all my faith in you"
See the post here.
Well-known Bollywood figures such as Varun Dhawan, Tiger Shroff, Sophie Choudry, Ishaan Khatter, Esha Gupta, Zareen Khan, and more extended their heartfelt wishes to the newly engaged couple.
More About Armaan Malik and Aashna Shroff's Relationship
Though they have reportedly been in a relationship since 2019, the couple has never openly discussed their bond. However, the couple doesn't shy away from sharing glimpses of their relationship on social media and has been seen together at various events.
According to a 2022 Hindustan Times report, a source familiar with Armaan Malik and Aashna Shroff's relationship history revealed that they began seeing each other in 2017 but later parted ways. The source added that they then rekindled their romance in 2019.
Despite their openness about their relationship, it's intriguing that the media remained unaware of their connection. The source highlighted that everyone within the influencer circuit is aware that Shroff is dating Malik. Emphasising the couple's stance, another source close to them added that Malik doesn't feel the need to conceal it, yet there's no obligation for him to discuss it publicly.  
Aashna Shroff, renowned as an Indian fashion and beauty blogger and YouTuber, received the title of Cosmopolitan Luxury Fashion Influencer of the Year 2023 (India). Armaan Malik is an Indian vocalist, songwriter, record producer, voice-over artist, performer, and actor, who has garnered acclaim for his soulful contributions spanning a multitude of languages. His vocal talent extends to languages like Hindi, Telugu, English, Bengali, Kannada, Marathi, Tamil, Gujarati, Punjabi, Urdu, and Malayalam.
---
Suggested Reading: Arjun Kapoor, Malaika Arora Spotted Together Amid Break-Up Rumours