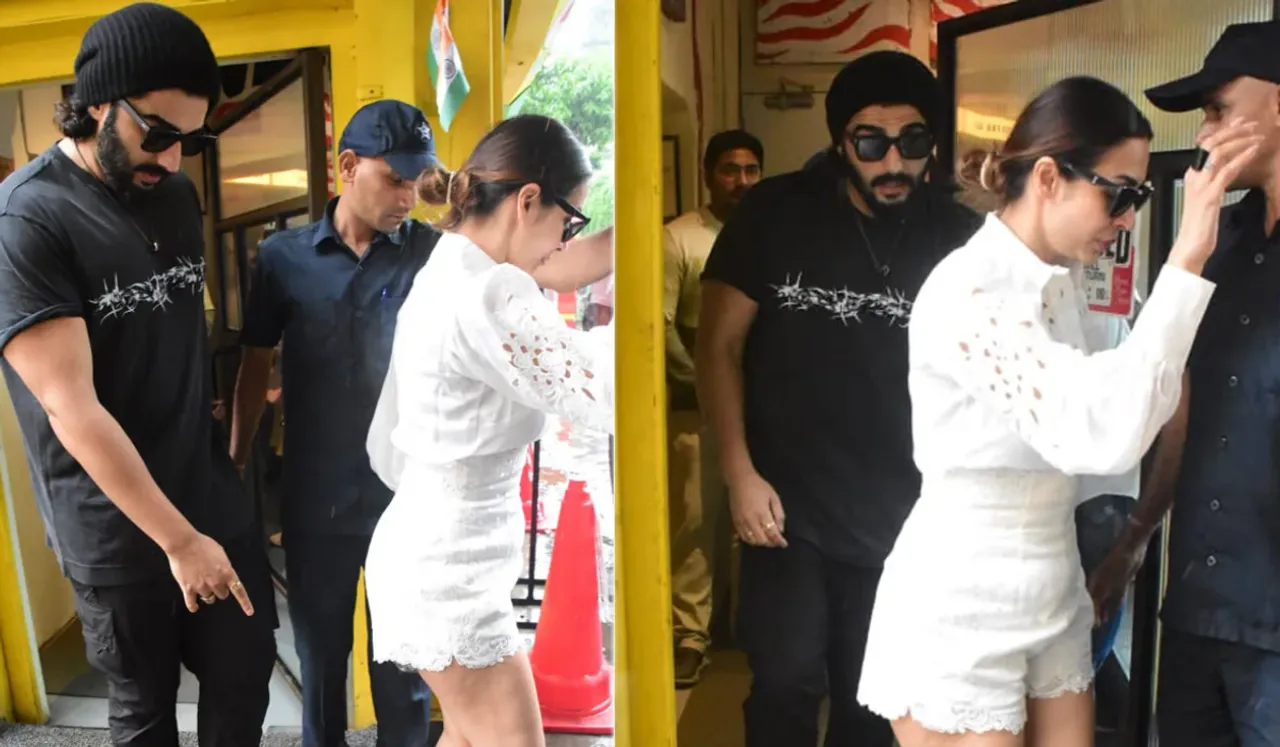 Actors Arjun Kapoor and Malaika Arora put to rest breakup speculations on Sunday by making a public appearance together during the day. 
The couple was captured together at a restaurant in the evening, reaffirming their relationship. Their presence was documented by a paparazzo who shared videos on Instagram. Arora even took a moment to pose for the paparazzi upon their arrival. Subsequently, the couple was seen leaving the restaurant together, with Kapoor guiding Arora towards their car.
Arjun Kapoor And Malaika Arora Spotted Together Amid Break-Up Rumours
The paparazzi's video clip garnered reactions from fans, with one expressing the desire for them to get married. Others echoed relief and joy at seeing the couple still together, dismissing breakup rumours.
Commenters appreciated their bond, with several noting that they make a great pair. This public appearance followed an earlier lunch date the same day, cementing their status as a couple in the eyes of their supporters.
Watch the video here.
Arjun Kapoor and Malaika Arora Break-up Rumours:
In recent times, multiple reports have circulated indicating a potential separation between Arjun and Malaika. Some sources even suggested that Arjun had started dating actor and social media influencer Kusha Kapila.
The rumours started on Reddit, where a user claimed that Malaika unfollowed members of Arjun Kapoor's family on Instagram amidst ongoing rumours about their breakup. The speculation arose after Reddit users noticed that Malaika is no longer following Arjun's actor-sister Janhvi Kapoor, Khushi Kapoor, Anshula Kapoor, and Arjun's father Boney Kapoor on the platform.
However, she still continues to follow Arjun. The claim was substantiated by a screenshot of Malaika's Instagram Stories, which was shared on Reddit. Moreover, it also claimed that Anshula started following Kapila on Instagram. 
The caption accompanying the post suggested that Malaika's actions might indicate possible family disapproval, particularly since she no longer follows Kusha Kapila.
Read the post here.
Malaika arora unfollows kusha kapila on instagram and confirms arjun's affair by unfollowing his whole family
by u/SingInTheRainn in BollyBlindsNGossip
The social media influencer however recently addressed the circulating rumours about her relationship with Arjun. Read about it here.
Arjun and Malaika's romantic involvement spans a period of more than four years. The couple chose to publicly acknowledge their relationship when Malaika shared a birthday tribute for Arjun in 2019. Malaika was previously married to actor Arbaaz Khan, with whom she has a 20-year-old son named Arhaan Khan. Their marital journey concluded in 2017 after 19 years of marriage.
---
Suggested Reading: "Bilkul Karenge": Hema Malini Open To Kiss Scene Like Husband