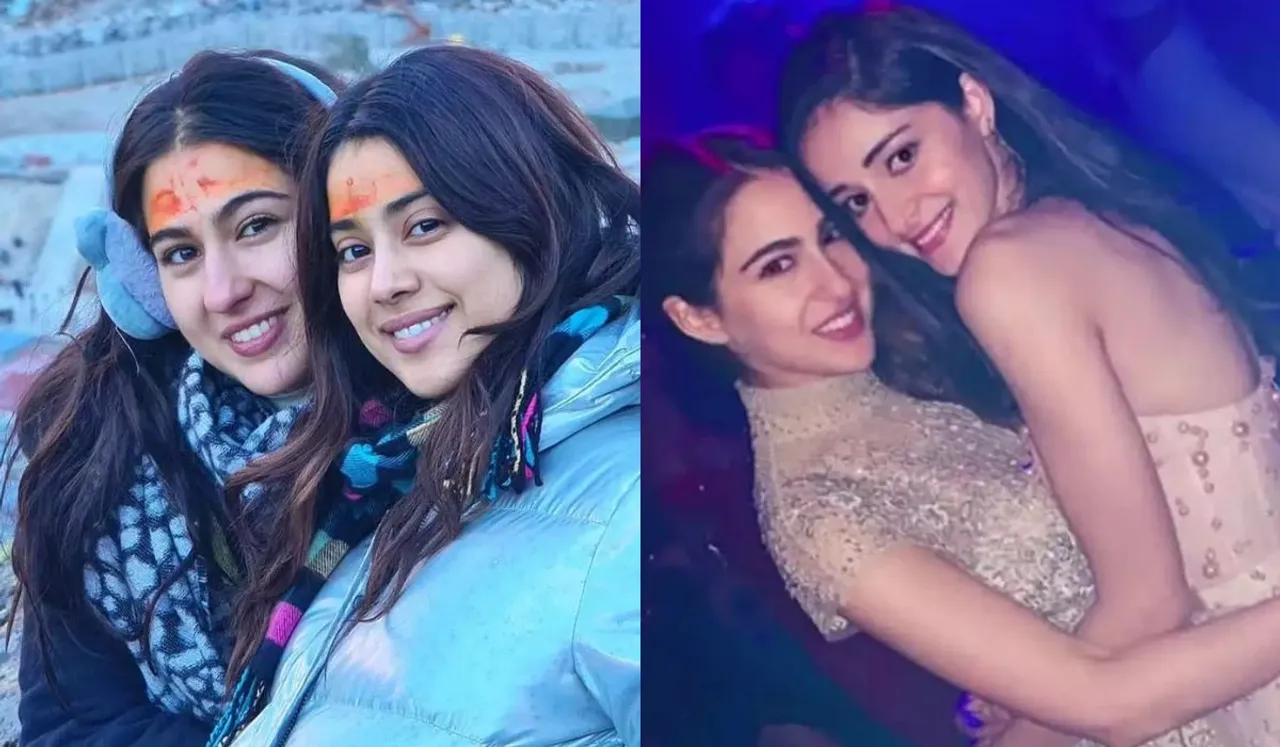 In a recent Vogue interview, Sara Ali Khan defies the industry stereotype of female rivalries, revealing her strong camaraderie with peers Ananya Panday, Janhvi Kapoor, and Radhika Madan.
In the interview, Khan highlights the expansive landscape of the industry, magnified by the emergence of OTT platforms, as a source of opportunities for all. Her kinship with Janhvi and Ananya is rooted in their shared youth, ambition, and the challenges posed by the pandemic on their acting paths. Their mutual self-assuredness stands as a significant advantage in navigating their respective careers.
I actually believe that I share more in common with Janhvi and Ananya than I do with my school friends because they understand what it's like to be young and ambitious as an actor and have the pandemic waylay your plans. We're all confident in our own skin, which is so necessary.
Sara Ali Khan On Her Friendship With Industry Colleagues
The actors are frequently spotted bonding, supporting each other, and even embarking on trips together, which is a testimony to how leading women actors no longer see each other as rivals. They can not only appreciate each other's work but also strike up a friendship that doesn't turn sour with box office numbers.
When women openly embrace sisterhood
The idea that two women actors have to be jealous of each other and the male fantasy of them ripping hair off each other's heads for a role is so dated. We do not live in the 90s when meaty roles for women were sparse. No one really behaves like this anymore. There have been examples of the great friendship between actors and each gives the other a shoulder for growth.
The idea that two women if kept in a place shall quarrel is not just a derogatory idea but also waters the plant of misogyny and complete rejection that women are capable and rational human beings. They are not inferior to men and the friendship between women can be beautiful and mature.
For years, there has been a popular distinction made between men and women, and their behaviour in friendship. Men believe that they are more loyal to their male friends, while staunchly claiming that women's friendship involves lots of drama. But is that even true? Do we not know of scheming men who are manipulative and abuse friendships to get ahead in life? Do we not know of women whose friendships have survived heartbreaks, marriage, career changes and even shifting bases, and are still going strong after decades? Does gender actually play a role in friendships, or is it just the burden of perception that women have been carrying around for ages, eventually internalising the stigma that ladkiyaan acchi dost nahi ho sakti?
So it is indeed refreshing to see more women come into public space and flaunt their female friendship with co-actors. It is also inspiring to see these women promote each other's work, sharing teasers and trailers of their friend or female colleague's upcoming film on social media. Women actors have broken the mould on many fronts in the industry- they are demanding bigger paychecks, better roles and they now have a longer shelf life. To build on this progress and take the tribe further, it only makes sense that these women stick together and see each other as allies, not rivals.
Views expressed are the author's own.
---
Suggested Reading: Friends Forever: The Real Girl Gangs Of Bollywood
---