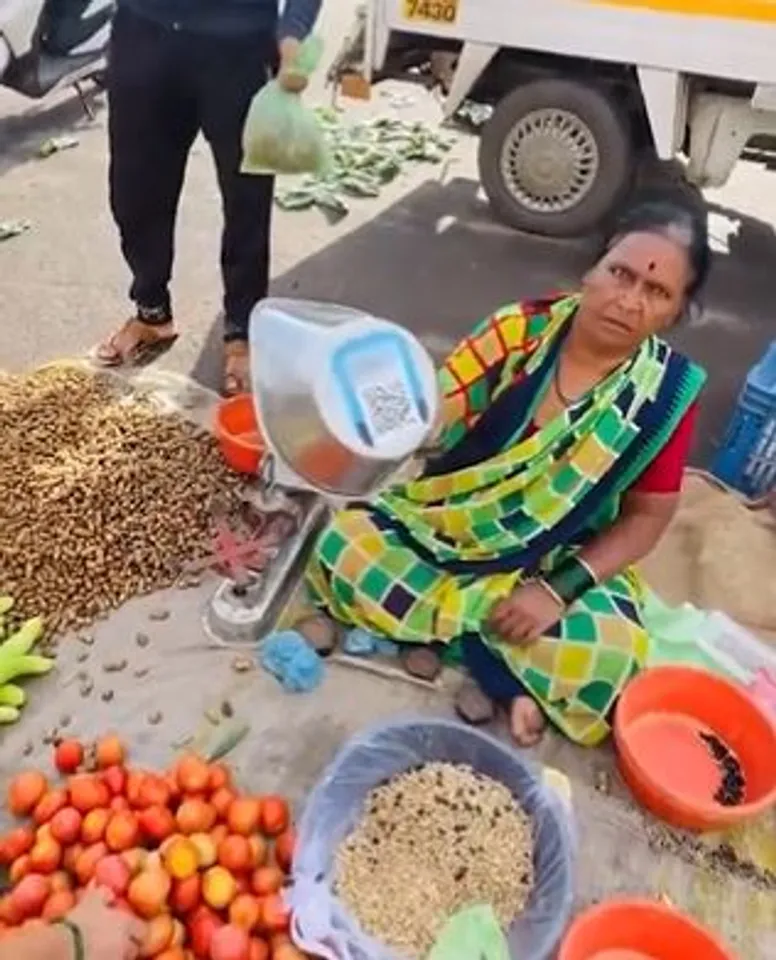 A vegetable vendor has become a sensation on social media thanks to her inventive approach to displaying a UPI QR code.
A viral video showcases an elderly female vegetable vendor packing peanuts into a bag while a customer inquires about the UPI QR code for making an online payment.
In response, the vendor ingeniously turns the weighing scale basket upside down, revealing the QR code affixed to it. This humorous video shared on Instagram, has garnered nearly 13 million views and close to 1.5 million likes.
Netizens react to viral video
As expected, social media users couldn't resist reacting to the video. One user wrote, "O womania aha womania, you rocked, manushi." Another commented, "We, Indians, have unique talents that can't be found anywhere else in the world."
Numerous comments flooded the video's comment section. Another user exclaimed, "Digital India, a cashless India." Another chimed in with, "Mama rocks, customers are amazed," and yet another user added, "This exemplifies the ingenious knowledge of Indian mothers."
Railway Minister Takes Notice
Notably, the video has not only captured the attention of the general public but also that of government officials.
Ashwini Vaishnaw, Minister for Railways, Communications, Electronics, and Information Technology, shared the video on his official social media account.
In his post, the minister highlighted, "Digital India achieves a new milestone with UPI payment transactions crossing the 10 billion mark in August 2023."
Digital India achieves new record. UPI payment transactions cross 10 billion mark in August-23. pic.twitter.com/xXaqQRRXpb

— Ashwini Vaishnaw (@AshwiniVaishnaw) September 1, 2023
Netizens also chimed in on the minister's post, expressing their enthusiasm for the increasing interest in digital finance among marginalized segments of society. They anticipate a future where every financial transaction in India is conducted digitally, recognizing the significant impact this shift will have on the country's financial governance and system.
"Cash is no longer the preferred 'currency'! Digital India," read another comment, highlighting the growing influence of digital payment methods in the country.
Not The First Incident
This isn't the sole instance when digital payment systems have made headlines. In December of the previous year, a tea stall vendor made waves by accepting cryptocurrency payments, sparking a wave of reactions across the internet. 
In the picture shared, the tea vendor was seen serving steaming hot chai in traditional earthen pots known as 'kulhads.' In addition to the standard scanner code for payments, the vendor prominently displayed a blackboard with the inscription 'Crypto Accepted Here.'
The new India….. pic.twitter.com/MQjO6FHiOY

— Harsh Goenka (@hvgoenka) December 1, 2022
---
Suggested Reading: Vegetable Vendor's Daughter, First Girl Child In Family, To Get Master's Degree