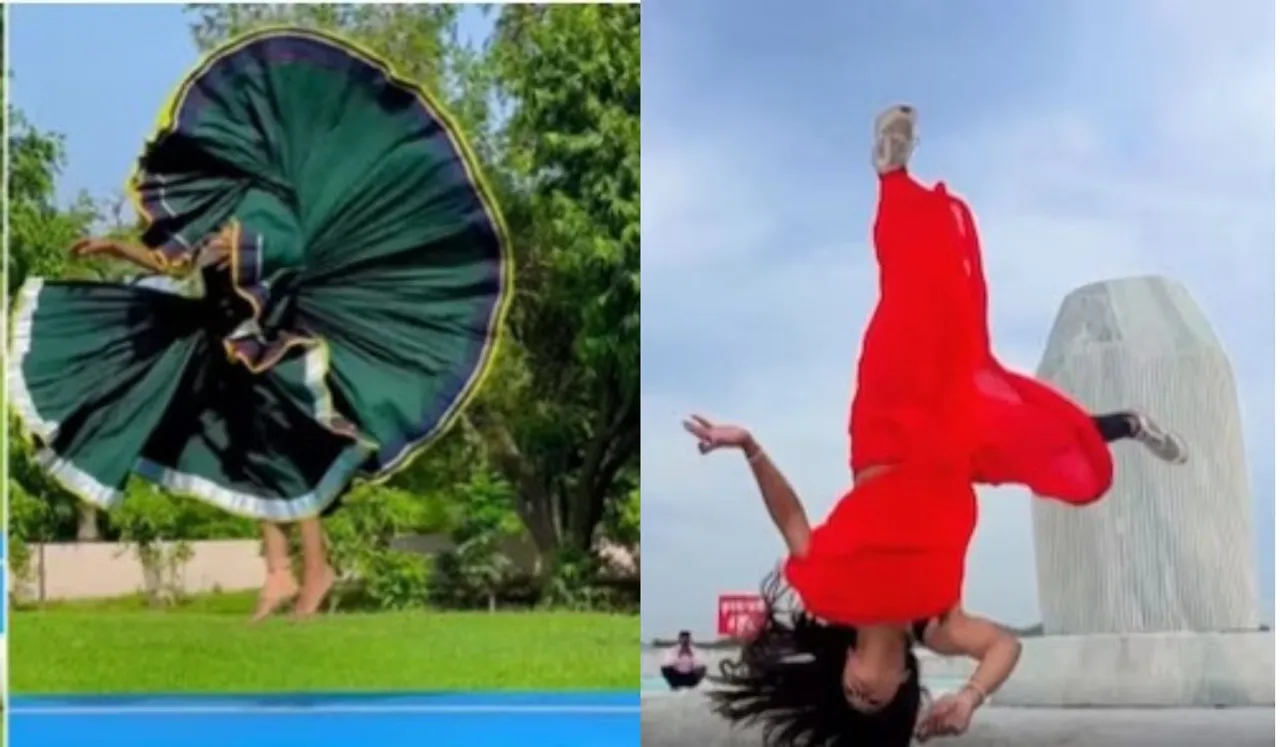 Videos of women wearing traditional Indian wear and breaking stereotypes with their performances has been the recent trend. Now two videos of two women, one wearing ghagra and another wear saree and flawlessly performing somersaults has gone viral.
A video of a woman performing consecutive summersaults while wearing a top and a ghagra will leave you amazed. The video was shared on the Instagram handle of Somya Saini, a gymnast and fitness model. The video shows a woman performing multiple somersaults flawlessly, and that too while wearing a heavy skirt. The caption of the video read, "Ye video kaisa laga apko (what do you think of this video?)
Woman Performs Somersaults In Ghagra
The woman in the video is dressed in a green ghagra and a black top. She goes on to perform consecutive somersaults without a hinch before finishing with a smile for the camera.
Posted on August 17, the video has found its way to the viral section, amassing over 59K views, and the numbers are increasing. The video has also received several likes and comments congratulating the woman.
Woman Performs Somersault In Saree
Yet another video of a woman performing somersault casually while clad in a saree is doing viral rounds on the internet. The video was shared on Instagram by a user named Misha Sharma.
The video shows the woman standing on an elevated platform and leaping from there, executing a flawless somersault mid-air and making a breathtaking landing. She is seen wearing a red saree paired with a black sleeveless blouse. The woman chose to wear sneakers with a traditional look.
She showcased exceptional skill, control, and confidence that have left people amused at her performance. The caption of the video read, "Aap yeh video kahan se dekh rahe ho? (Where are you watching this video from?)
Since being posted on Instagram on August 23, the video has garnered over 2.5 million views. Netizens filled the comments section with appreciation. Some even answered her question in the caption and mentioned the place from which they were watching the video.
---
Suggested Reading: Watch: Woman Performs Stunts, Backflips In A Saree