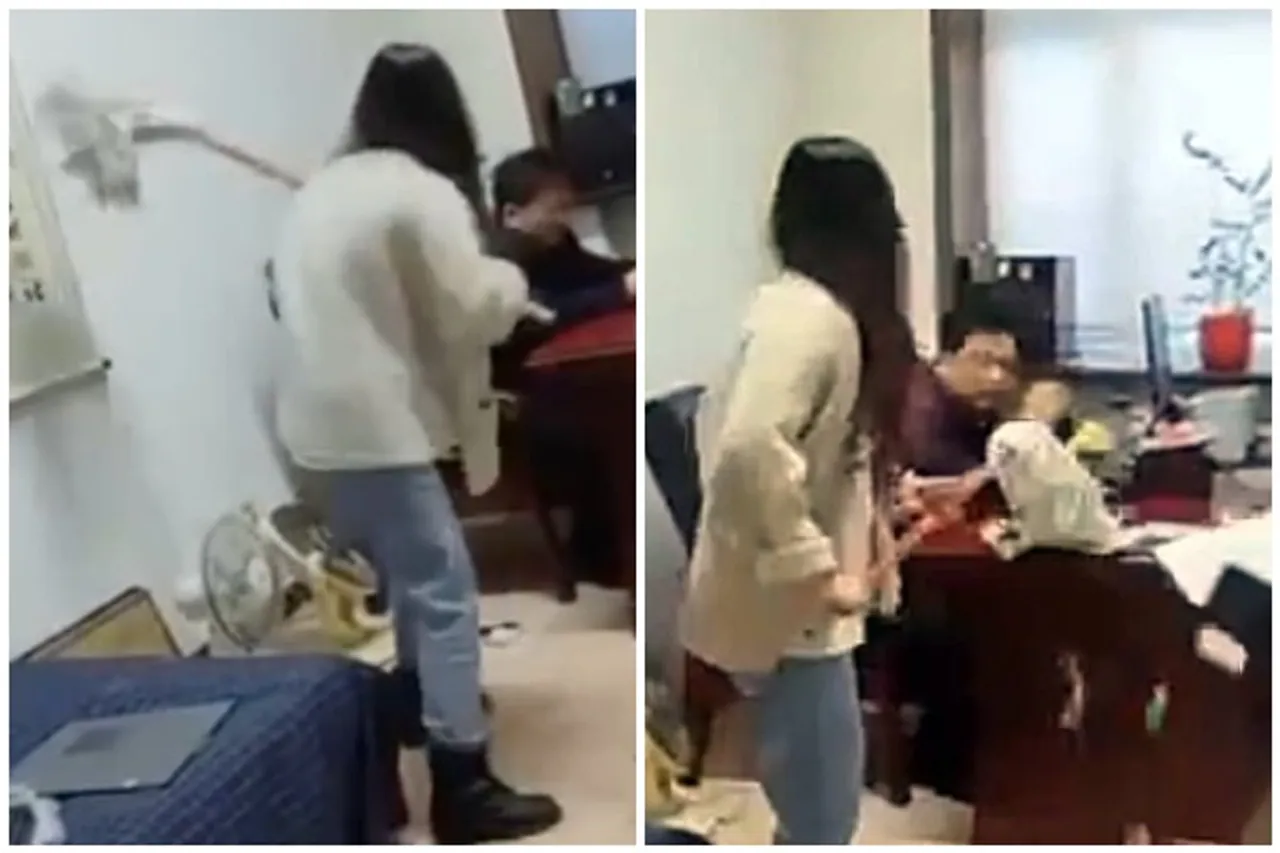 Woman beats boss with a mop in China: A Chinese woman, reportedly working in a government official in the northeastern part of the country, has become an internet sensation after a video emerged of her beating her boss with a mop. The woman resorted to this measure, accusing her superior of sexual harassment.
The said woman claims that her boss was sending her lewd texts and even went on to accuse him of harassing multiple women at the workplace. The 14-minute video also recorded her throwing books at him and tossing water into his face.
The woman employee, identified as Zhou (her surname), can be seen using a mop to beat her male boss, identified as Wang, for sending her unwanted and obscene messages. Further accusing him of sending such texts to multiple women in the office, she says she's reported him to the police.
As he is being beaten up, Wang can be seen hiding his face behind and attempts to apologise saying that he had sent those messages as a joke. Meanwhile, another woman not seen in the video says, "How is it a joke? It shows that you have bad character … Have you thought about consequences for your office?"
The video has since gone viral worldwide. In the comments section, many users have hailed the woman for standing up to her boss and fighting harassment in workplaces.
According to a report by South China Morning Post, Wang, who worked as the deputy director of a government poverty alleviation agency, was fired after an internal investigation learned of his "life discipline problems."
Suihua Police said they received a sexual harassment report from Zhou four days ago and they are still investigating. Officials from the district's publicity department told state-run Xinhua News Agency the woman had violated the law but she did not face any punishment for her actions.
Sexual harassment is widespread across workplaces in the world. In India alone, close to 10 percent of women face sexual harassment at workplace, as per a 2020 report. 53 percent of participants of a survey from 2019 said that they have faced sexual comments, gestures, and jokes at the workplace, while 56 percent of women to took part in the same survey opined that sexual harassment at the workplace has increased over the years. Read more on that here.
According to The Times article from 2019, between 2010 and 2017, there were 34 Chinese lawsuits filed related to sexual harassment at the workplace, and half of these were filed by people accused of harassment. They said the accusations unfairly harmed their reputations.