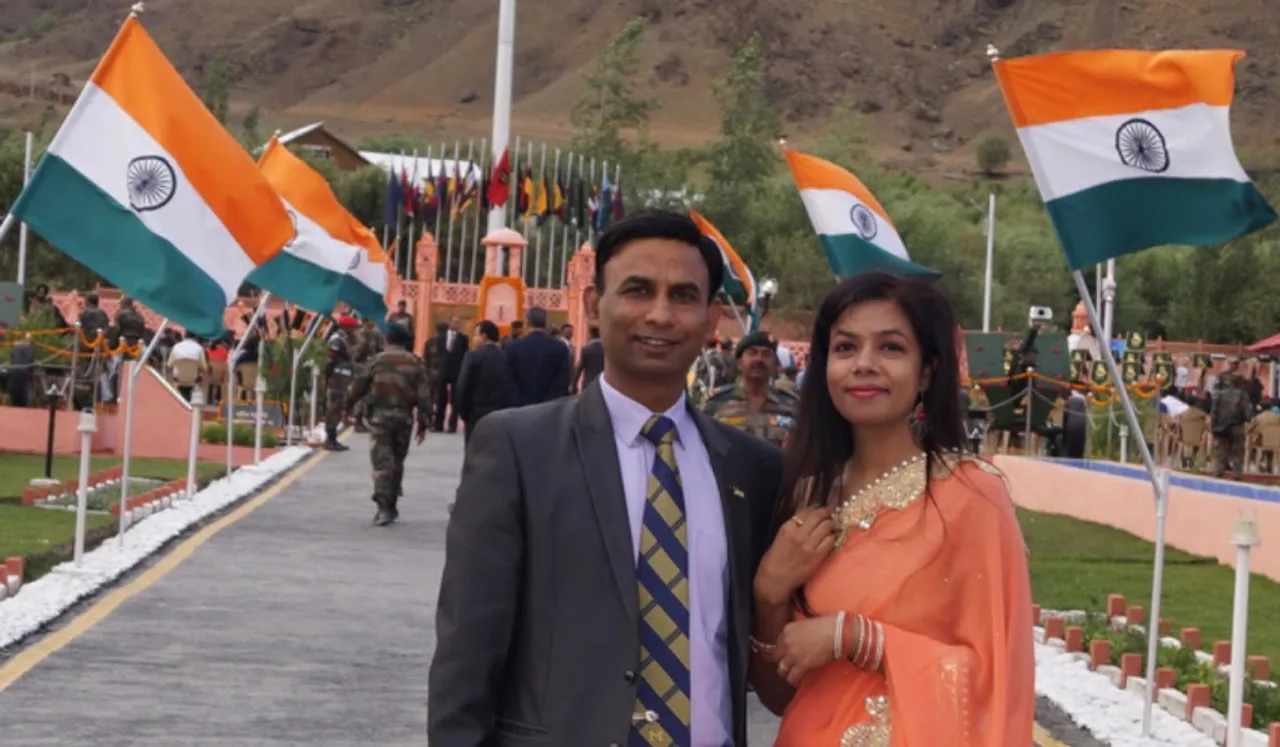 Kargil Vijay Diwas reminds us of India's victory in the Kargil War. It also reminds us of sacrifice and courage, not just displayed by soldiers but also by their families. Today, more than two decades later, we honour all soldiers in the armed forces - those who returned home, and those who didn't. 
Captain Akhilesh Saxena, who was an artillery soldier officer at the time of war, lived the day to tell his story. We, however, decided to ask his partner Shikha Saxena to take us back to 1999 and remind us what it takes to be an army officer and, most importantly, what it takes to be an armed forces wife. 
Nation First, Today And Always
I was 23 when I married Capt Akhilesh Saxena, an artillery officer in the Army. It was an arranged marriage and barely a month after, he was called to the battlefield for the Kargil War. He was 24 then. Our relationship strengthened in the most uncertain of times. 
In June, the nation stood shocked seeing the bodies of soldiers return to India. My heart sank thinking Akhilesh was on that very battlefield. While negative thoughts consumed me, I knew courage was the only way forward.
He led the convoy of artillery guns of a specific Regiment and was soon ordered to move to LOC. He led three crucial attacks with infantry battalions. Then came time for 'The Last Letter', a message officers at war write for folks when they're unsure of return. The letter, kept in a box, is only given to families after the officers' passing. Thankfully, I never got that letter. I was warned about the hardships of marrying an army person; coming from a civilian background it was harder, but I gained strength from other army wives. 
During one of the assaults, enemy shelling and splinters hit Akhilesh. With bullet injuries, he walked down for hours to get medical aid, with his left palm barely attached to his hand.
After months of uncertainty, Akhilesh returned from the war zone, with a missing palm & haunting war memories. His return was the biggest moment of my life. He remained unconscious for 3 days. The war was over, but a new war began post-Kargil. Bedridden with plasters, looking like black skin on a skeleton, he reached Delhi where he met me. He spent one year at the hospital. The doctors rebuilt the palm but there wasn't any movement. He was declared medically unfit for field duty because of permanent disabilities. 
He either wanted to return to the field or do something completely different. 'Disability was the small price I paid for our country's freedom,' he says. The transition from the army to the corporate sector was challenging but it was nothing we two couldn't do together. He is currently working as the Vice President at an Indian company. We have two children, now 22 and 19, and I continue to tell them about the valiant lives of army officers and how the Kargil War changed our lives forever. 
In his last letter, Akhilesh had written, "Meri shahadat ka afsos mat karna, uspar garv karna (do not regret my sacrifice, be proud instead). I'm lucky I never read it, but proud of what he wrote; this pride & pain is something all army wives carry within themselves. We don't carry stars on their shoulders, but share the same spirit with which our partners go to war. It was and will always be, nation first.
---
Suggested reading: Nation First: A Story Of Courage From The Eyes Of An Officer's Wife