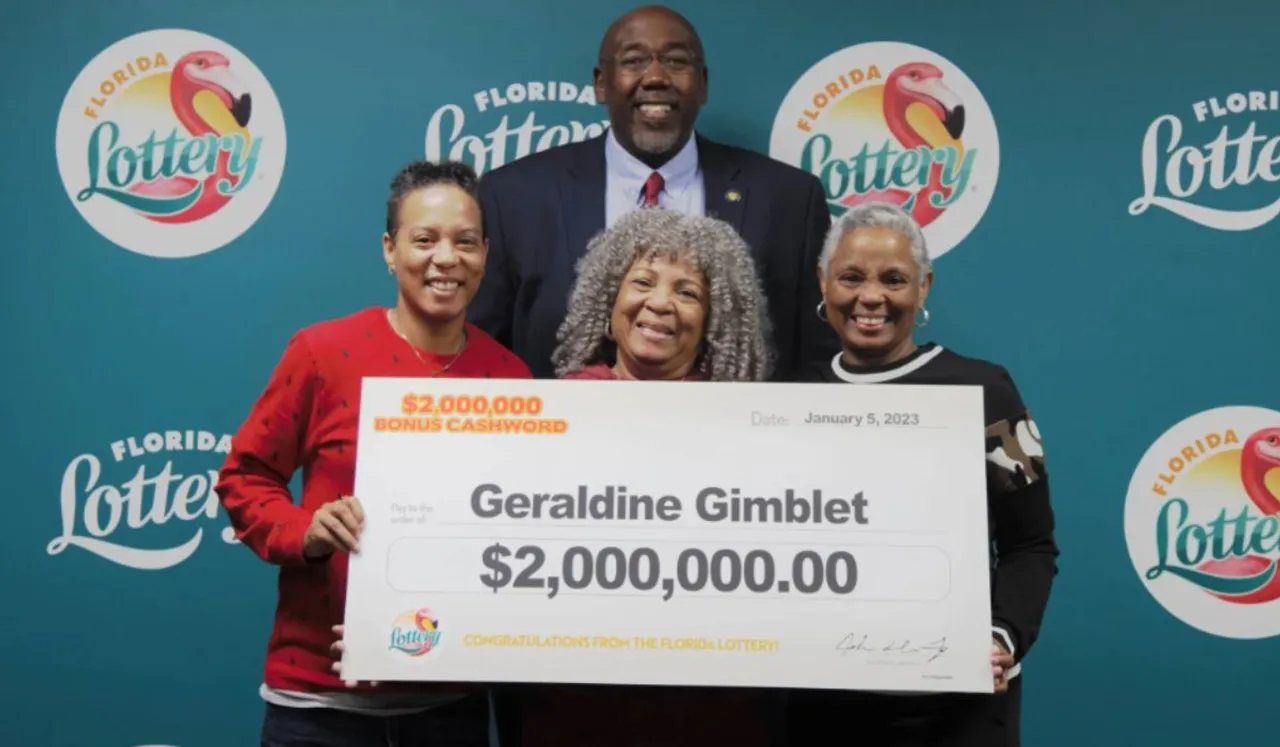 A Florida woman won $2 million in the lottery after she spent all her life savings on her daughter's cancer treatment. The prize money came to her a day after her daughter completed treatment for breast cancer. Geraldine Gimblet, a resident of Lakeland, purchased a $10 cashword bonus scratcher at a local store.
"Initially, the store clerk thought there were no tickets left, but I asked him to double check because I love crossword games the best," said Gimblet. "Finally, he managed to find the last one!" she added.
Woman Won Lottery After Daughter Cancer
Gimblet claimed her winnings on April 7 with her daughter and granddaughter by her side. She was emotional as she received the winnings at the lottery headquarters in Tallahassee.
"My mom had spent her entire life savings to take care of me when I was sick, and I'm so happy for her," said Gimblet's daughter through tears.
Gimblet opted to take a one-time lump sum payment of $1,645,000. The retailer who sold the winning ticket, Pipkin Road Beverage Castle, will receive a $2,000 bonus commission.
Reportedly, breast cancer treatments are very expensive. According to a 2019 study published in the American Journal of Public Health (AJPH), the costs of medical care were one of the leading reasons why people in the United States went into bankruptcy. Approximately 530,000 families become bankrupt every year due to medical bills and related issues, such as taking a break from work due to health problems.
The Florida Lotta shared the story on their Twitter handle. "When Geraldine Gimblet of Lakeland picked up the last $2 million bonus cashword scratch-off game, her passion for crossword games paid off to the tune of a $2 million dollar top prize, but that's just the beginning of the truly winning story!" read the tweet.
Netizens poured in their heartfelt wishes to Geraldine Gimblet in the comment section. "Congratulations! You were selfless in your giving and got more than you expected in return! God bless you and your family," wrote one user. "Awesome! I love when deserving people win. Praying for her daughter," commented another user. A third user said, "I'm so happy for you and your daughter. Your selfless love and sacrifice were repaid. God allows a miracle in the most unseemly manner," tweeted a third user.
---
Suggested Reading: Girl Who Emptied Piggybank For Earthquake Relief At 5, Wins $48 Mil Jackpot at 18
---