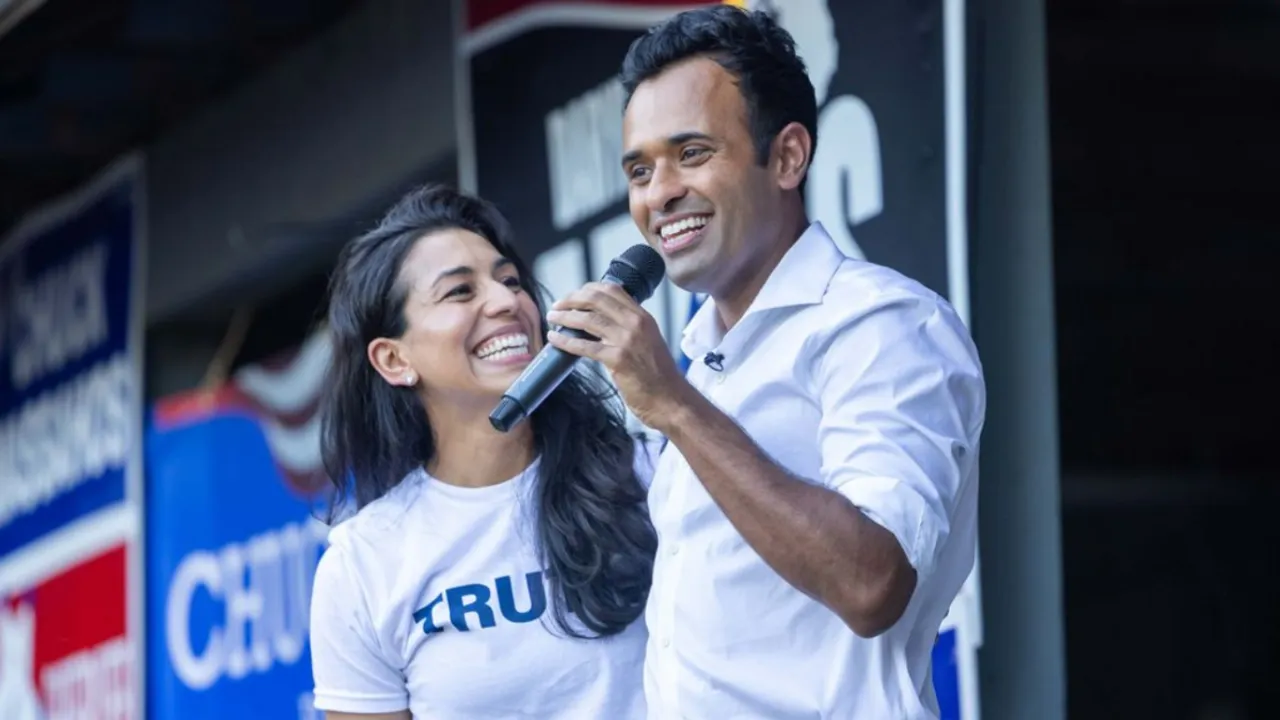 US Presidential candidate Vivek Ramaswamy shared a heartwarming video on X (Twitter) where his wife, Apoorva and he were seen sharing how they met and their love story at a voter gathering in Osceola, Iowa. The couple also touched upon how their upbringing as children to immigrant parents influenced their love life and marriage.
Voters in Iowa want to know the story how Apoorva and I met. Here's how. 😉
📍 Osceola, IA pic.twitter.com/N7duPToNlO

— Vivek Ramaswamy (@VivekGRamaswamy) November 19, 2023
How They Met
In the video, Vivek Ramaswamy opened the stage to Apoorva when one of the voters asked about how they met. Apoorva shared that the couple met at a party back in their college when Ramaswamy was a law student. She said, "He just seemed like the most interesting person in the room,"
Apoorva, who is a laryngologist was in the first week of medical school then. She said that she went up to Ramaswamy and introduced herself, but things took a humourous turn. "He was not that interested. He actually walked away," she said, bringing the audience to a chuckle. Ramaswamy added, "It [the introduction] did not work well."
But "thankfully", as Apoorva puts it, they ran into each other again that night and realised they lived close to each other and how much they had in common, and "Here we are, we've been together ever since," she shared.
The Rest Is History
"It's one of the things that my parents always taught me; it never really landed as a kid, but who you marry matters," Vivek Ramaswamy said, about knowing how Apoorva was 'the one'. Ramaswamy talked about how both of them were brought up with traditional values by immigrant parents who instilled the idea of a supportive spouse, and said, "I now understand what they meant, and we're gonna tell our kids the same." He added, "It makes me grateful for the upbringing we both had."
Ramaswamy shared that the two did not grow up in an economically privileged household, stating that although they did not grow up in poverty, their parents came to the US with little money. "But we had the ultimate privilege of two parents in the house, instilling in us a focus of education, a belief in God," he said, adding that they would pass down these values to their own two sons too.
Talking about his vision for the people of the USA as a future President, Ramaswamy said, "I don't see why every kid in this country shouldn't have the chance to enjoy that privilege too, and I think that's part of the example we want to set as a family in the White House."
---
Suggested Reading: Love Beyond Age: Why France's President Waited 10 Years To Marry Brigitte Macron