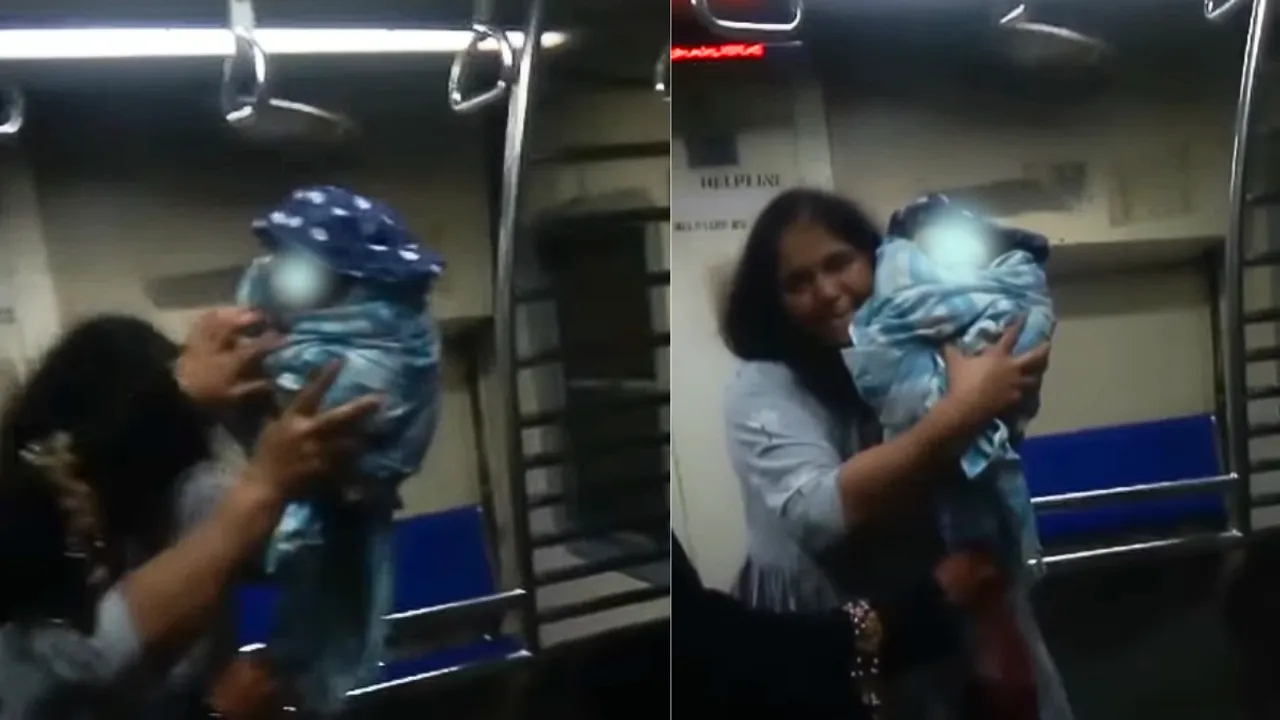 A woman in Mumbai gave birth to a child on a local train without any medical assistance. What makes this story truly extraordinary is the compassionate intervention of an elderly woman and her daughter, turning a routine journey into a momentous event.
The Unfolding Drama
The incident took place during a routine commute when the pregnant lady, initially en route to a standard check-up, suddenly went into labor. Without the luxury of medical supplies or professional help, the situation became inherently challenging. However, what ensued was a testament to human resilience and compassion.
In the absence of medical aid, it was an elderly woman who emerged as an unexpected savior. Displaying remarkable courage and presence of mind, she, along with her daughter, took charge of the situation. Their collective efforts transformed the mundane train compartment into a makeshift delivery room.
The fellow passenger, Vaishnavi Raje (Dhanashree), shared a video of the incident on her Instagram, captioned, "This morning my mother helped deliver a baby in the local train. It was successful in spite of having no medical equipment. Very appreciative of the women who helped her and my mother. Proud of you my mother," (translated from Marathi). Raje also said that her mother, Sneha Ulhas Raje is a staff member at Hinduja Hospital in Mumbai.
Vaishnavi Raje said in a comment under the video that the pregnant woman was on the way to a regular checkup when she felt labour contractions. Lucky for her, Raje's mother and other female passengers were able to safely assist with the delivery without the need for any medical equipment.
The video is now going viral on social media, and people are sending lots of love to Raje and her mother for helping another woman in need. Many people called it "the power of women's unity" and "a proud moment of nari shakti (women empowerment)."
Similar Instances
A woman gives birth in Madhya Pradesh on train to Gorakhpur
In October, a 26-year-old woman delivered a boy in a running train in Madhya Pradesh's Harda district. The woman, who hails from Uttar Pradesh, was traveling with her husband to Gorakhpur when she went into labour, a government Railway Police official said.
The newborn and mother were rushed to the Harda district hospital in an ambulance, where civil surgeon Dr Manish Sharma said the woman and the newborn are healthy. 
Train halted at an unscheduled station as woman goes into labour
A Mumbai-Howrah train halted at an unscheduled station in Howrah district as a woman went into labor. The Bangladeshi woman was rushed to the hospital in Bagnan, where she delivered a healthy baby girl.
The railway police force said that an ambulance was arranged outside the station, and as soon as the train reached Bagnan, the woman and the newborn were taken to a local nursing home. "The health condition of the woman and her baby was stated to be stable. Later, they were shifted to a hospital in Kolkata for better treatment as the baby was premature," an official of the nursing home said.
Suggested Reading: This US Woman With Double Uterus Is Carrying One Baby Each In Both