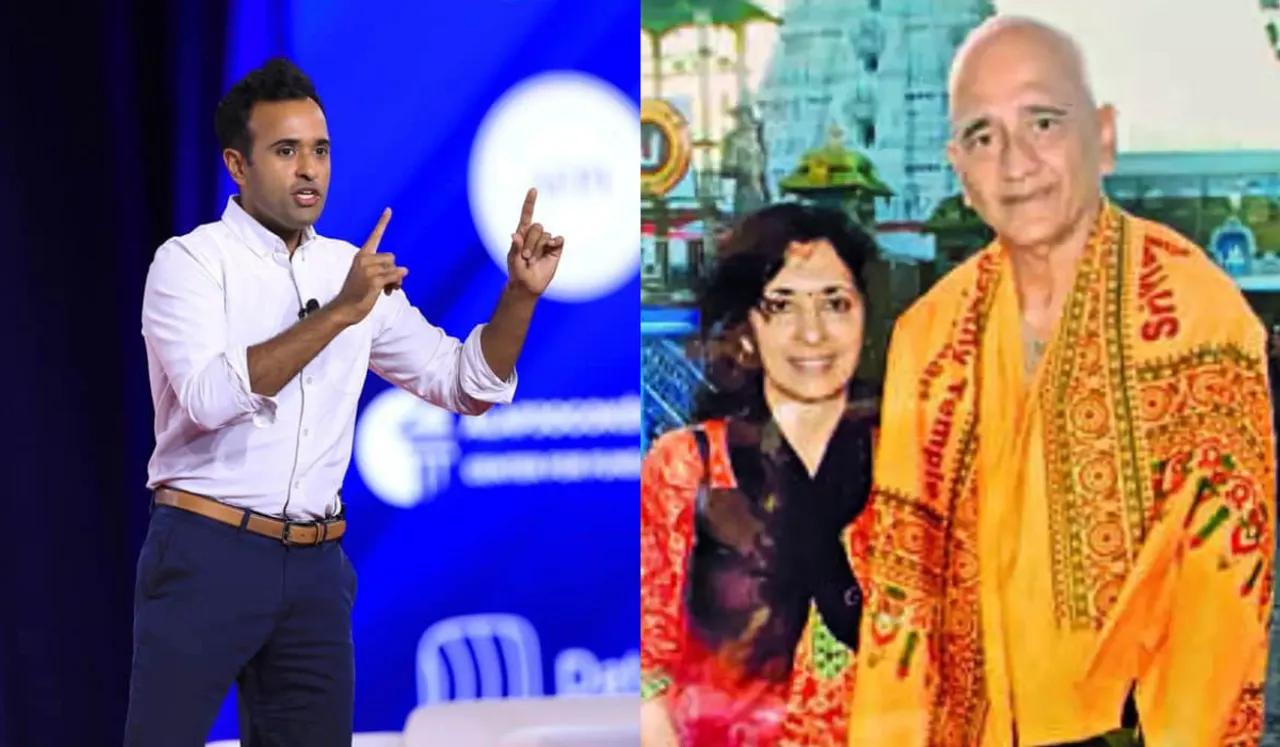 Vivek Ramaswamy, a tech entrepreneur of Indian-American origin, unveiled his candidature for the 2024 US presidential elections. At the age of 37, Ramaswamy declared his intention to resign from his position as the executive chairman of Strive Asset Management in order to actively pursue a Republican presidential campaign.
The town of Vadakkencherry in Kerala's Palakkad district is filled with a sense of pride as one of its own is poised for a significant presence in American public affairs. Vivek Ramaswamy, the Indian-American entrepreneur who declared his intention to run in the 2024 US presidential election, has familial ties to this modest town.
Vivek Ramaswamy's Indian Parents And Their Journey
Born in Cincinnati, Ohio, 37-year-old Vivek Ramaswamy is the offspring of Indian immigrants. Ramaswamy's parents, VG Ramaswamy and Geetha Ramaswamy have stood steadfast as pillars of encouragement throughout his path.
Commencing his narrative, Ramaswamy in his tweets acknowledged his parents' modest start in the United States, remarking, "You know, my parents came to this country with almost no money. "
True "privilege" is not based on the color of your skin. It's being raised in a stable family with two parents with a focus on education and a faith in God. That's the ultimate "privilege." pic.twitter.com/sFi0ViFC6N

— Vivek Ramaswamy (@VivekGRamaswamy) July 14, 2023
Their narrative of migration, characterised by hopes and aspirations, has consistently served as a wellspring of motivation for him. Their admiration and contentment regarding his accomplishments and ambitions have underscored the significance of family and heritage in their journey.
His father was employed as a General Electric engineer, and his mother practised as a geriatric psychiatrist. Over four decades ago, his parents undertook the journey of migration to the United States, marking the start of their American chapter.
According to his father, VG Ramaswamy, the family's identity is quite ordinary. Vivek displayed ambitions from his early years, and both he and his younger brother held a fascination for Indian culture. The father attributes Vivek's triumph as a businessman to his unwavering honesty and integrity—a trait instilled by his grandfather.
VG Ramaswamy himself pursued an education at a government school in Vadakencherry before advancing to Government Victoria College in Palakkad and subsequently the National Institute of Technology, Calicut. He then pursued higher studies in the United States.
Geeta Ramaswamy, his mother, who pursued her education at Mysore Medical College, reflected, "He had been talking about becoming president since the second grade. But we didn't take it too seriously. All of a sudden, it's becoming a reality."
His father told News18 Malayalam: "Ours is a regular family. Vivek has been an ambitious boy since his childhood.
Vivek Ramaswamy conveyed his intention of running for the US presidential election to his parents just last week when he went to welcome them back from their visit to India at the airport, his father revealed in an interview.
---
 Suggested Reading: Who Is Apoorva Tewari, US Presidential 2024 Candidate Vivek Ramaswamy's Wife?