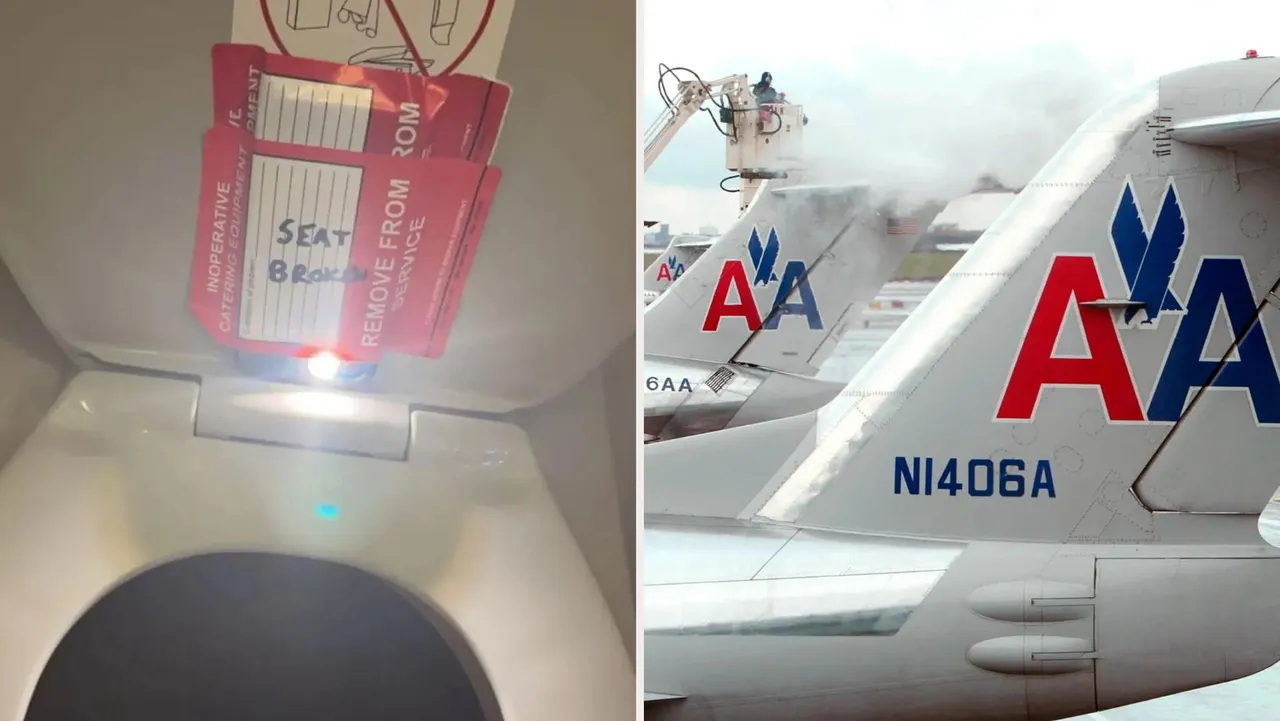 A recent photograph has emerged, revealing a hidden camera that, according to the parents, recorded a 14-year-old girl using an airplane restroom on an American Airlines flight.
Photo Reveals Foulplay
In the image, an iPhone is seen affixed to the toilet lid with tape. The concerned parents, opting to remain anonymous due to their daughter's status as a minor, disclosed that they initially did not grasp the gravity of the situation when they travelled from Charlotte, North Carolina, to Boston on September 2.
Based on a photo taken by the teenager and provided by their legal representatives at Lewis & Llewellyn, most of the iPhone appears to be affixed to the toilet lid in the first-class restroom. Red and white tape with "Inoperative Catering Equipment" and "Remove From Service" printed on it is evident, along with a handwritten note stating "Seat Broken." Only the very top of the iPhone, which was upside down, is not covered with tape, and it seems that either the flashlight or camera flash was active.
What Was The Incident?
According to the family, their daughter was initially waiting in line for a restroom in the coach section when a male flight attendant approached her. He informed her there was no line for the first-class restroom and guided her there.
After another passenger vacated the bathroom, the attendant, believed to be in his early 30s, claimed he needed to quickly use the lavatory to wash his hands before trash collection. When he exited, the teenager entered and used the restroom. However, upon flushing, she noticed the iPhone and captured a photo.
Upon returning to her seat, the same flight attendant re-entered the restroom, as reported by her parents. The teenager immediately showed her mother the photo, and it took several minutes for her to comprehend the situation, with her daughter eventually pointing out the iPhone. "It's something you never considered before, and it was just shocking," the mother remarked.
Concerned that the item might still be concealed in the restroom, the mother hurried to the first class to alert other passengers. She prevented a woman from entering the restroom and explained the situation. 
However, upon inspection, both the iPhone and tape had disappeared.
Subsequently, the father displayed the photo to all four flight attendants, including the male crew member, in hopes of an explanation. 
At some point, a female flight attendant approached the family to apologize and express her disgust over the alleged incident, according to the family.
Family Expresses Distress
Nonetheless, both parents firmly believe that the male flight attendant is responsible for the unsettling incident. The father expressed, "I believe she shares our anger about this shocking incident. There's a profound sense of violation, and I think, as a teenage girl, she's understandably uncomfortable with the invasion of her privacy in such an intimate setting as the restroom."
---
Suggested Reading: Couple Escorted Off Plane After Caught Having Sex In Toilet On Flight