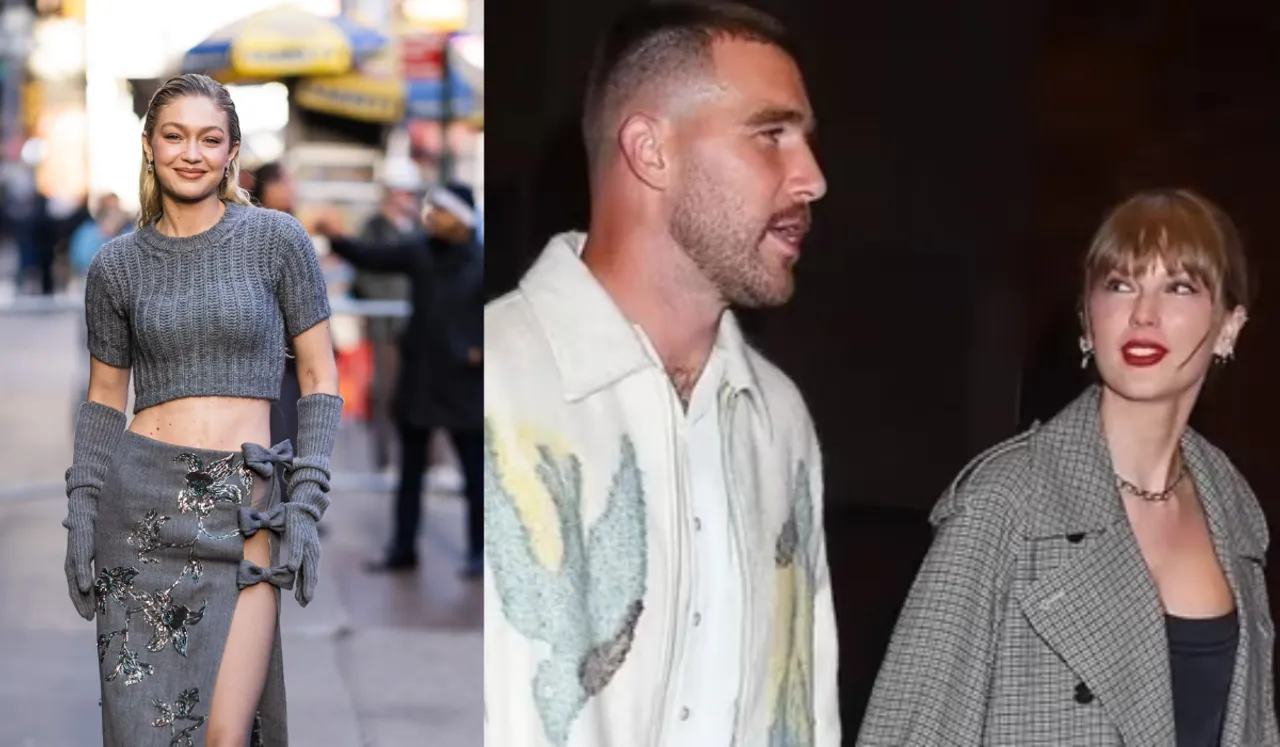 Supermodel Gigi Hadid recently addressed speculation stemming from a deleted Instagram post by Perez Hilton regarding her feelings about friend and singer Taylor Swift's relationship with footballer Travis Kelce.
Kelce's games have often seen Swift, 33, cheering alongside her inner circle, but Hadid, 28, has notably been missing from these NFL events. According to sources, Hadid's absence isn't coincidental, it's based on her disinterest in supporting Kelce, despite her strong fondness for Swift. Hadid has now responded to these rumours, addressing them directly.
What Gigi Hadid Said About Taylor Swift, Travis Kelce's Relationship
The caption of the Instagram post read, "Wait, really? But isn't #GigiHadid moving swiftly with #BradleyCooper too?" She wrote in the comments section, "I'm a couple days late to this tag.. but didn't the press try this last week w Selena? Let it be.. we are all over the moon for our girl. Period (red heart and fire emojis)."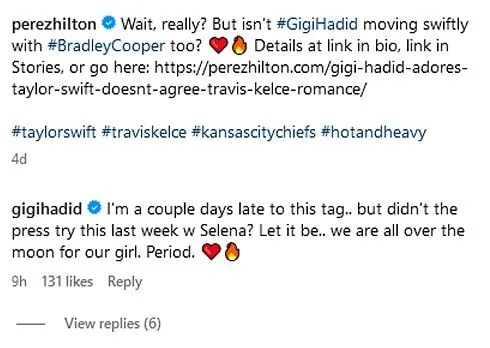 During her latest stop on the Eras Tour in Argentina, Taylor Swift, 33, delivered yet another stellar performance at Buenos Aires' Estadio River Plate. The night took an endearing turn as Swift wrapped up the show, making her way backstage to share a sweet embrace with her beau, Travis Kelce, 34. The Kansas City Chiefs tight end was not only there to support her but also received a heartfelt kiss, treating fans to a delightful glimpse of the couple's affectionate moments.
Swifties, long-awaiting such a romantic spectacle, were overjoyed as the beloved singer and the NFL star shared this tender moment, adding a touch of romance to Taylor Swift's unforgettable night in Argentina.
Check out the video here.
Taylor Swift and Travis Kelce were seen publicly holding hands for the first time since their rapid and highly-publicised romance became a sensation.
The pictures of the couple have become an internet sensation following their public display of affection on the streets of New York City.
As reported by PageSIX, despite the rainy conditions, the duo dined at Nobu in New York City on Saturday evening, shortly before both Kelce and Swift made unexpected appearances on 'Saturday Night Live.' Days after their appearance, Travis opened up about his 'SNL' taping on his brother's podcast New Heights with Jason and Travis Kelce.
Travis told his brother that his behaviour over the weekend — helping Swift in and out of the car at their various stops in New York City and holding on tight to her hand — was typical of how he acts on a date.
"I feel like whenever I'm on a date I'm always having the sense of like, I'm a man in the situation, I'm like protective, yeah for sure. You always kind of have that feeling — or that self-awareness, I guess."
The singer known for songs like Blank Space, Lover, and Wildest Dreams, donned a large grey trench coat over a completely black outfit during the outing. Her blonde hair was neatly tied up in a ponytail, and she sported her iconic red lipstick.
On the other hand, the tight end for the Kansas City Chiefs chose brown pants, white sneakers, and a cream-coloured jacket with embroidery.
Saturday Night Live
The emerging couple separately surprised the audience on Saturday Night Live. Kelce had a cameo towards the end of a sketch that playfully mocked the NFL's fascination with their relationship, while Swift introduced the second performance by musical guest Ice Spice during the show.
The pair was captured in photos as they held hands on their way to an after-party for SNL at Catch Steak. They were also seen leaving the post-show celebration in New York City.
🫶 @taylorswift13 @icespicee_#SNLPremiere pic.twitter.com/0gXEcvWQDS

— Saturday Night Live - SNL (@nbcsnl) October 15, 2023
Rumoured Romance
As reported by Variety, since Taylor Swift began attending Kansas City Chiefs games to support Kelce, she has become a prominent subject of discussion within the NFL. Her presence at the first game she attended elevated NFL Sunday ratings to 24.3 million viewers on Fox, while the second game, during which she brought several A-list friends, saw an average of 27 million viewers on NBC and Peacock.
Swift also attended Kelce's October 12's night game, but Amazon Prime Video has yet to disclose the viewership figures. The singer's attendance at Thursday's game signified the third occasion within a span of two-and-a-half weeks where the celebrity has shown her support for the two-time Super Bowl champion during his matches.
---
Suggested Reading: "Double Standard": Vivek Ramaswamy On US Paper Calling Swift's Eras Tour Economic Boon