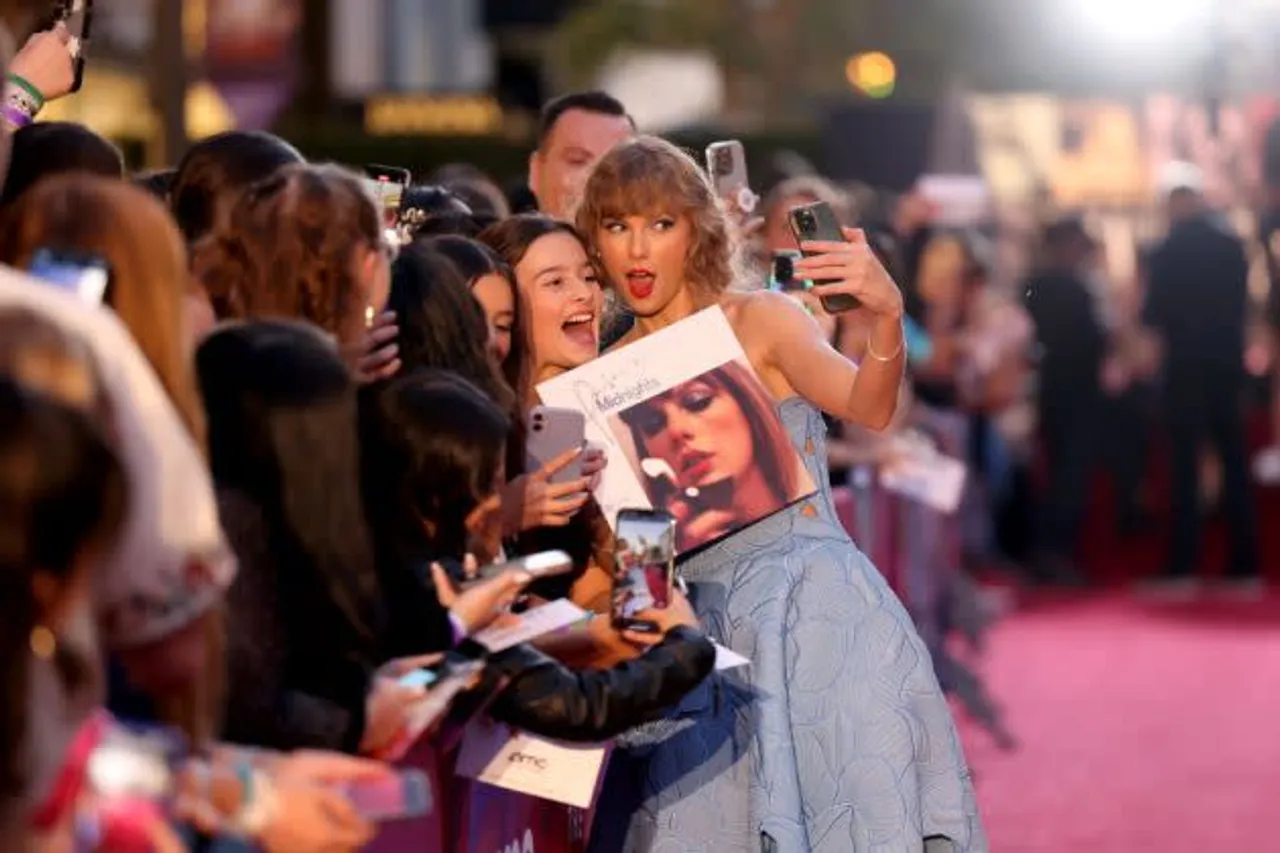 In the ever-evolving realm of modern cinema, Taylor Swift's self-produced concert movie, 'The Eras Tour,' has not just exceeded box office expectations but is also driving a profound transformation in the film industry.
With her iconic status as an artist, Swift's latest venture underscores the impact of female empowerment in Hollywood and sets a compelling example of creative autonomy.
A Cinematic Triumph Beyond Box Office Records
Taylor Swift's 'The Eras Tour' movie, a testament to her versatile talents, has defied conventional expectations. During its debut week, this self-produced concert film made waves by grossing between $95 million and $97 million in North America and an astonishing $123.5 million globally. It's not merely a cinematic success; it's a revolutionary statement, revealing the evolving landscape of the film industry and the potential for unconventional cinematic experiences.
Taylor Swift's 'Eras Tour' movie opens to $128 MILLION globally, breaking the record for a concert film previously set by 'Michael Jackson's This Is It' in 2009 ($74.3M).

🔗: https://t.co/ualHPG4uwz pic.twitter.com/oI7fOMUP2y

— Pop Crave (@PopCrave) October 15, 2023
Christopher Nolan's Resounding Endorsement
Highly acclaimed filmmaker Christopher Nolan, during an event at the City University of New York, lauded Swift's cinematic endeavour as an inspiring example of what non-traditional formats can achieve. Nolan pointed out that Taylor Swift's concert film, distributed independently through AMC theatres, delivers a unique and valuable cinematic experience that traditional studios can learn from. Nolan's endorsement serves as a testament to the enduring charm of shared stories and experiences on the big screen.
Empowering Creativity in the Film Industry
Beyond its record-breaking box office performance, Taylor Swift's 'The Eras Tour' movie is emblematic of empowerment and artistic autonomy. Taylor Swift, an influential figure in the music industry, has consistently championed the cause of female empowerment and individuality. Her self-produced concert film is more than just a commercial success; it's a powerful statement of how female artists can take the reins of their creativity and achieve success on their own terms.
The film itself is a captivating documentation of Swift's Eras Tour, featuring a 44-song set list that spans the eras and albums of her career. It beautifully encapsulates the essence of her live performances, complete with stunning visuals from her concerts at the SoFi Stadium in Inglewood. With a runtime of 168 minutes, the film immerses the audience in the magic of Swift's live shows, showcasing her unrivalled talent, charisma, and unique ability to forge profound connections with her fans.
In essence, Taylor Swift's 'The Eras Tour' movie represents more than just a cinematic milestone; it's a defining moment in Hollywood's journey towards embracing diversity and empowerment in the entertainment industry. It signifies that innovation and fresh perspectives are rewriting the rules of success, with iconic figures like Swift leading the way, redefining the status quo in the world of cinema and entertainment.
---
Suggested reading: Taylor Swift's Record-Breaking Concert Film: 5 Things You Must Know