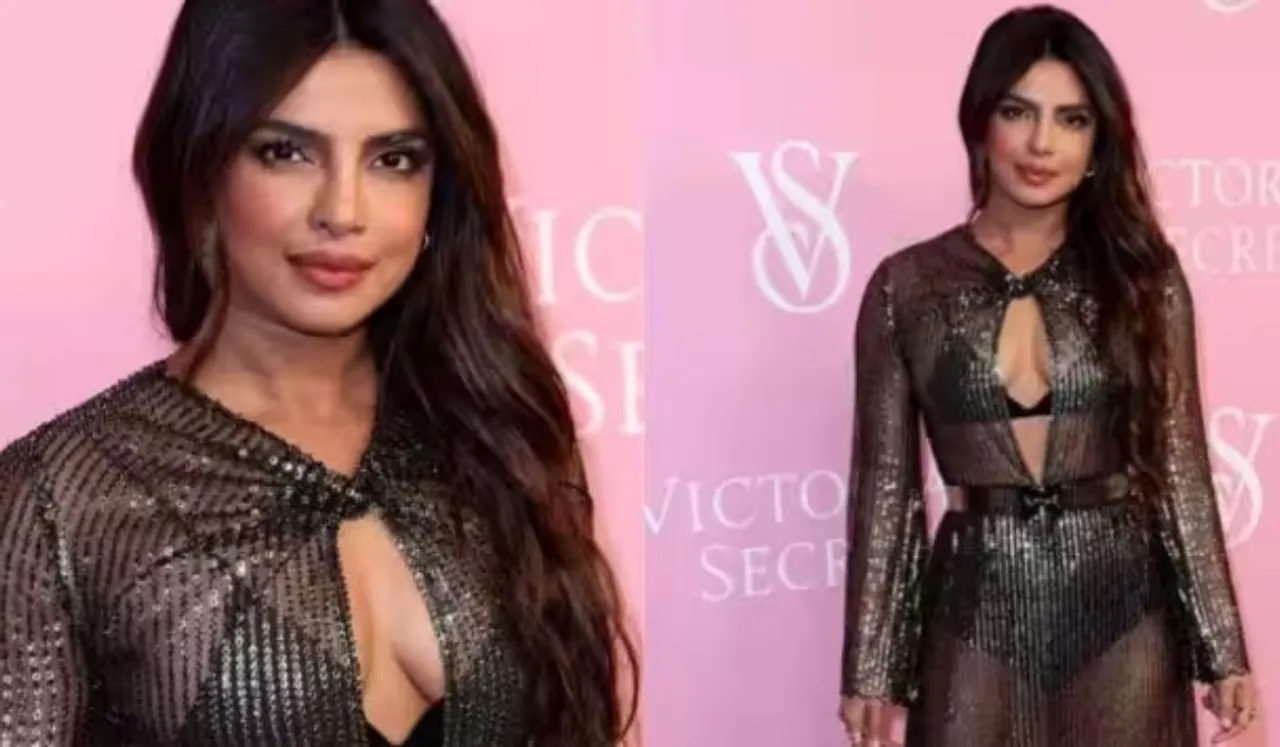 Priyanka Chopra recently graced New York Fashion Week to celebrate the Victoria's Secret World Tour, an event for which she serves as a brand ambassador. She made a striking appearance on the red carpet, donning an elegant black sheer gown. It's worth noting that the actor was signed by the brand in 2021.
Notably, the event also saw the presence of other notable figures such as Doja Cat, Naomi Campbell, Adriana Lima, Candice Swanepoel, Gigi Hadid, and Lily Aldridge. In an exciting development, the lingerie giant unveiled a feature film titled 'Victoria's Secret World Tour' that promises a fresh take on their iconic fashion show. Elle Magazine had previously hinted at Chopra's involvement in this upcoming feature film.
Priyanka Chopra Attends New York Fashion Week
At the event, the actor exuded joy as she posed and shared laughter with attendees. A fan in the crowd commented, "Priyanka looks beautiful tonight", while another admirer declared, Priyanka Chopra is a goddess
Priyanka Chopra is a goddess 🥰 pic.twitter.com/IYeuKEg46o

— NP LEGΛCY 🇨🇴 | Loving MMCJ ❤🍼 (@np_legacy) September 7, 2023
At events, Chopra discusses her husband, singer Nick Jonas. When asked about assembling the perfect concert outfit, she explains that it differs when attending someone else's concert versus her husband's performances. She expresses immense pride and excitement at witnessing him on stage, emphasising her role as his number one fan—a sentiment many might debate but one she wholeheartedly embraces.
She is so cute 😍💕🤗#PriyankaChopra #TheTour #NYFW pic.twitter.com/DANEKWlpKH

— NP LEGΛCY 🇨🇴 | Loving MMCJ ❤🍼 (@np_legacy) September 7, 2023
Chopra frequently accompanies Jonas at his concerts, which have included recent Jonas Brothers' performances in Austin, New York, and Los Angeles. Fans have taken notice of Nick's affectionate gestures towards Chopra during these concerts, often sharing their admiration on social media. Once more, she made an appearance on August 31, this time accompanied by her sister-in-law, Danielle Jonas. The pair was observed enthusiastically cheering on their respective husbands and the Jonas Brothers' band.
The couple tied the knot in a lavish Rajasthan ceremony in 2018 and celebrated the arrival of their first child, Malti Marie Chopra Jonas, in January 2022.
---
Suggested Reading: 'Mass Entertainer': SRK, Nayanthara's Jawan Twitter Reviews Are In!