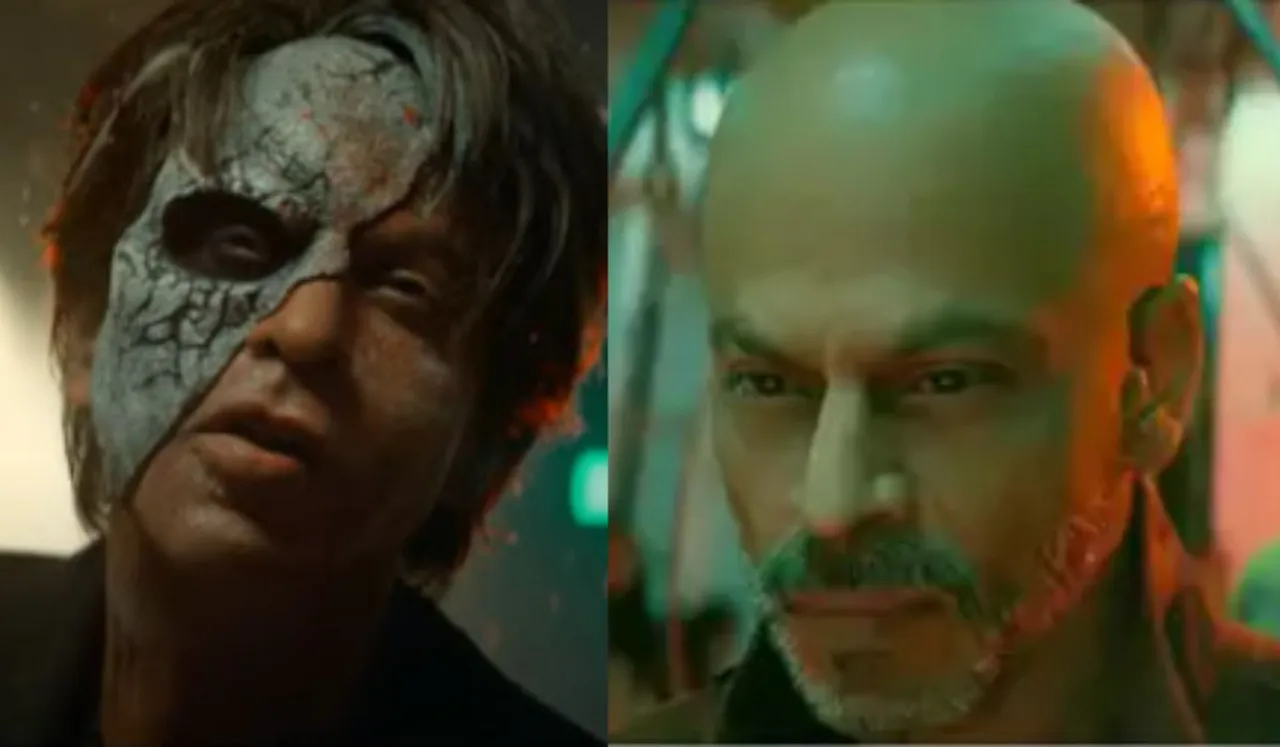 It's Day 3 for jawan today, and the excitement among Shah Rukh Khan's fans is nothing short of electrifying. Just when you thought the frenzy couldn't get any more intense, think again! While it feels like just yesterday that they witnessed Khan on the silver screen in Pathaan, the anticipation for Jawan has sent their excitement into overdrive.
You can imagine the level of excitement that kept numerous fans awake until the very first early morning screening of Jawan began. A devoted Shah Rukh Khan fan page eagerly shared snippets from the film's early morning show, capturing the thrilling atmosphere. In perfect harmony, fans could be heard chanting, "India ki shaan Shah Rukh Khan."

The accompanying caption exclaimed, "It's 5:35 AM, and we've already begun celebrating for our historic 6 AM screening. It's nothing short of MASS HYSTERIA as we welcome the KING back to the big screen!"
Shah Rukh Khan himself responded to the video early this morning, expressing his gratitude with these heartfelt words. See how he responded.
Love u boys and girls I hope u enjoy the entertainment. Kept awake to see u go to the theater. Big love and thanks https://t.co/WYOKRfqspG

— Shah Rukh Khan (@iamsrk) September 7, 2023
Jawan Twitter Review
Beyond the excitement, a sea of voices flooded Twitter, leaving behind their thoughts, remarks, and reactions that painted a vivid canvas of opinions. They declared that Jawan is more than just your run-of-the-mill masala entertainer with a big hero and a mega-budget. Instead, it unfolds as a masterpiece, boasting a compelling narrative and stellar performances that leave an indelible mark on the audience.
Here are a handful of Twitter reviews for you.
Jawan is a Super Blockbuster. It will break each and every record.

jawan is a movie for every Indian , not just SRK fans

If the like count of this post crosses 20K I will give 40 tickets to random people with screenshot

#JawanReview pic.twitter.com/GDUU9VI4Mh

— Gurpreet Garry Walia (@garrywalia_) September 7, 2023
While #Pathaan was the comeback we wanted, #Jawan is the comeback we needed and the one #ShahRukhKhan deserved.#JawanReview pic.twitter.com/HlgmZyIEpd

— 𝐒𝐭𝐞𝐯𝐞𝐧 (@SRKsSteven) September 8, 2023
.#JawanReview
If Somebody still thinking whether to watch Jawan Or not, then let me help you..

This Movie has covered more Social issues within 3 Hrs than Godi Media did in past 9 Years 👌👍

Hope it might help you ❤🤞#Marimuthu #JawanBoxOffice #SRK𓃵 #ShahRukhKhan𓃵 pic.twitter.com/XzBQSWnkk0

— Dr Nimmo Yadav (@Riaz1Asim) September 8, 2023
Rating: ⭐️⭐️⭐️⭐️#Jawan: MASS MASS MASS. 🔥🔥
Riding high on elevation, #Atlee emerges as a master-storyteller. #ShahRukhKhan is the backbone, #Nayanthara is brilliant, #VijaySethupathi as usual fun to watch. Technical brilliance right from Colours to Sound Design. #JawanReview… pic.twitter.com/5n8ocXz0tY

— Nishit Shaw (@NishitShawHere) September 7, 2023
#Jawan interval block will go down as massiest in the history of Bollywood.

I witnessed something that I can't able to express through my words.

This is "King Khan" never before seen! 🔥🔥🔥🔥🔥 #SRK #JawanReview pic.twitter.com/27LxiZ05wJ

— George 🍿🎥 (@georgeviews) September 7, 2023
#JawanReview : ⭐⭐⭐⭐

ALL TIME BLOCKBUSTER

Emotional roller coaster with full action mass masala entertainer & seeti-maar dialogues. Superb @anirudhofficial bgm. #ShahRukhKhan delivers a iconic performance. #Nayanthara looking beautiful and excellent debut performance.… pic.twitter.com/CepjFdbVUH

— Vishwajit Patil (@_VishwajitPatil) September 7, 2023
Those who haven't seen the film yet, Trust me you guys are going to witness Megastar #ShahRukhKhan's best ENTRY SCENE ever and not just one but THREE ENTRY SEQUENCES 🥵🔥#JawanReview

We all were right when we said "#Pathaan toh sirf ek jhaanki hai, asli MONSTER #Jawan abhi baaki… pic.twitter.com/0OdqkD7Uht

— p. (@iTheExcalibur_) September 7, 2023
#JawanReview : ATBB #JAWAN-BUSTER ❤️❤️❤️❤️

Jungle aur Bollywood ka ek hi Raja tha 90s mein bhi aur 2023 mein bhi 🥵🥵🥵🥵🥵🥵🥵

Vikram Rathod iss Angaaarrrrr💥🔥

SRK has KILLED IT 🥵🔥

You must haven't seen much action Masala movies with proper Acting and VFX till now just… pic.twitter.com/0lt7WLYWkg

— Aman (@amanaggar02) September 7, 2023
Jawan finally graced the silver screen today on September 7. Helmed by the director Atlee, this film features SRK in the spotlight. Notably, Nayanthara, marks her Bollywood debut with this film, while Vijay Sethupathi takes on the role of the antagonist.
The movie also boasts an ensemble cast of exceptional actors, including Priyamani, Sanya Malhotra, Sunil Grover, Eijaz Khan, Sanjeeta Bhattacharya, Ridhi Dogra, and a special cameo appearance by the one and only Deepika Padukone!
Anirudh Ravichander, a musical maestro, has been chosen to compose the film's soundtrack, marking his debut as a solo composer in the Bollywood industry.
Have you had the chance to catch the film yet, or are you counting down the seconds until your work ends so you can sprint to the theatres? Perhaps you marked it on your weekend to-do?
---
Suggested Reading: 'Haddi' Will Make You Angry, Scared, Cry, All At Once