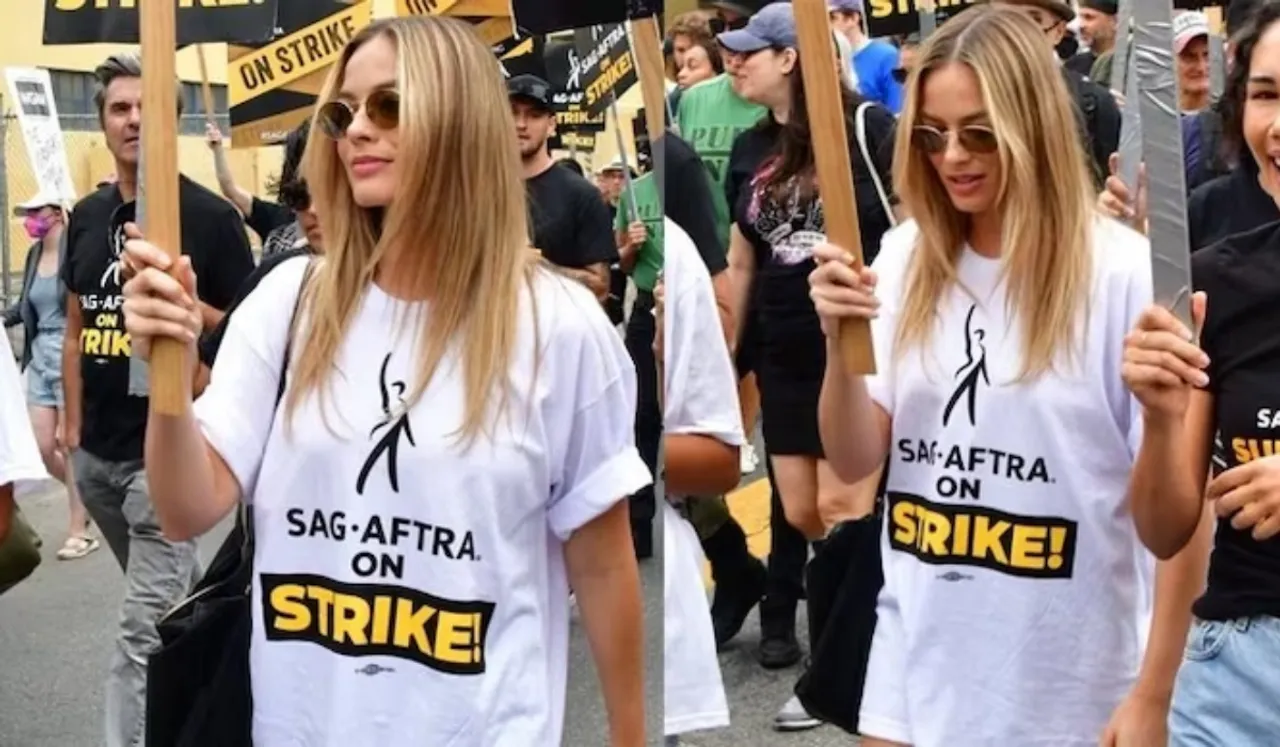 The ongoing strike led by the Screen Actors Guild-American Federation of Television and Radio Artists (SAG-AFTRA) continues to make headlines, driven by concerns over poor working conditions and low wages. Even months after the release of her film Barbie, actor Margot Robbie has joined the SAG-AFTRA rally, which stretched from Netflix Studios to Paramount Studios in West Hollywood, making waves on the internet.
Margot Robbie participated in the rally, donning an oversized white SAG-AFTRA T-shirt with the bold statement, "SAG-AFTRA ON STRIKE!" Her blonde hair flowed freely as she stood alongside fellow actors and writers, holding signs and chanting slogans in support of the strike. Robbie herself held a sign proclaiming, "SAG-AFTRA ON STRIKE!" with black, white, and yellow colours.
Margot Robbie's presence on the field quickly caught the attention of fans, sparking a flurry of reactions on social media.
On X (formerly Twitter), fans voiced their support in various ways. One fan commended how she looks like she just rolled out of bed in that shirt and still looks fine as hell. Reflecting on the significance of her participation, a supporter stated, "This is how strikes are won." A creative fan added a playful twist, saying, "Come on Barbie, let's go strike!" Lastly, one fan humorously quipped, "This Barbie believes in fair wages and union representation."
📽️ | ON STRIKE! 💪🏻 #MargotRobbie #SAGAFTRAstrike
pic.twitter.com/Yz3h5uh95o

— margotland (@margotrland) September 13, 2023
The strike officially commenced on July 14, just a week before the release of Margot Robbie's film Barbie on July 21. The Greta Gerwig-directed movie, featuring Robbie and Ryan Gosling as iconic Mattel dolls, made a significant impact at the box office, amassing a staggering $1 billion in global earnings.
What is SAG-AFTRA?
The SAG-AFTRA community comprises more than 160,000 professionals, including actors, media workers, broadcast journalists, and hosts. The union negotiates pay and working conditions with major Hollywood studios every three years through the Alliance of Motion Picture and Television Producers (AMPTP), which includes industry giants like Disney, Warner Bros., and Netflix.
Unfortunately, SAG-AFTRA and the AMPTP failed to reach an agreement on July 12, leading to the declaration of an indefinite strike. The impact was immediate, with stars like Cillian Murphy, Emily Blunt, and Florence Pugh from the upcoming film Oppenheimer leaving the red carpet in solidarity with the guild's decision.
The simultaneous strike by the Writers Guild of America has further exacerbated the situation, posing a significant threat to major Hollywood studios. Their promotional efforts, festivals, podcast appearances, and more are now in disarray due to the ongoing labour disputes.
---
Suggested Reading: Betrayal Of Privacy? Elon Musk's Book Has Amber Heard's Private Photo