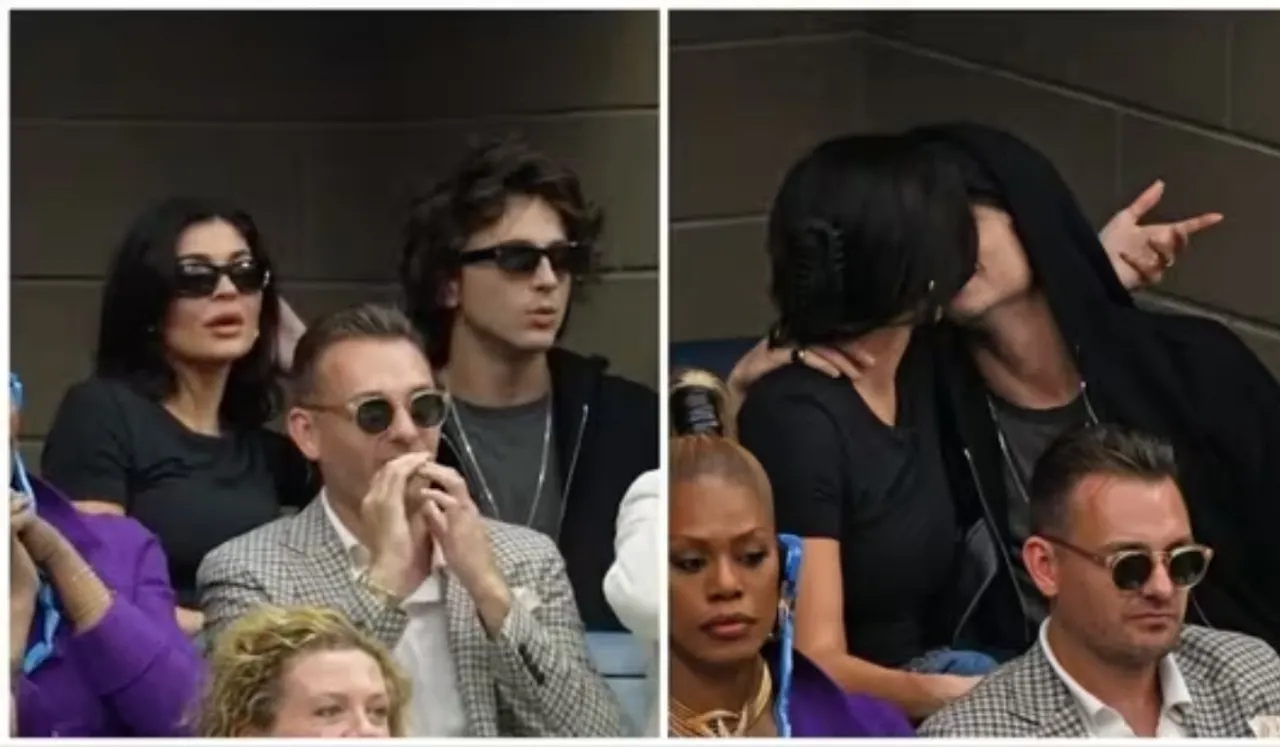 Kylie Jenner and Timothee Chalamet are no longer keeping their romantic relationship under wraps. The pair was seen affectionately spending time together during a US Open match on Sunday, September 10.
Following their public appearances at Beyonce's The Renaissance Tour concert and New York Fashion Week, Kylie Jenner and Timothee Chalamet were once again seen together at the US Open Men's final on Sunday. 
This time, they openly exchanged kisses and affectionate gestures in the VIP booth. Both dressed in black attire and occupying a prime location, the couple's intimate moments were captured by cameras multiple times. Jenner was observed gently running her fingers through Chalamet's hair and occasionally applauding the players during the match. The final at the US Open featured Novak Djokovic facing off against Daniil Medvedev, with Novak emerging as the victor.
Watch The Video Here
Kylie Jenner and Timothée Chalamet at the US Open. pic.twitter.com/eemE2Iy5jG

— Pop Base (@PopBase) September 10, 2023
Kylie, Timothée PDA At Beyonce's Concert
Earlier, Kylie Jenner and Timothée Chalamet publicly confirmed their romantic involvement as they openly expressed their affection during Beyonce's Los Angeles concert. Their affectionate display, which included multiple kisses and a tender moment where Chalamet lovingly caressed Jenner, was captured by a concert attendee and reported by TMZ. 
Kylie Jenner and Timothée Chalamet at the US Open.

pic.twitter.com/GUPOhQSxol

— Pop Base (@PopBase) September 10, 2023
This marked their first public appearance together, dispelling prior speculations about the status of their relationship. While some sources suggested that they had been dating for several months, others indicated that their relationship had come to an end.
Images and videos of the reality TV personality and businesswoman, along with the Hollywood actor, enjoying Beyonce's concert have flooded social media platforms. The pair were seen embracing and sharing kisses in the VIP area of Beyoncé's Renaissance Tour at the SoFi Stadium in California. Among the other notable figures present in the VIP section were Kendall Jenner, Hailey and Justin Bieber, Adele, Zendaya, and Kim Kardashian.
In some of the footage, Timothée Chalamet held Kylie Jenner from behind as she danced in a grey and black dress. In other clips, they were seen hand in hand while watching Beyonce's captivating performance on stage. In yet another video, Kylie lovingly embraces Timothée from behind.
September 5, 2023
Reactions
In response to a video shared on Twitter or X featuring Kylie and Timothée from the concert, a Twitter user expressed scepticism, commenting that Timothée keeps looking at the camera and stating that they don't believe any of it. Another individual agreed with this sentiment, asserting that it gives off a fake impression.
The fact that he keeps looking at the camera LOL. I don't believe any of this im sorry #TimotheeChalamet #kyliejenner #PR #tmz pic.twitter.com/eQoadgHFRe

— Stev.sc (@stefanoscappin) September 5, 2023
Many others echoed similar doubts, and one person even speculated about Kris Jenner, Kylie's mother, suggesting that the entire situation might have been orchestrated, citing Kris's ownership stake in TMZ. Nevertheless, a separate individual came to Timothée's defence, suggesting that his noticeable glances at the camera may simply be a result of him noticing someone filming them.
Kylie Jenner and Timothée Chalamet Relationship
Rumours of both dating initially emerged in April 2023, when sources indicated that they were spending time together. According to a source cited in an Entertainment Tonight report, their relationship was characterised as casual and not yet serious.
The source explained that Jenner was enjoying her time with Chalamet and described it as a departure from her previous relationships, finding it new, exciting, and fun.
---
Suggested Reading: Sophie Turner, Joe Jonas File For Divorce After Four Years Of Marriage