Completing your bucket list one by one is really an achievement for any millennial, and how beautiful it would be to carry it out with strangers? And that is exactely what I got to do. I took two customers, who were really nice, adjusting and caring ones, on a trip to Himachal Pradesh with me. I also had my friend accompanying me all the way.
How we got there
After a three day journey by train, we reached Delhi from Kerala From there it was an overnight journey to Himachal Pradesh. It was an hour-long treck to Pulga village from Barshaini. The roads were scary though. The sides were all covered in ganja leaves along with many other plants. We walked while carrying all out luggage. The trail felt so hard to me since I was carrying a 75 litres rucksack. But after once we arrived in Pulga, it just felt so worth it.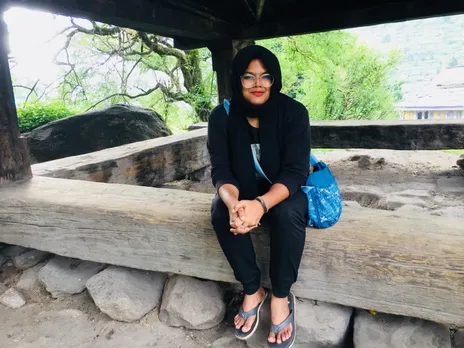 Image Credit: Hiba Ameena
At first I was conflicted over what I would do for three whole days at sucha remote village. But I soon discovered that Pulga had everything one needed and much more, which could tempt you into sticking around for longer than you planned. I didn't feel like coming back from Pulga, such an amazing place it is. The locals engage you with their beliefs which may sound crazy to the uninitiated and local mysteries.
I soon discovered that Pulga had everything one needed and much more, which could tempt you into sticking around for longer than you planned.
Our treck from Pulga to Kalga was another walk of one and a half hours, but it didn't feel that laborious, maybe because we had been walking for the past three-four days. We reached reached Kalga amidst a beautiful drizzle. Kalga is a small village, with a lot of apple trees around. The apples were fresh and juicy. While we had booked rooms in Kalga, I refused to stay inside. To sleep in the balcony in cozy weather was something that I always liked. Cooking is always what I love to do and I didn't fail to do it this time. I took to filling my travellers' tummies with spicy chicken curry.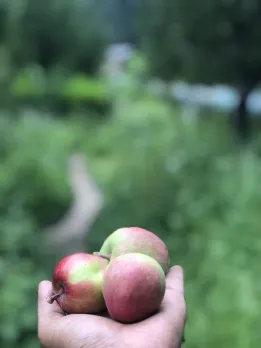 Picture Credit: Hiba Ameena
Trek To Kheerganga
The next day we began our long-awaited main trek which spanned for 11 kilometers, taking us 13,051 ft above sea level. What an amazing trek it was! We came across many mammals and dogs on the way, while also making our way through the beautiful Naktan village. The trek wasn't that tiring but it wasn't easy either. We stopped by a huge waterfall for a steaming cup of tea. The only concern for me was to reach Kheerganga on time. It took us almost five hours to get there. On the way I saw people carrying food materials , gas cylinders and whatnot. Since there is no proper road they had to carry their goods and walk all the way for 11kms. Perhaps the reason why things are so expensive on hilly areas. I wonder how they could walk so easily and faster with so many things to carry.
ALSO READ: TravelHer: Should I see the world through my lens or my eyes?
The place has a beautiful story behind and a reason why it is called Kheerganga. It goes like this: Once upon a time,  Karthikeyan went to a cave to meditate out of anger and his Parvathy went to call him back home. Out of love for her son she poured kheer through the mountain which now flows as a river. Later Parashuraman, on realising the oncoming of kalyug and the fight that could happen amongst people , stopped the flow of kheer and what was left behind was hot water. Thus came the hot water springs which were named Kheerganga. However, one can see a white-colored substance flowing through the water which is said to be cream (malai). Yes, I did see that, a white coloured substance flowing in the river and I thought it was some kind of fern. Which is why I was very surprised to hear this. It is said that if we take a dip in this hot water we will be awash of all our sins. Maybe it's true because the water is damn hot. Anyways, I did take a dip and it was very refreshing. Imagine hot water coming from the mountains, where it rains as hell and the climate is immensely cold. It was so surreal that I didn't want to leave the mountains and this magical land. On our way back to Kalga I was so lost in my thoughts that I slipped, but thankfully I managed to regain my balance.
Image Credit: Hiba Ameena
Returning via Kasoli
After experiencing one last beautiful Himalayan morning we packed our bags and left for Kasol, from where we had our bus to Delhi. Kasol is such a good place for shopping, we found many lockets that were made from cut stones. Everything on offer was handmade. We got so lost in shopping that we didn't even realise how time slipped by and soon it was time to board our bus.
Travelling has taught me so many things. Lessons that I learned from this trip were really something I had never even thought I needed. The people of Himachal live a very frugal life as compared to ours. No town, no roads, nothing. But their lifestyle and the way they behave is so respectful and really down to earth, that it is much more precious than all the luxury that we have
ALSO READ: TravelHer: A Solitary Evening Spent Exploring Hanoi
Hiba Ameena is from Calicut in Kerala. She runs a travel company called Fireflies which takes tourists to offbeat destinations. The views expressed are the author's own.