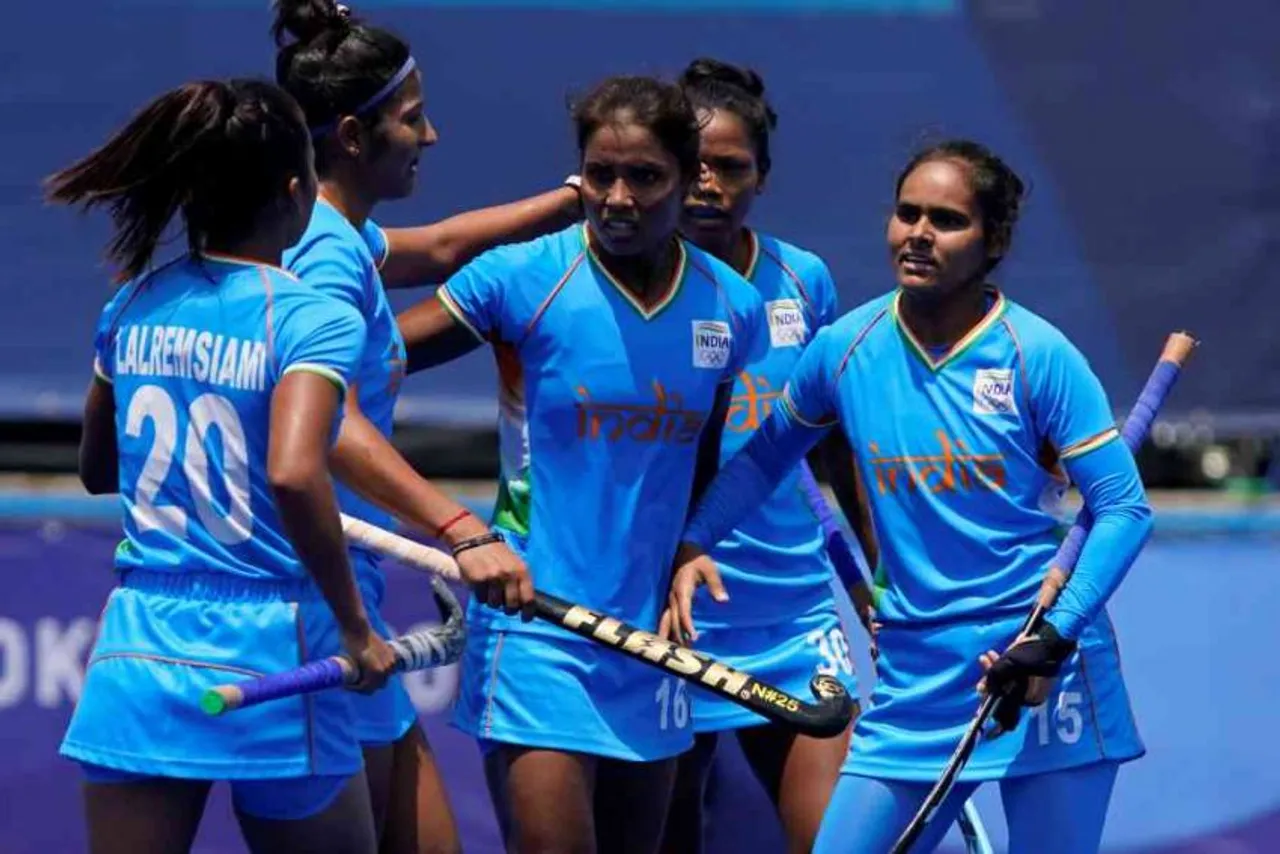 Women Hockey Team Semis: In a cricket crazy nation, most sports get "othered" and women's sports especially so. Thus, the Indian women's hockey team making it to the semi-finals with a gritty performance is, even more, a reason to celebrate.
A goal by Gurjit Kaur has enabled the women's team to enter into their first-ever semi-finals in an Olympic Games. This 1-0 win over world no 2 Australia will always remain historic, whatever the result in future. As Chak De! India songs took over the stadium in Tokyo one cannot but reminisce over the similarities in the two stories. These women in blue deserve applause for what they have achieved. Remember, that this is only the third time that the women's team has made it to the hockey event of an Olympics game.
With both men's and women's teams in the semis, it is a feeling which will take some time to sink in even if you are not an ardent sports fan like me. The moment and the celebrations inside the stadium will give you goosebumps. Every woman on this team will inspire you to push you to go beyond your limits and achieve your dreams. Captain Rani Rampal's story of how she started playing with a broken hockey stick is well known.
The Amritsar girl, Gurjit Kaur who scored the game's maiden goal, also comes from a farming family. According to India Today, the drag-flicker said, "Very happy with the win, everybody worked very hard for this win. We performed like one team and we are feeling so happy to have qualified for the semifinals. Thank you to all those who supported the Indian women's team," after the win. 
Remember that as a country we do not give opportunities to women on a platter, be it in academics or sports. And much of the sports that are played remain overshadowed by cricket. While young boys are still encouraged to take up cricket, football, kabaddi and weightlifting, running or cycling as as a hobby, for Indian girls the opportunity to remain outdoors for long hours, forget about exercising their choice, is still a luxury. Sports as a career option is still not viable.
Let us celebrate this moment for Indian women, for breaking gender stereotypes for making a name in a field that is traditionally unsuitable for women. They are brave women who have created history. They are a determined lot to prove a point. We wish all the best to this Rani Rampal-led side. 
6️⃣0️⃣ minute, ye 6️⃣0️⃣ minute hum hamesha yaad rakhenge. 🇮🇳

The Indian Women's Hockey team are through to the semis. 💙#AUSvIND #HaiTayyar #IndiaKaGame #Tokyo2020 #TeamIndia #TokyoTogether #StrongerTogether #HockeyInvites #WeAreTeamIndia #Hockey pic.twitter.com/qjh4ebNUbC

— Hockey India (@TheHockeyIndia) August 2, 2021