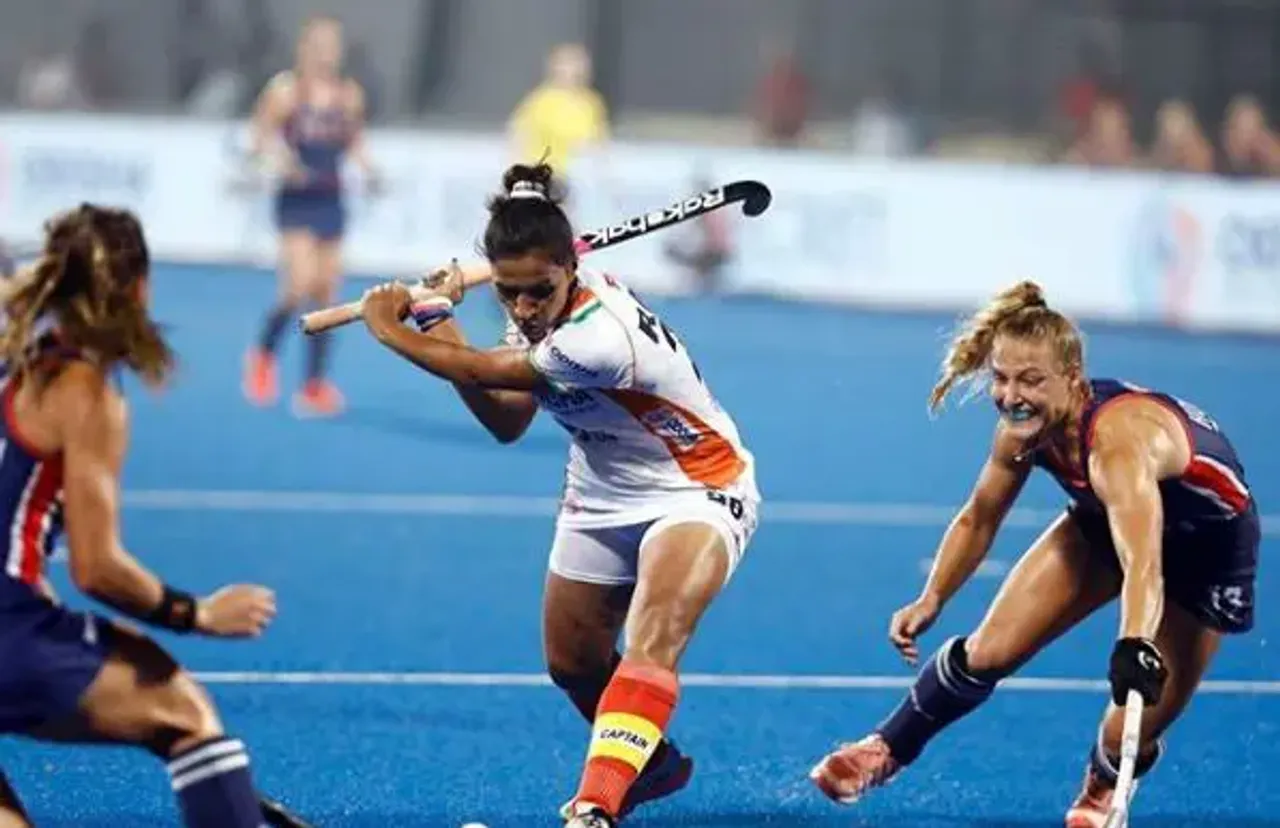 Hockey captain Rani Rampal journey to Tokyo Olympics: The Indian women's hockey team has scripted history! This is the very first time that they have booked a spot in the semi-finals of the Olympics event. Team India defeated world No. 2 Australia 1-0 in the quarterfinal match held on August 2. Rani Rampal and her team will now play in the medal round for the first time since the event's inception.
This is only the third time that the women's team has made it to the hockey event of an Olympics. The team was struggling big time in the knockout rounds, finishing fourth in Pool A with two wins and three defeats. The world no. 9 side however stunned everyone and triumphed over South Africa 4-3, in their last group game on Saturday. With Ireland's defeat at hands of Great Britain in Pool A, India made it to the knockouts of women's hockey for the first time in the history of the Olympic Games.
The Indian women's hockey team scripted history on Monday (August 2) by qualifying for the Olympic Games semifinals for the first time, beating three-time champions Australia. Major credit for the feat goes to skipper Rani Rampal and her well-executed winning strategies. The Rampal-led forward line has been impressive throughout the the pool stages.
This is Rani Rampal's story
In the year 2010, Rampal became the youngest player inducted into the national team for the World Cup. She was just 15 then.
The 26-year-old, who is known for winning a match with a last-moment crucial goal, hails from Shahabad Markanda in the Kurukshetra district of Haryana. In a recent interview with the Humans of Bombay, the Captain of the women's hockey team opened up about how she started practising with a "broken hockey stick" as her parents couldn't provide much, financially.
Rampal's father worked as a cart-puller and mother as a house help and it was rather difficult for the family to make ends meet. "I wanted an escape from my life," she said, revealing how she couldn't afford to buy an actual hockey stick. The youngster would spent hours watching the game at a nearby academy. Rani's early years were marred by economical crisis, her family had to brave electricity shortages, they often slept on an empty stomach, and their home got flooded all the time.
There was only so much my parents could do — Papa was a cart puller and Maa was a maid: Rani Rampal on her childhood.
The masterminds behind the miracle of #Ind #hockey at #Tokyo2020 #Olympics #FirstpostInTokyo pic.twitter.com/Bz7RdVN7uy

— Amit Kamath (@jestalt) August 2, 2021
The veteran striker, who led Team India in the Women's Asia Cup in 2017 and bagged the silver medal at the 2018 Asian Game, further added that every single day, the coach at the academy would reject her, saying, "You aren't strong enough to pull through a practice session", and this discouragement eventually led the aspirant hockey star to begin practicing with a broken hockey stick. "I used to run around in a salwar kameez," she said, adding that she was determined and finally managed to convince the coach to train her.
Her poverty-stricken family, however, did not favour watching their daughter play in a skirt. "I'd plead, 'Please mujhe jaane do (please let me go). If I fail, I'll do whatever you want.' My family gave in," she stated. It was her coach who bought her hockey kits and shoes. "I remember I won Rs 500 at a tournament and gave the money to Papa. He hadn't ever held so much money in his hands," Rampal said adding that she promised her family that one day, they'll have their own home. "I did everything in my power to work towards that." Under her captaincy, India has entered the Olympics for the second consecutive time. Rampal's performance had a big role to play in India's return to Olympics event after 36 long years, at the 2016 Rio Olympics.
Rani Rampal journey to Tokyo Olympics semis
Recalling her initial experience in the sport and how it took her a while to realise the importance of participating in a big stage like the Olympics, Rampal, in an interview with SheThePeople, said, "Initially, coming from a small town with little knowledge about the outside world, I didn't even know what the Olympic Games were, and I could not understand the hype around it. But it was in 2008 when I saw my fellow players cry after missing out on a spot at the 2008 Beijing Olympics, and I had to ask her why she was crying, and that is when I realised how big the Olympic Games were for everyone. Just comparing that stage of my career to now, I think I have come very far, and I have only one wish and that is to win all major trophies for my country. For a long time, women's hockey has not been in the limelight, and I think with the team we have now, it is time to prove to everyone that we can go a long way and achieve some very special things together."
"I believe that there is no substitution for hard work."
Coming from a humble background, playing the sport has not only helped Rampal but has helped her family's financial condition, according to the hockey star herself. "Now I'm at such a place that I can give back to the society, to the kids in my hometown of Shahbad-Markanda, and I want to continue making a difference in the lives of many children," Rampal shared.
The powerhouse team will next face Argentina in the semis who beat Germany 3-0 in the previous quarterfinals match.
Feature Image Credit: Rani Rampal/Instagram