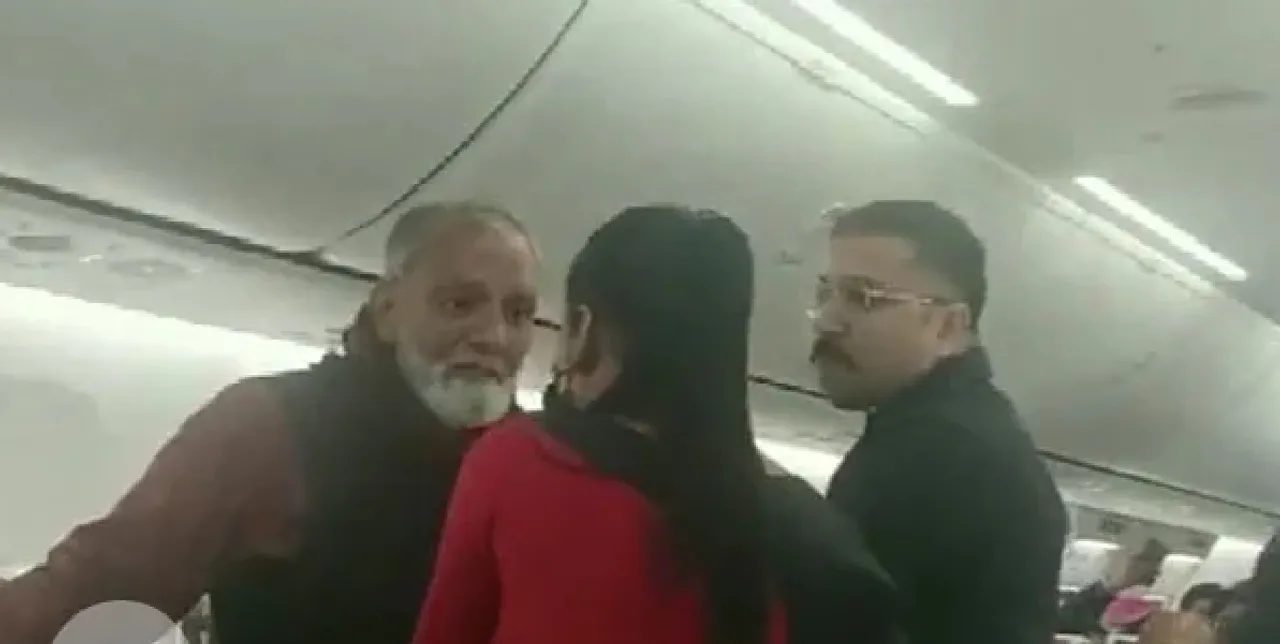 Spice Jet Female Crew Harassed By Male Passenger: Unbelievable! Even an entire day hasn't passed since I wrote about how patriarchy follows women to the planes too and I came across another news of harassment against a crew member. This time it was Spice Jet. The passenger was off-loaded for touching a female crew member inappropriately. When is this going to stop?
Just yesterday I was speaking to a few air hostesses about the harassment and misbehaviour they face on a regular basis. Each one of them narrated incidents in which they had come across male passengers who touched them inappropriately, verbally abused them or looked at them with bad intentions. One was touched inappropriately by a passenger, another was abused for calling out a male passenger for misbehaving with her fellow crew and another was mentally harassed by showing her sexual images. Read the article here.
I was numb while listening to these incidents. And don't assume that these cases were just a matter of fate. These are not isolated incidents but are one among many that crew members have faced. We are always fascinated by seeing aeroplanes flying over heads or while boarding one. It is always a unique experience considering the modernity flights embody.
But who knew that within this modernity is hidden the ugly face of patriarchy- the symbol of orthodox society? Who would have imagined that no matter how progressed we are, orthodox ideas creep in like termites?
SpiceJet passenger harasses female crew
What is the reason behind these recurring incidents of cabin crew harassment? Why do male passengers misbehave and objectify female crew? Why don't they respect them as much as the modernity of air travel? Why don't they leave their patriarchal mindset behind which considers women as men's property? If they boarding modernity, why don't they accept it when it comes to women's empowerment?
When I spoke with air hostesses, I could sense the feeling of helplessness in their words. Someone who looks superficially at air hostess will consider them as beautiful, bold and financially independent. But if you look deeper, they are forced to trade their self-respect to gain this independence. No matter how respectful their job is, women are subjected to objectification and gender discrimination in every sector. And this is just not fair. Even though we have started embracing the financial independence of women, we haven't understood what women's empowerment really means. By paying women, men consider them as their own property. This is the reason why sexual harassment in the workplace is so common in our society. Men never miss using the helplessness of women for their own benefit. While women cannot afford to lose their hard-earned job because of the conditional freedom they have received, considering this as an opportunity men put their hands on them.
One of the air hostesses I interviewed clearly said that when people buy a ticket, they assume that they have bought the entire flight or the airline. And this is the reason why they misbehave with female crew and passengers.
While another rightly said, "We are appointed on the flights to ensure the safety of the passengers. However, we do not receive respect as much as doctors get. Our identity is restricted to serving tea to the passengers while wearing clothes that are revealing and uncomfortable."
But dear men, let us be clear that just because you pay women, you don't own them. Women earn to be financially independent and not serve the patriarchy. Women's duty has never been about serving men. It has been about living their life on their own terms, as men do. It is wrong to assume that a woman who stays within the boundary of the house is respectable while the one who steps out is public property. Whether earning or not, women deserve respect and safety and that is what women's empowerment really means.
How long will it take for us to understand this?
Views expressed are the author's own.
---
Suggested Reading: