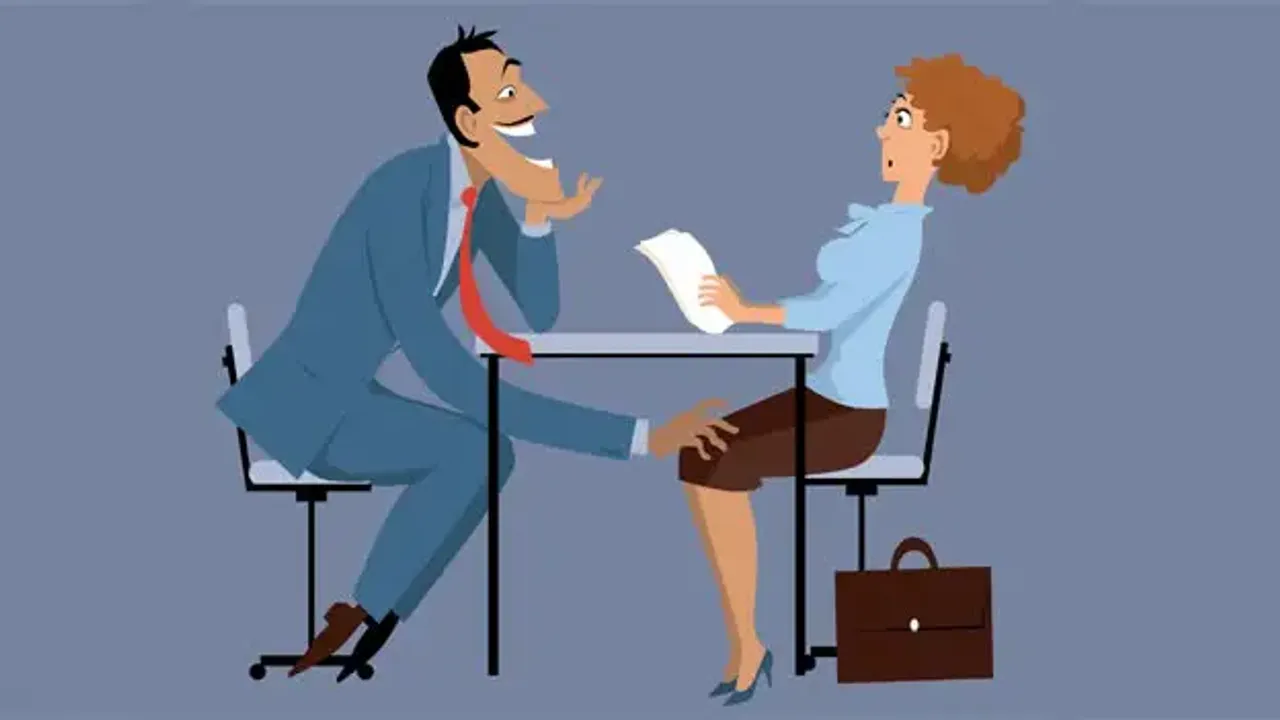 A working woman is truly a source of inspiration and success. They not only set examples for the underprivileged sections to dream and succeed but also contribute to the development of the nation. But are they safe? Does the tagline of being a bread earner save women from normalised sexual harassment? Unfortunately no. So can we really say that women are free?
I met a man on a professional job-seeking website who approached me for a freelancing project. He was a well-recognised person with many feathers added to his cap. However, his success couldn't help change his mindset.
When he approached me, I was glad to be working for a start-up and for someone who is so experienced and successful. However, when we connected further on social media and call, things took an unexpected turn. After having a few calls regarding work, the man asked me out. Besides being my colleague, he was also a married man. And this shocked me to the core.
I was confused about whether I should prefer the project or my safety. Whether I should choose to grow in my career or take a step back by losing an opportunity to patriarchy?
It was very easy for my parents to say that just don't work with him. As a writer belonging to a family that only considers the technical field as success, it was very difficult for me to just let go of an opportunity which could help me prove my talent and capacity. But I was caught up.
However, due to some personal reasons, I had to let go of the opportunity.  But I am sure the choice that I had to make is not unique to me. Many women in our society have to go through this. In May 2022, 50 per cent of female employees complained of being sexually harassed at least once in the workplace. And of those who got harassed, 55.2 per cent decides not to file a complaint.
For women who are employed in the informal sector, the situation is even worse. 95 per cent of women working in the informal sector are sexually abused according to a study. There is no #MeToo movement for them or complaint cells as directed by the POSH act. Moreover, according to 2018 data, most of the 655 districts failed to follow the POSH Act of putting up sexual harassment in workplace cells. Even the government failed at publishing any data or releasing funds and resources to enact POSH Act.
What do these studies tell us? Don't they point out the helplessness of women in the working sector? Don't they show that no one is interested in empowering women from every side- be it financially or socially?
Sexual Harassment At Workplace
In our society, a working woman is first seen as a woman and then as an employee. And this is the reason why gender discrimination comes first and affects their working culture. Because of gender discrimination and sexual harassment at work, many women refrained from stepping out and earning a living. Even though the government has built help desks for workplace sexual harassment cases, it is not easy for common women to approach them. Before complaining they have to remember that their reputation and their job are at stake. Complaining about sexual harassment against their seniors will not only lead to danger to their hard-earned job but also to their life and reputation.
If such complaints are registered, families get a reason to not let the women in their houses step out. And hence all the hard work that women do to achieve the freedom to work is taken away from them.
But is this right? Why do women have to choose between salary and safety? Why can't women work as employees and not as women? Why can't women be free of gender discrimination in the workplace that actually provides women with an opportunity to brush shoulders with men? If workplace sexual harassment is not addressed, then have even gained any opportunity to empower themselves?
Just like I had to face the dilemma of choosing work or safety, many women would have. But from my experience, all I would like to tell them is that don't stop. Don't stop from taking a step against injustice. Don't stop from moving ahead by preserving self-respect. Yes, it is true that because of this you might lose an important opportunity. But that's not your worry. Society and government should focus on making the workplace safer for women. All we have got to do is fight and be rigid. We needn't give up no matter how much the pressure increases. If today we will fight, tomorrow we will reign.
Views expressed are the author's own.
---
Suggested Reading: Why Vinesh Phogat And Other Wrestlers' Protest Is Revolutionary?