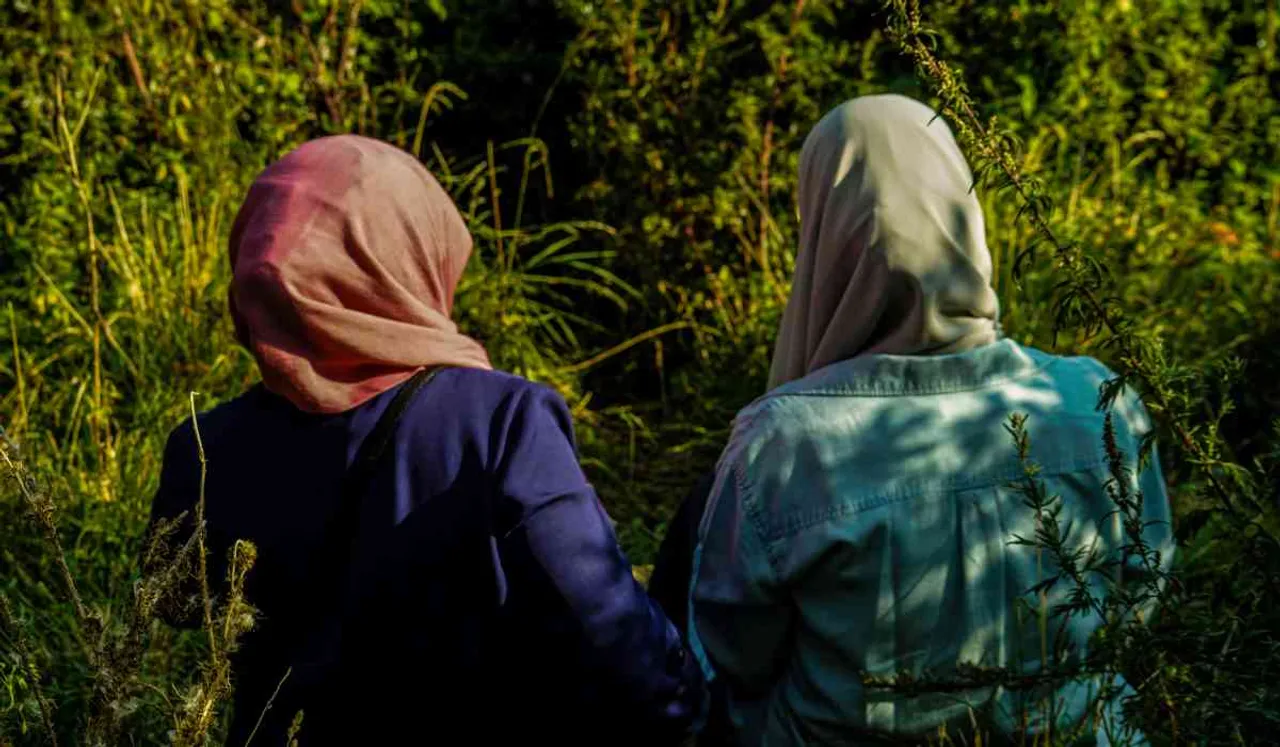 Much of the media coverage on hijab row in Karnataka would have you believe that the kernel of the issue revolves around the essentialism of the religious headscarf to Islam. Is the hijab oppressing Muslim women? Are they being coerced into wearing it? Should they flash religious symbols in public places? Between all this sensationalist noise, the crux of the matter is being ignored: the right of girls to study.
The row began in Udupi, where a group of girls claimed they were not being permitted to sit in class with their hijabs on. As reports of this conflict emerged, its expanse spread to other schools and colleges in the state with institutions citing a code of uniform that did not take into account the religious headscarf. Follow the row here.
Tensions escalated in the state with many Hindu students retaliating against their own classmates by flaunting saffron scarves, a mark of protest against the hijab. Friends have been pitted against each other. Playing to the tunes of communal instincts they have been conditioned to, it is the youth of India that is suffering the most.
At an age when they should be developing a consciousness for peace and progress, should students feel compelled to harbour strong drives for religious animosity? How much of these narratives are being shaped by media blazing bold and breaking headlines that make a suspiciously liberal use of the divisive 'versus'?
---
Suggested Reading: Stop Telling Muslim Women What Is Good Or Bad For Them
---
Muslim women and girls have been made 'objects' of voyeuristic scrutiny by cameras following them around.
One deeply distressing visual came from a local channel identified as Dighvijaya TV, which showed a reporter literally chasing a young hijabi girl as she ran ahead. When the reporter manages to catch up with her, he bluntly points his camera in her face as if she were something exotic.
In another video, teachers at an educational institution in Mandya were captured taking off their hijabs and burqas at the gates. The camera stood shamelessly close to the woman as she undressed.
How can we be claiming to protect the dignity and freedom of Muslim women when we seem to be so blatantly stripping them of the respect the Constitution guarantees each citizen? Why is the media coverage on hijab row lacking basic decency? Who or what has enabled it to encroach upon people's privacy with such impunity?
---
Suggested Reading: Communal Faceoff: Is Karnataka Hijab Row Normalising Street Harassment Of Girls?
---
According to a report by The News Minute, the coverage on local Kannada news media has been especially skewed. On Suvarna channel, the anchor reportedly laid direct blame on the hijabi students for everything that was happening in the state. A mainstream English news channel too presented suggestive questions on an alleged link between the death of a Bajrang Dal activist and the hijab row in Karnataka, despite the state Home Minister's denial of the same.
The role of social media in igniting fires in the hijab row is also central. In a bid to pander to agendas, the video of Muskan Khan, burqa-clad girl in Mandya shouting 'Allahu Akbar' after a crowd of boys heckled her by chanting 'Jai Shree Ram', was conveniently edited to suit the biases of people online. The girl was made the communal villain of the story.
What are such incendiary narratives doing, if not further stoking the breakdown of public order and safety? Should young students be made scapegoats, putting their education at stake, in this longstanding saga of Hindu-Muslim disharmony? Should authorities have allowed this poison to permeate so deeply into sanctums of knowledge?
It is education that informs and liberates. If hijabi girls are being made to choose between religion and study, then the conversation will all have been for nothing.
Views expressed are the author's own.