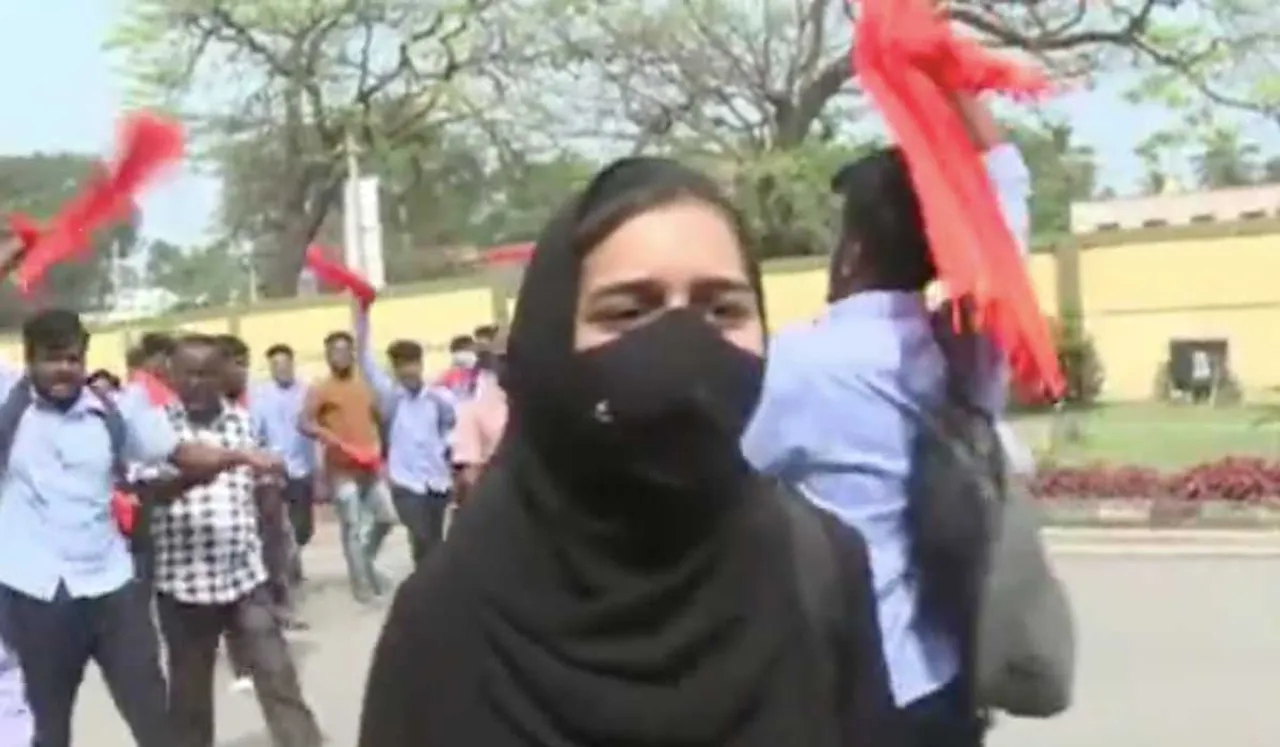 In further escalation of the row over uniforms in Karnataka colleges, a video surfaced Tuesday of a girl in hijab harassed and hurled religious slogans at, on the streets. The clip, widely being shared on Twitter, is reportedly from the PES University in Mandya, which has emerged as one of the sites of a heated communal faceoff between Hindu and Muslim students.
The video shows a young woman dressed in black from head to toe parking her two-wheeler in college and walking to the building before she is heckled by a group of saffron-clad men chanting 'Jai Shree Ram.' This prompts her to shout back, 'Allahu Akbar.' The group continues following her, jeering and waving their scarves in the air. Authorities attempting to control the crowd lead her along on her way.
Part of the larger hijab row currently taking over educational institutions in the state, wherein Muslim girls have alleged they are being disallowed from continuing classes with their religious headscarves on, the viral video from Mandya presents another deeply worrying reality.
Is this controversy normalising the street harassment of girls? In the mess of communal dialogue, is anyone giving women's safety the prime attention it deserves?
---
Suggested Reading: Shah Rukh Khan Offered A Dua And Got Hate In Return
---
The hijab row lies at the intersection of multiple women's issues, besides the exhibition of religious bigotry. A chief aspect is the fundamental right of every girl in the country to be afforded an education. Just how far back into conservatism and patriarchal traditionalism are we stretching by denying girls the opportunity to study just based on how they dress?
There is no excuse that can justify the act of not letting girls enter classrooms.
For the sake of furthering an agenda in a religiously and politically hostile environment, will authorities and our elected leaders permit the unfathomable catastrophe of denying girls education to take root in our society once again? How will we be different from Taliban-ruled Afghanistan, which is running down another extreme road of forcefully imposing the wearing of hijab in colleges? Girls there, too, are fighting for the right to study.
---
Suggested Reading: Separate Classes For Students In Hijab: When Communalism Puts Education At Stake
---
A second aspect, of course, is the ever-perpetual misogynistic culture of policing what women wear. Patronisingly, women across communities are told they aren't capable of deciding for themselves. Be it the hijab or the ghoonghat, paternal male authority finds itself entitled to either enforce these garments on women or 'liberate' them from their backwardness. Why can't we just give women the right to decide for themselves? Who authorised men to be saviours?
Another aspect of the events unfolding in Karnataka is the lack of women's safety on display.
Catcalling, jeering, taunting, teasing - this harassment is all that women, of all ages, are familiar with when walking on the streets. To see it happen inside college campuses, as it did in the Mandya video, is another hell. If such brazen harassment is permitted to persist inside sacrosanct spaces of knowledge that should guarantee safety, will it not legitimise similar acts (and more) in public?
If law and order systems are not able to curb harassment in closed campuses, can women ever trust them to, anywhere else?
(SheThePeople hasn't independently verified the authenticity of the video in question.)
Views expressed are the author's own.