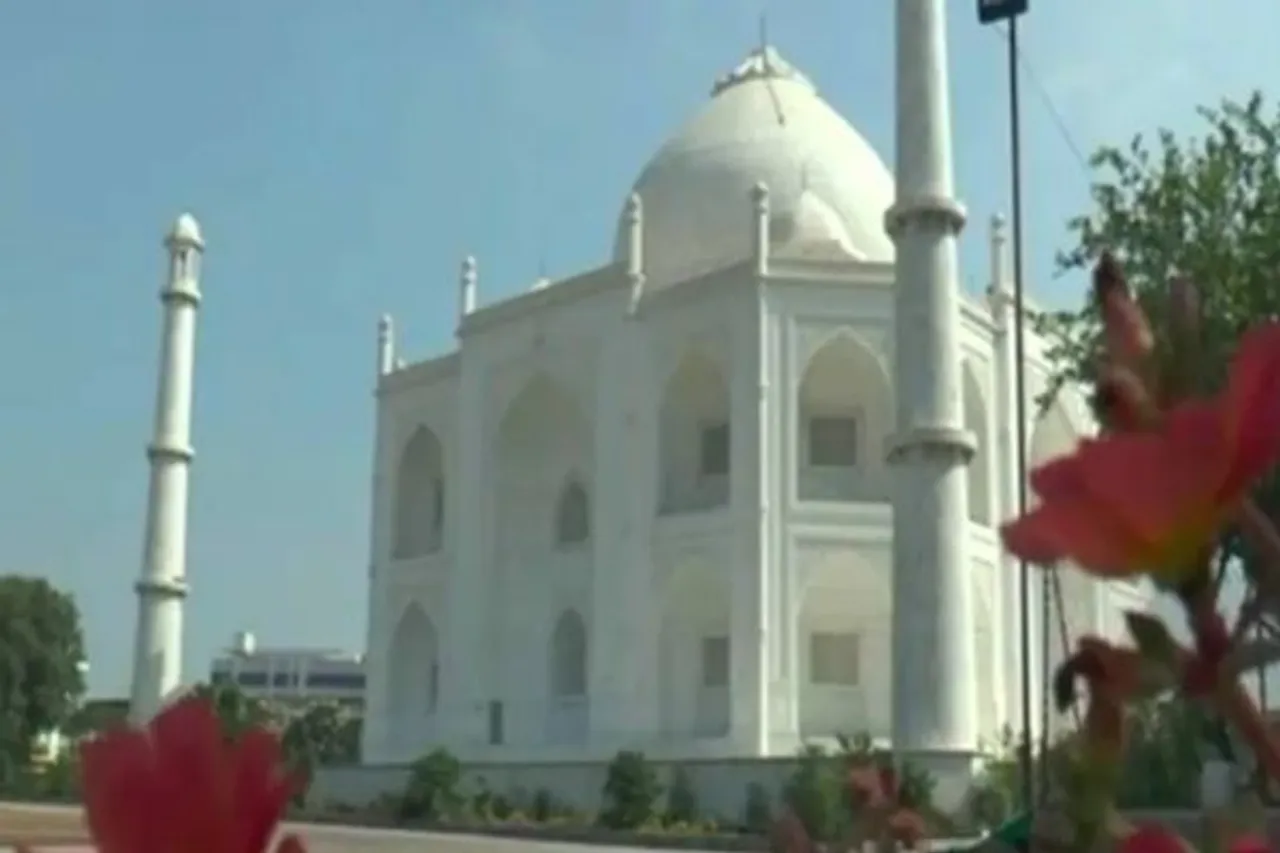 "I'll build you a Taj Mahal." We've heard lovers make this hyperbolic expression of commitment to their partners - to match up to the world's most famous standing testament of a husband's love for his wife, for life and beyond. It's always a false promise; the one who says it knows it, the listener knows it. But a man in Madhya Pradesh apparently meant it when he said it.
Anand Prakash Chouksey set new standards of marital love when he got a close replica of the monument in Agra built as a four-bedroom residence for his wife, Manjusha. As per reports, Chouksey wished to build a towering house 80 ft high in Burhanpur, where he lives with his family. When that permit wasn't granted, he went for the next grandest idea - the Taj Mahal, of course.
The 90 square metre-house was constructed over three years on the basis of a 3D model of the original monument, a UNESCO World Heritage Site. The luxurious Chouksey house is complete with the Taj Mahal's definitive minarets and dome, and its occupants hope to open their arms to tourists visiting their city. More here.
Take a look at the white and gold Taj Mahal-replica below: 
Husband gifted Taj Mahal like home to his wife!

Madhya Pradesh | Burhanpur resident Anand Prakash Chouksey builds a Taj Mahal-like
This house, which has 4 bedrooms, a kitchen, a library and a meditation room and it is said that it takes 3 years to build this house. pic.twitter.com/FAt8KlKRdc

— Siva_Ks (@Sivaji_KS) November 22, 2021
Building A Taj Mahal House, Getting The Moon: All's Fair In Love...
If the bar has been raised this way on land, you can best believe that nothing will stop people from reaching for the skies too. Literally. Last year, a man in Ajmer celebrated an out-of-the-world marriage anniversary with his wife by booking her a three-acre plot on the moon.
"Everyone gifts earthly possessions like cars and jewellery, but I wanted to do something different," Dharmendra Anija explained to the many earthlings reading his love story in awe. More here. 
Call these lovers crazy or passionate, their promises of romance stand out in a world of dull clichés. Marriages in India are long, in rare fulfillment of fairytale vows of 'till death do us apart.' Of course, the reality isn't always as dreamy as it is portrayed, since this longevity of relationships stems from the heedless stigma around separation.
Couples tied in holy matrimony fall into routines of existing together that persist even after the spark doesn't. There's companionship without infatuation.
A little bit of a lifelong crush on your better half can perhaps help the relationship stay alive forever. Now whether that comes about by taking an extravagant lesson or two from lovestruck partners erecting Taj Mahals or uttering a free and priceless 'I love you' to them every other day.
Views expressed are the author's own. 
---
Trending now:
&t=1125s