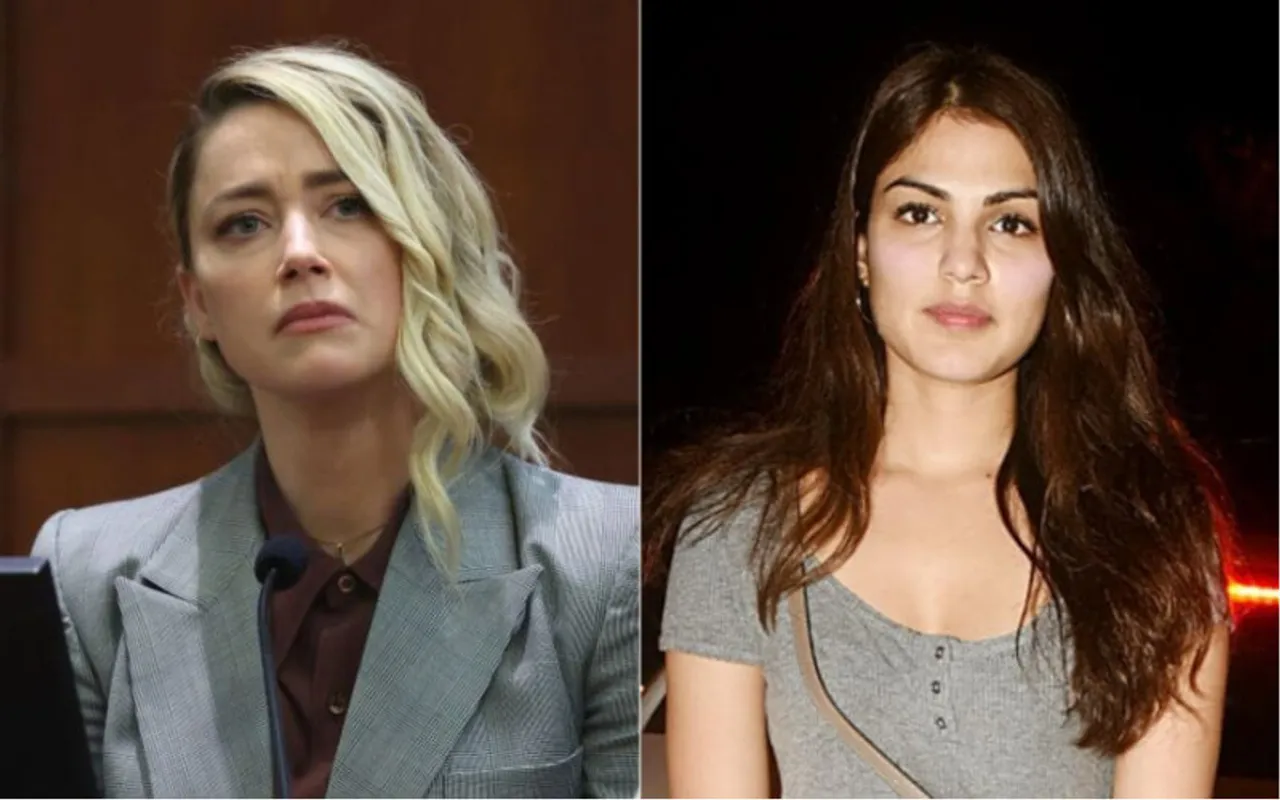 When she is successful, she is career-minded and hostile, but when she falters, oh my, she is the evilest thing this world has ever seen. She is the reason why you must never trust a woman, be it in love or at work because one day she will go down and take you with her. That's how society sees the failures of successful women.
The much publicised Johnny Depp Vs Amber Heard defamation trial shows us 'how to demonise a woman' by the rule book. Amber Heard's lawyer Elaine Bredehoft said after the verdict that the actor was "demonised" throughout the lengthy defamation trial, and blamed the vitriolic social media campaign against Heard for influencing the jury's decision following the verdict. Over the course of the six-week trial, jurors were instructed to not engage with social media, where a "demoralising and demeaning" campaign of viral videos attacked her on TikTok, as well as Twitter and Instagram. But it's hard to believe they were not influenced.
Closer home, Ankiti Bose was fired by Singapore firm Zilingo (a commerce start-up that she co-founded) had alleged abuse on social media, adding that she has obtained a 'protection order' from Singapore courts against a Twitter user. The 30-year-old was fired as chief executive officer of the Singapore startup over "complaints of serious financial irregularities", the firm had said.
"My apps are filled with hate messages and unfounded negative press, and I cannot even bear to unlock my phone without choking up. I have never experienced hate and threats of violence at this scale before," she told Hindustan Times, further adding, "My personal photos, chats, documents, records may have all been improperly accessed and circulated without my consent and now I have seen versions on the internet, which are clearly fake but damaging nonetheless. I don't know who is doing this."
Why do we sit back and enjoy women being disintegrated, demonised and destroyed by a society that pays special attention when a woman falters?
Another high profiled case involving a woman at the top was the ICICI Bank case. Former ICICI Bank CEO  Chanda Kochhar , her businessman-husband Deepak Kochhar were charged in connection with a money laundering case. It was also alleged that Kochhar had misused her official position in granting loans to the accused Videocon group of companies and received illegal gratification, through her husband Deepak Kochhar's company. She had to step down as the ICICI CEO in 2018 because of the investigation. She was sacked in 2019 as the bank's chief executive and managing director. She had denied all charges against her and her husband. But the denial didn't deter the naysayers of social media who wanted to use her case as an argument against women's leadership skills.
---
Suggested Reading: Instead Of Safety, Politics & Religion Take Centre Stage In Rape Cases
---
In India, the most vicious campaign outside the courtroom to bring a woman down was in the Rhea Chakraborty case. Since the time the late actor Sushant Singh Rajput's family lodged an FIR against his rumoured partner, accusing her of abetting his suicide, Chakraborty's every move made headlines. I can never forget the brainless, misogynistic chatter about kaala jaadu and tez Bengali girls who ruin men. Even before authorities had finished their job, Chakraborty was pronounced guilty, not just by the public, but also by a completely irresponsible media.
Demonising women: The heavy cost of mis-steps
I am not claiming that all the above mentioned women are not guilty, some are still fighting to have their name cleared. The point I am trying to make here is that when men are caught on the wrong foot, they are not demonised. They are given benefit of doubt. Why? This is not about placing blame but about seeing the bias and the manipulation.
If you see the women mentioned here, they are all successful working women. Demonising women comes straight out of the boiler room of patriarchy. How dare she step out and cross the Lakshman rekha despite our discouragement? How dare she earn more than or as much as men? Patriarchy believes working women are a threat to society and civilisation, and so throws all its might into keeping women silent, submissive and firmly tied to their homes.
Therefore, equality and feminism are like red flags for upholders of patriarchy and misogynists. Feminism fights for equal rights and equal access to opportunities.  And so patriarchy will oppose any forms of it. By saying that's this is not in our sanskaar or culture, women are softer and so should be nurturers at home, a woman's body is meant for procreation and so should be safe at home etc.
And thus if they step out of their homes, they must walk a tight rope and face scrutiny for every decision they make. One wrong move won't be seen as a mistake, it will be used to typecast the entire gender. Women are as prone to making poor choices in life and career as men, or equally competent of deceit, but since they are women their mistakes must be used as cautionary tales or as smear campaigns to create a sense of mistrust for women, to undermine their authority, skills and talent.
Unless we call out these smear campaigns that oversell failures, setbacks and mis-steps  women there will be no respite for us from the narrative that it is better if women stay at home and that is where they truly belong.
Views expressed are the author own.