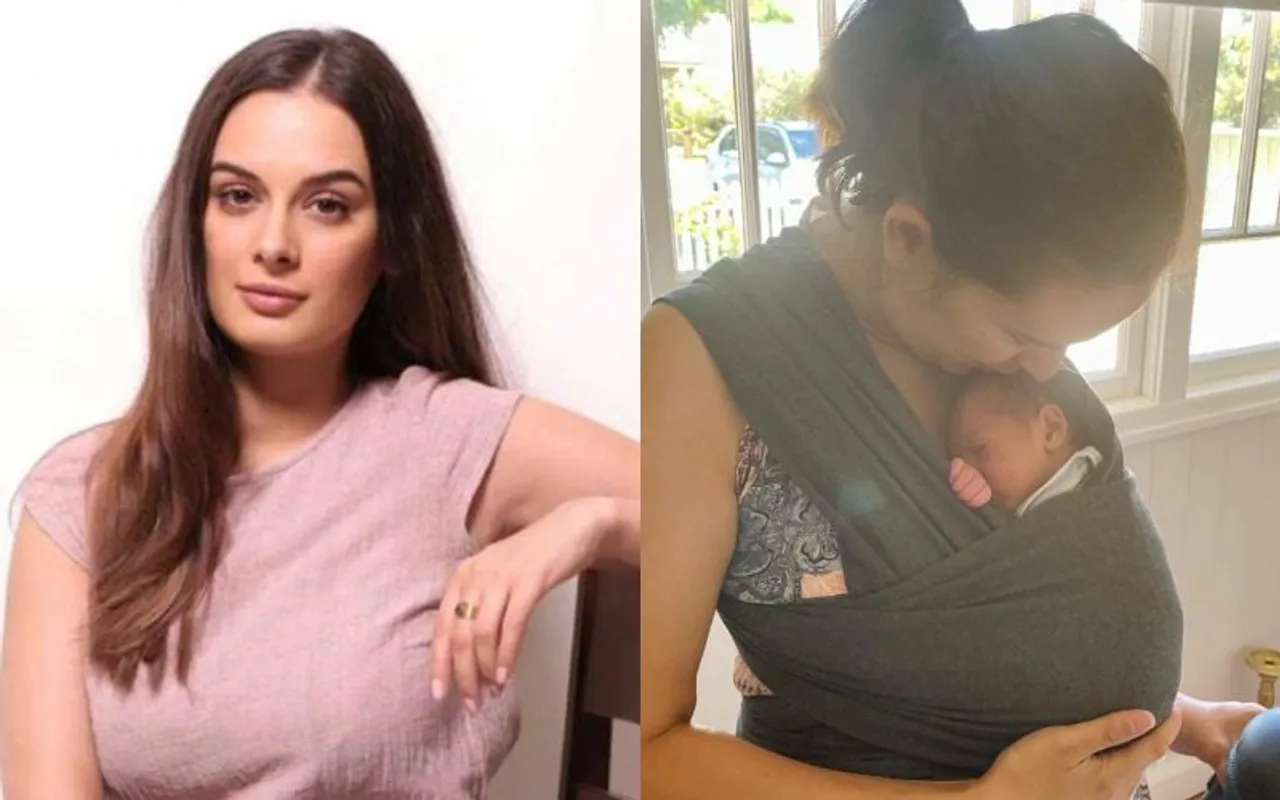 In a society that views a woman's breast as a sexualised object rather than an organ, Evelyn Sharma's getting trolled is not a surprise but a sad experience that women still go through. But why should you moral police the gesture of breast-feeding? If one is appalled by seeing a woman breastfeed her daughter, then it is not her problem, maybe it is time to change your ooutlook and drop the years of conditioning which teaches us to view it as unacceptable.
Recently, Yeh Jawani Hai Deewani actor Evelyn Sharma shared a picture on her social media where she is breastfeeding her daughter, Ava Bhindi. Sharma embraced motherhood in November last year and since then has been sharing her journey as a young, new mother.  The 35-year-old posted it with the caption, "When you thought you finally established routine and she starts #clusterfeeding (emoji)!"
Evelyn Sharma Breastfeeding Photo Trolled
She shared a similar post of her breastfeeding on December 24, 2021. For the post, she had written, "My Christmas this year is milk for Ava and cookies for me... Brest feeding is not an easy task, in fact, I find it mentally and physically exhausting. But worth it...People give you lots of advice on what you should and shouldn't do, but the reality is: Do whatever works best for you and your baby."
---
Suggested Reading: 5 Celebrities Who Normalised Breastfeeding In Public
---
These are some good pieces of advice coming from one young mother to another. People think that motherhood comes naturally to women. But it is not. It is full of confusion, trail and error, nipple pains and constant backaches and making sense of your post-pregnancy body. Sharma sharing her experience is what most young mothers discuss behind a closed door because becoming a mother is rewarded by society but talking about the difficulties is frowned upon.
One can find proof of this mentality in the comment section of Sharma's post. Few have applauded and sent hearts and encouragement while others have simply bullied her for posting a picture like this. One user wrote, "Why to post it with your baby, if it was your husband or boyfriend then you would have at least gotten likes and comments." This comment, unfortunately, proves the point of how most men look at a woman's breasts. It is a sexualised object to them. Forget if Sharma wants to like or comments or anything, who gives this faceless internet trolls the right to be vile and objectify her body.
But the worry is that these faceless trolls are what our society seems to be filled with. Public breastfeeding in India is still looked down upon, it is a stigma. Even if a woman decides to do so in an urban setup the gaze of these faceless trolls makes women uncomfortable. Objectification is just a fraction of the stigma, the others include why is a mother flaunting "her" work? Every mother does it, why does she need to show it? Keep your private things at home, please. How regressive it is for a society living in the 21st century?
To all these trolls, Sharma replied, "Such images show vulnerability and strength at the same time. I find it beautiful. Breastfeeding is one of the most natural and healthy things to do. And it really is why women have breasts in the first place. So why be shy about it?"
It is time we take a leaf out of her book.
The views expressed are the author's own.