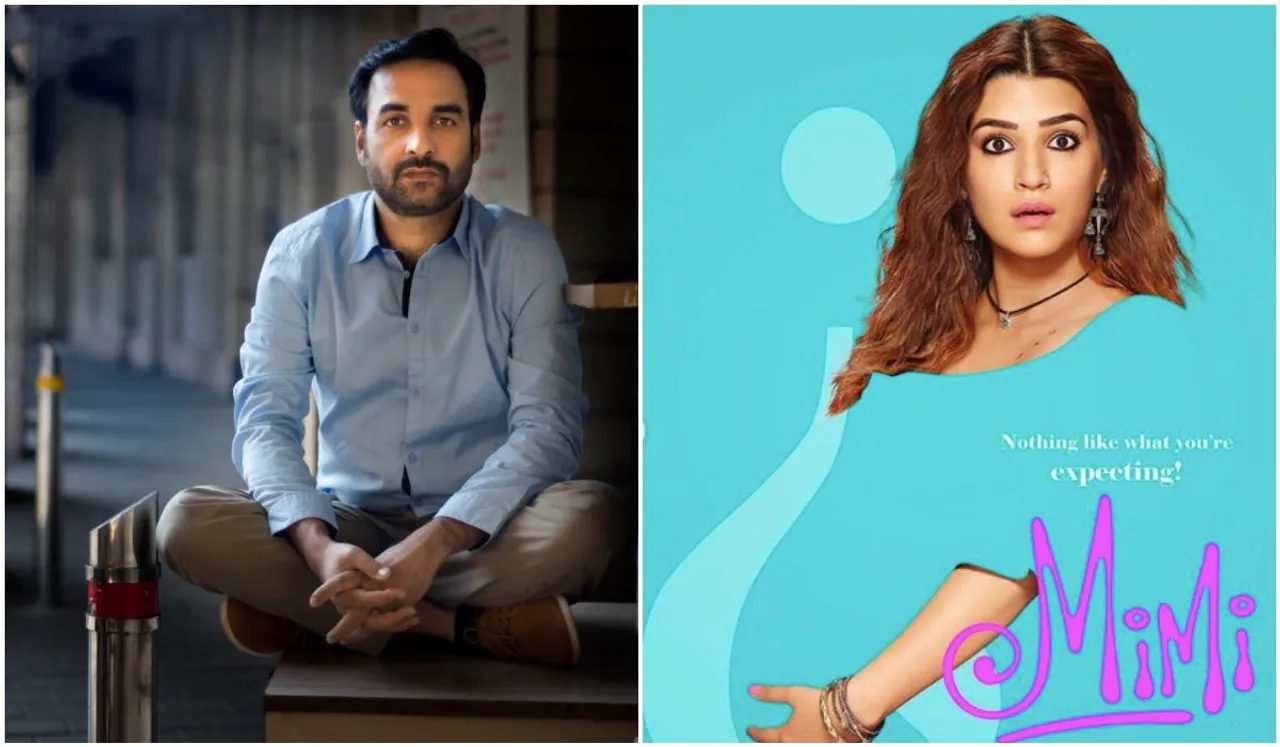 Mimi Film Review: Kriti Sanon and Pankaj Tripathi starrer film Mimi was released this week, four days ahead of its scheduled OTT premiere date. The film is about a Rajasthani dancer who accepts to act as a surrogate for an American couple in exchange of money that will help her pursue her Bollywood dream. The couple, however, later asks Mimi to abort the child as they do not want to have it anymore, leaving her in a tough situation.
Apart from Sanon and Tripathi, the film directed by Laxman Utekar also features actors Sai Tamhankar, Manoj Pahwa and Supriya Pathak in supporting roles. Music director AR Rahman has composed songs for the film, while its screenplay and story has been written by Utekar, alongside Rohan Shankar.
Here is our review of the film Mimi in 10 points, to help you decide whether you should put it on your weekend watch list or not:
1. The film is powered by strong performances from its cast, lead from the front by Pankaj Tripathi. Sanon, as a dancer stuck with a child that is not her own, is sincere and likable, despite her fluctuating accent throughout the film.
2. The opening sequence of the film, in which a person tells an American couple about the 'new stock of girls' he has got for them, actually captures the bitter state of surrogacy business in India aptly.
3. But as the film unravels, the film resorts to melodrama, slightly comedic narration, giving an unnecessary Bollywood twist to a relevant topic.
4. Despite being a women-centric film, Mimi is replete with an item number, that doesn't gel with the narrative that the makers are trying to set.
5. The film is also full of uncomfortable analogies. For instance in one sequence, Tripathi's Bhanu tries to explain surrogacy to Mimi telling her to put her "khet" on lease to grow "ganna" and eventually acquire her "rent" for letting the American couple sow their "beej".
6. The film offers a satirical take on illegitimacy and premarital pregnancy. When Mimi tells her parents that she is going to be an unwed mother, her parents scold her for bringing shame to the family name. However, as soon as they are told that Bhanu is the father of the child, their attitude towards their daughter and her unborn child changes completely.
7. Mimi attempts to touch on several sensitive subjects like surrogacy, children with disabilities, single motherhood, stigma against pre-marital sex etc., but only goes skin-deep in its exploration.
8. The film never goes out of its comfort zone and chooses to glorify motherhood and romanticise surrogacy.
9. Perhaps the reason why the film fails to explore the complications of surrogacy and issues women face as surrogates and unwed mothers could be that there is no woman writer, involved in penning the film.
10. Despite dealing with such a heavy subject, the film is full of light moments, that does quicken the pace of the film.
Read our full review of the film Mimi here.
---
Suggested Reading:
Mimi Released On OTT Platform, Know Where You Can Watch It
Bride Gifted Baby Feeding Bottle As A "Joke", Is Having Children A Necessity For Women?
Nayanthara Starrer Netrikann To Have Direct-OTT Release: 10 Things To Know
---