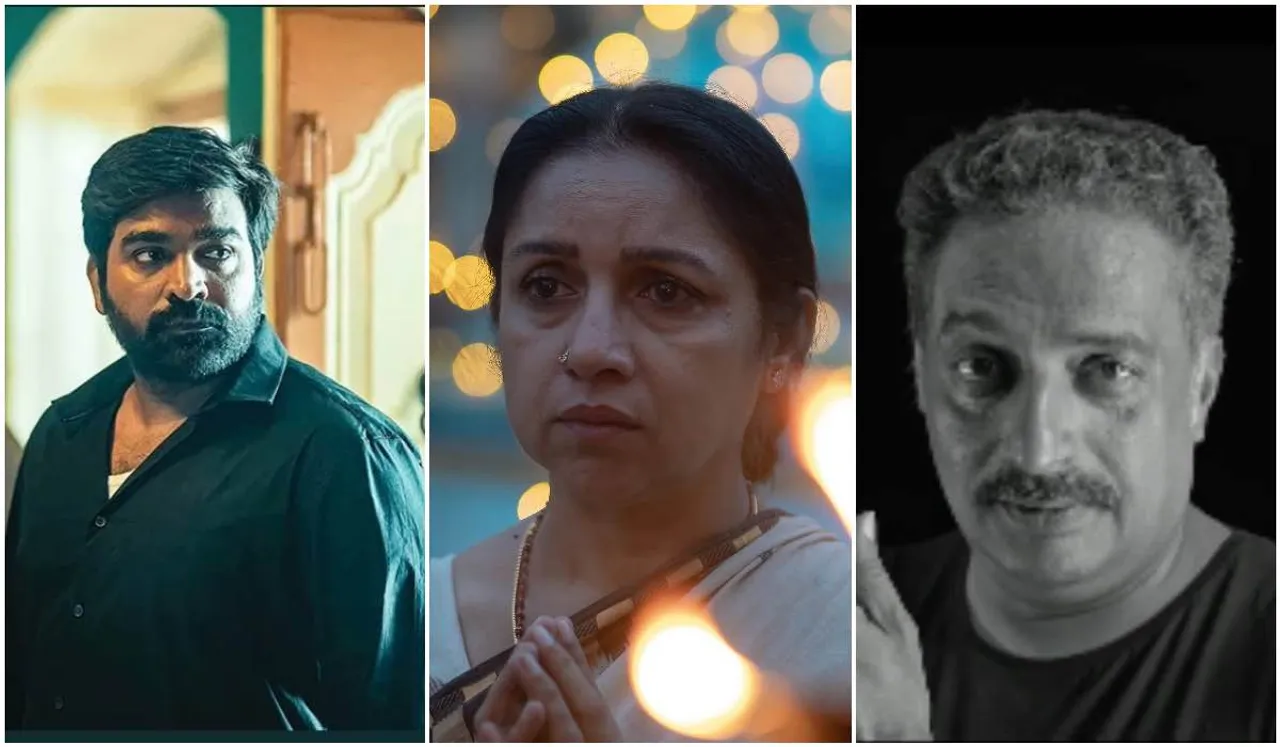 Edhiri cast: As its release date draws closer, viewers are now getting peeks into various segments of the much-awaited Tamil anthology Navarasa. Helmed by nine different directors, the anthology boasts of an impressive star cast and revolves around nine emotions. One of the said short segments, Edhiri, is based on the human emotion of "compassion".
Legendary filmmaker Mani Ratnam's ambitious project Navarasa is gearing up for its world premiere on OTT this August. Ahead of its grand release, on July 9, a two-minute-long teaser of the anthology was released along with the unveiling of its release date. The trailer of the upcoming Tamil anthology was subsequently released on July 27. As the title suggests, the nine-part anthology is based on the nine "rasas" (human emotions). They are anger, compassion, courage, disgust, fear, laughter, love, peace and wonder.
In the teaser and trailer, fans can see a range of emotions on the faces of the acclaimed actors – including Suriya, Vijay Sethupathi, Prasanna, Aditi Balan, Siddharth, Parvathy, Revathy – throughout the teaser.
Here is what we know so far about the cast of Edhiri- a segment of Navarasa, directed by Bejoy Nambiar:
Nambiar's short film is touted to be a full package. This particular segment stars Vijay Sethupathy, Prakash Raj and Revathy Asha Kelunni in lead roles.
Revathy
Veteran actor Revathy plays the role of Savithri in Edhiri. As per reports, her role is continually transforming and developing with each scene making the audience want to experience more of the human emotion - compassion. Her character, a religious woman is conflicted between her grief and morality. Over the course of the film, Savithri is forced to make a difficult choice.
54-year-old Revathy is one of the well-known faces of the Tamil film fraternity. Over the multi-faceted career span of four decades, the actor has won several National and Filmfare Awards for her stints across Tamil, Malayalam and Hindi cinema. She has acted in several movies like Thevar Magan, Ankuram, Loafer, Pa Paandi. Revathy also has a successful directorial graph, helming National Award-winning movies like Mitr, My Friend. In Bollywood, Revthy is known for her stints in movies like 2 States, Tarpan, Darna Mana Hai and more.
Vijay Sethupathy
Sethupathy, who has worked predominantly in the Tamil film industry, will explore the emotion "anger" in Nambiar's short film.
The actor began his career in 1996 by playing small roles in films and for five long years, he didn't bag any major roles. He landed his first lead role in Seenu Ramasamy's Thenmerku Paruvakaatru in 2010. Sethupathy's popular movies include Pizza, Naduvula Konjam Pakkatha Kaanom, Rummy, Pannaiyarum Padminiyum, Orange Mittai, Karuppan and many more. He has also provided vocals for many songs over the course of his career, as a playback singer. Sethupahty won a National Award for his performance in the film Super Deluxe.
Prakash Raj
In the trailer, we also catch glimpses of Prakash Raj who made a distinctive appearance with his intense look. However, the makers don't reveal extensive details about the plot or the characters involved in the segment, except displaying the heightened emotions of the actors.
A multilingual star, Prakash Raj has been a part of many landmark Tamil films in his career spanning over three decades. He has appeared in more than 200 films in all four South Indian languages as well as in Hindi. The actor, so far, has won five National Awards and five Filmfare Awards for his immeasurable contribution to cinema across several languages. He has also won four Tamil Nadu State Film Awards and one state award as the best character actor.
9 Stories, 9 Emotions, 1 Heart. #Navarasa premieres 6th August only on Netflix. #Navarasa #NavarasaOnNetflix @netflix_insouth @NetflixIndia#TamilFilmIndustryComesTogether pic.twitter.com/TV9Z10a85e

— Prakash Raj (@prakashraaj) July 9, 2021
As per reports, the film was conceptualised by Mani Ratnam and Jayendra Panchapakesan in a bid to help the industry workers, whose lives were affected during the COVID-19 pandemic. The actors and directors have charged no remuneration for their work.
Check out the trailer of the multi-starrer Navarasa here:
Feature Image Credit: YouTube Screengrab