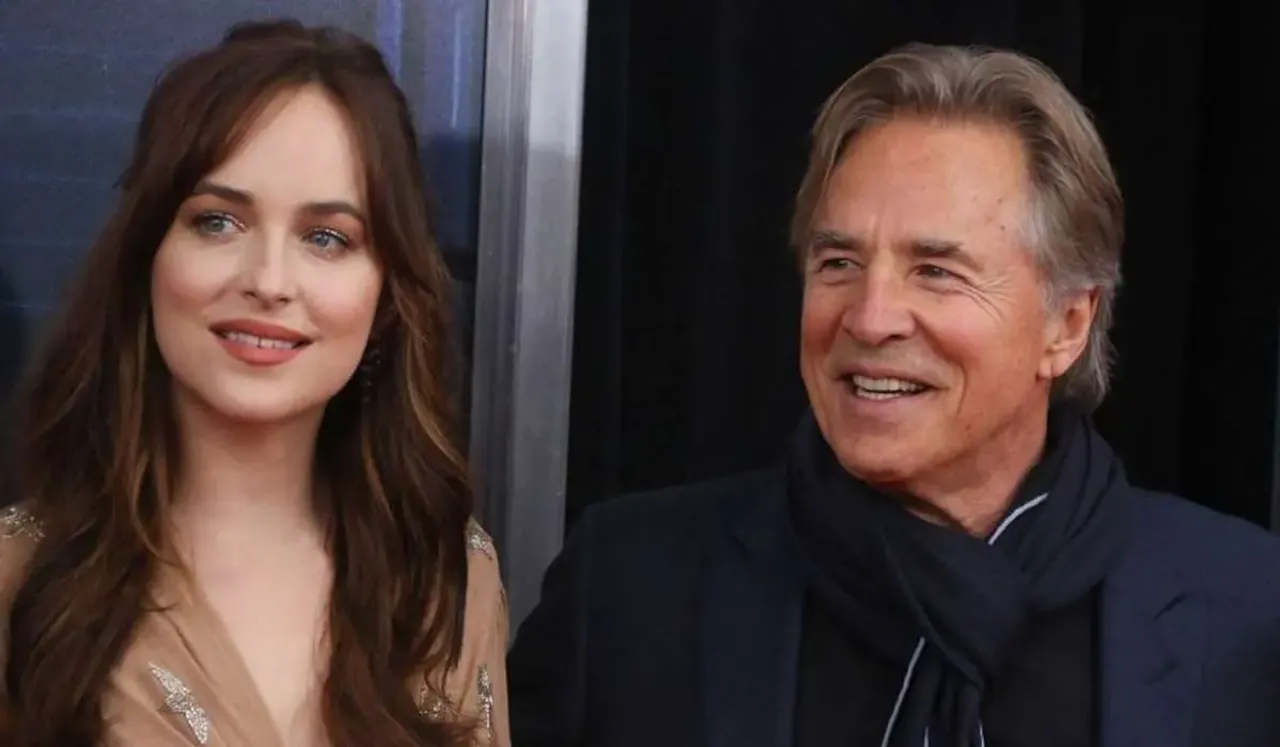 Dakota Johnson parents: The cinema world rides on the back of years of glittering legacies; some that iconically defined a whole generation and others that passed that honour on to their progeny. One such film family is Dakota Johnson's. The 50 Shades of Grey star is the daughter of famous parents - actors Don Johnson and Melanie Griffith - and granddaughter to an even bigger classic era personality, actor-model Tippi Hedren.
On that account, the younger Johnson must have felt immense pressure, on having such large shoes to fill in life and in the industry her family belonged to. Turns out, that's far from the truth, as her father recently revealed.
In an appearance on Late Night with Seth Meyers, Don Johnson recalled the time the family sought to cut their daughter off financially.
"We have a rule in the family that, you know, if you stay in school, you get to stay on the payroll." he " target="_blank" rel="noopener">said. "Toward the end of high school, I went to and I said, 'So, do you want to go visit some colleges?'
And she was like, 'Oh, no. I'm not going to college.'"
How would she manage? he asked. "Don't you worry about it," she said, cool as a cucumber. Only three weeks later, she was cast in David Fincher's thundering success The Social Network. 
Dakota Johnson Parents And Their Celebrated Film Family
One would have to begin at Tippi Hedren, the dynamic family matriarch. At the peak of her career, which also simultaneously marked her screen debut, Hedren gained recognition as the star of Alfred Hitchcock's 1963 thriller The Birds. For her role as the traumatised Melanie, she won a Golden Globe. Her other big hit was Marnie, by Hitchcock again.
Alongside her entertainment appearances, Hedren in her non-film life gained prominence as a vocal social and animal rights activist. As part of her campaigns, she even personally sheltered several wild big cats.
Her daughter, Melanie Griffith made her own film debut at the young age of 17. She grounded her roots in film with the thriller Body Double in 1984, Something Wild in 1986, and Working Girl, in 1988. For the latter, she won a Golden Globe and a coveted nomination at the Oscars.
Her double marriages and divorces to Don Johnson is a well-known nugget in film pop culture. Don Johnson and Griffith got married in 1976, divorced in six months, married again in 1989, and re-divorced in 1994. Though the two have admitted to having their fair share of ups and downs, they have remained good friends with their daughter Dakota, maintaining strong relationships with both.
Don Johnson, who was last seen in the 2019 mystery Knives Out, has a body of extensive work across television and film. Best known as Sonny Crockett from the 1980s series Miami Vice, Johnson also boasts of a star on the Hollywood Walk of Fame.