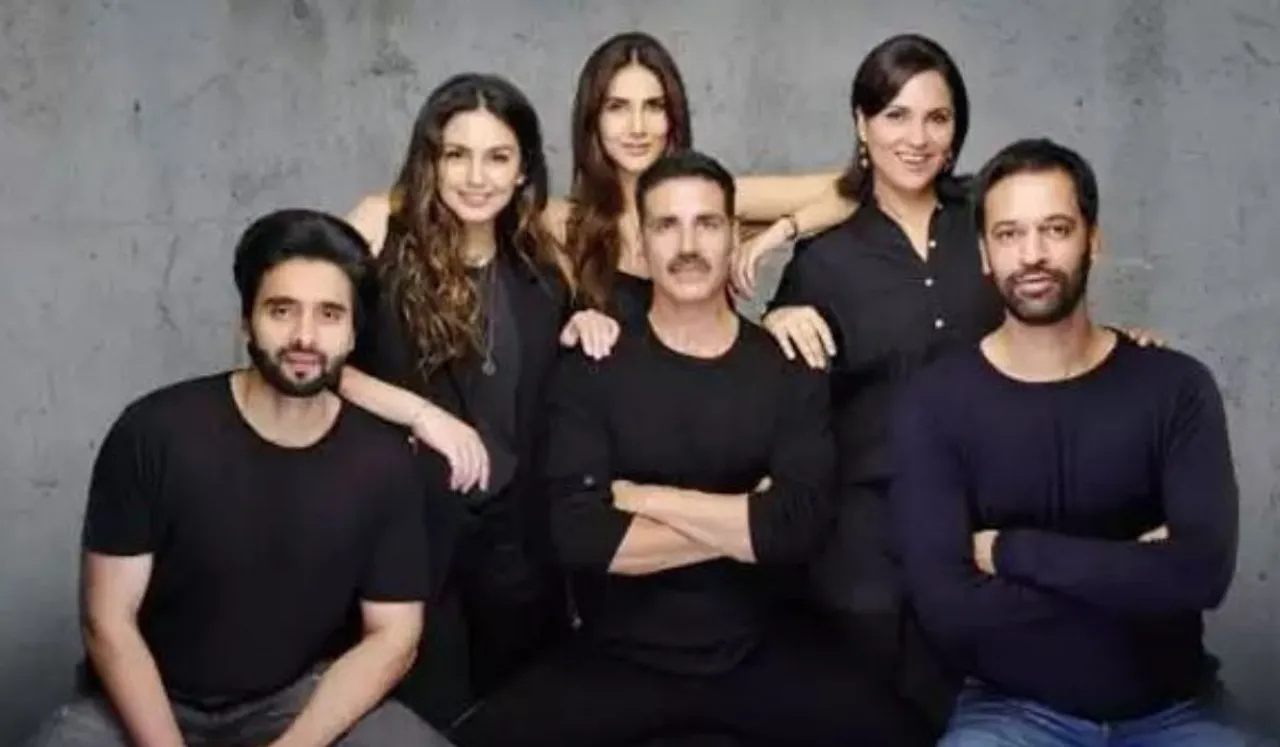 Bell Bottom movie review: The much anticipated spy-thriller film Bell Bottom is finally out in theatres today. In the film, actor Akshay Kumar plays a RAW (Research and Analysis Wing) agent who embarks on a covert mission to free 210 hostages held by hijackers. The film is said to be based on a real incident that took place in the 80s in India. The Ranjit M Tewari directorial released in theatres in 3D as well. Also starring Vaani Kapoor, Lara Dutta and Huma Qureshi in pivotal roles, Bell Bottom is the first big Hindi film to release in theatres nationwide after the second wave of the COVID-19 pandemic forced cinemas to shut down. Viewers are now taking to Twitter to share their opinion on the film.
The film made headlines after Lara Dutta's makeover as former Prime Minister Indira Gandhi went viral earlier this month. While fans were taken by the Don 2 actor's unrecognisable transformation, Dutta told Indianexpress.com that she herself couldn't believe in it, after checking it out in the mirror. Inspired by the true events of the 1984 Indian Airlines Airbus A300 hijacking, Bell Bottom is the first Hindi film to be filmed at Glasgow, Scotland, during the pandemic.
Bell Bottom movie review by fans online
As Bell Bottom releases overseas on more than 225 screens, life is coming back full circle for people and fans around the world who have rushed to catch the first glimpses, just like the pre-pandemic era, and reviewed Kumar's film.
One person wrote, "Thankyou  @akshaykumar sir & whole team 4 reviving theatres and 4 bringing a great movie at such a time (sic)." Another shared, "Finally watched. Excellent arrival after long Hiatus. Worth watching. #AkshayKumar is in Form. #LaraDutta is Surprising. Thrilling Express (sic)." A third wrote, "Positive Talk So Far."
#BellBottom releasing in Overseas in 225+ screens

US 75. Canada 25. UK 53. NZ 20. South Africa 12. Singapore 7. Kenya 6. Tanzania 6. Belgium 3. Luxemburg 1. Fiji 1. Zambia 1.

Confirmations awaited from UAE, Nigeria, Ghana, Ivory Coast and Congo pic.twitter.com/8RJ4gnmXLU

— #TutejaTalks (@Tutejajoginder) August 18, 2021
Another fan wrote, "Balanced emotions, sufficient humour, fast pace & a scene which would bring single screens upside down. @akshaykumar back to the ground where he knows how to hit the ball out of the park (sic)." A fan of the actor went on to praise the  actor for his dedication to work, giving the film a "4 Star" rating.
"For what one would want to see in one of these kinds of movies, it was perfect. Had great screen writing, incredible acting by @akshaykumar, and had the innate ability to draw the viewers into the intricate plot sequences. A Must Watch!! (sic)," reviewed viewer. Many called it a "fantastic movie" and thanked Kumar for releasing it in theatres. "It is definitely a different experience to watch a film in theatres," one fan wrote. 
Calling Bell Bottom a pandemic surprise, a user named Shiv Om Gupta shared, "You can curse the pandemic but after 18 month of worse condition, #AkshayKumar #bellbottom will make your weekend awesome. Many plot of the will surprise you! (sic)."
#BellBottom
Rating: ⭐️⭐️⭐️⭐️

For what one would want to see in one of these kinds of movies, it was perfect. Had great screen writing, incredible acting by @akshaykumar, and had the innate ability to draw the viewers into the intricate plot sequences. A Must Watch!!

— Uzair Anser Sheikh (@uzair_reviews) August 19, 2021
#BellBottom is MASSSSSSS till interval! Balanced emotions, sufficient humour, fast pace & a scene which would bring single screens upside down. @akshaykumar back to the ground where he knows how to hit the ball out of the park. #AkshayKumar #BellBottom #BellbottomInCinemasAug19

— Umesh Punwani (@PunwaniUmesh) August 18, 2021
#BellBottomReview: The most awaited movie of Akshay Kumar is now on cinemas. Here is Positive & Heart Winning reviews of #BellBottom. Thankyou @akshaykumar sir & whole team 4 reviving theatres and 4 bringing a great movie at such a time

Now its a show time#BellBottomInCinemas pic.twitter.com/kSU5jFKpew

— ÃDÅrSh SïNGh (@AdArSh_1O) August 19, 2021
You can curse the pandemic but after 18 month of worse condition, #AkshayKumar #bellbottom will make your weekend awesome. Many plot of the will surprise you! https://t.co/KySHenBYD0

— Shiv Om Gupta (@shiv_om_gupta) August 18, 2021
Kangana Ranaut is wishing the entire team of #BellBottom to taking the first step & requesting everyone to watch #AkshayKumar starrer Bell Bottom in theatres:)#BellbottomInCinemas pic.twitter.com/ieu36dSEMe

— 𝐊𝐚𝐧𝐠𝐚𝐧𝐚 𝐆𝐚𝐥𝐚𝐱𝐲 👸🏻 (@kanganagalaxy) August 19, 2021
Check out the official trailer of the film here:
Feature Image Credit: Filmfare