The 39-year-old Monica Gupta did not know that she was going to become a fitness icon for women in her state, Jammu. Gupta has won state championships and national as Miss Asia in bodybuilding and fitness categories.
Gupta began her journey in 2017 and within a year started prepping for championships. Now she has completed five years as a professional Bikini athlete. "Before this, I used to be a pharmacist, I had a medical store. I was a housewife and took care of the business," said Gupta.
She finished her education after marriage and worked at a private firm until her father-in-law offered her to run the medicine shop. Her father-in-law was a doctor there and after retirement opened a medicine shop inside the hospital. "Eleven years ago, I think I was the only woman who was running a chemist shop in J&K. Most chemist shops had men as owners and women as just staff, but I was running it full-fledged," she said.
---
Suggested Reading: Sportswomen v/s Actors: Why Do We Pull Some Women Down To Celebrate Others?
---
Eleven years later, she became one of the first women in Jammu to step on a stage in shorts and sports bra for a bodybuilding championship, where she competed with women from other states. This happened in the year 2018. She won gold in the championship and there was no looking back for her.
In an interview with SheThePeople, Gupta shares her journey to her goal. Like Gupta, there are many other women in India who participate in bodybuilding and have made a name for themselves. But unlike men in the championships, they have not received the same light and attention. Priya Majumder from Kolkata and Sanjana from Uttar Pradesh share their stories and accomplishments, along with a joint complaint on why women are reluctant to become bodybuilders?
Bodybuilding As A Profession
It was weight gain that pushed Gupta towards fitness. "My knees and elbows had started to hurt due to pressure. I started with morning walks. Then my husband suggested that I join the gym," she said, adding that she said no to the gym at the time.
But after much persuasion agreed. She started with cardio in her leggings and long t-shirt and despised strength training. "I said no at times because I thought I would gain muscles and become like boys," she said. But was told by her husband that it is not easy to get muscles and again she started strength training.
---
Suggested Reading: These Older Women Set Cool Fitness Goals In 2021
---
After a year and a half, she was approached by the state's federation head, who suggested that she can play for states women bodybuilding championships. The suggestion never exited her head.
Later, she searched about fitness modelling and how the competition works, amongst many of her queries on Google. Even though she was reluctant at first to give it a try thinking about her family- which consisted of her husband and two children and what will people say but then took a firm stand on pursuing it.
"But then I thought, I want to do it and can do it. I filled my room with posters of women fitness models, inspiration, and diet plans. From there the fight with self began and continued. Then we hired a coach. After that, I met Sohail Rana sir and the preps were on. But in the final stage, they said that I can get on the stage and represent the state. I quit," she said.
Monica Gupta with her medals and trophies
In her head, she got scared of the limelight and was conscious of the attire for the sport. Also, the girls who were going to get on the stage along with her had played the game at least once before. They were from outside the state. But again she pushed and won gold. The event took place in February 2018.
Right now, she is a bikini athlete. This was a huge step for her because "in our society, we have this thing that the next day you will come in the newspaper and the entire Jammu comes to know about you. The family was like you wore anything but shorts and a sports bra. This is one reason why not many women here are keen to join the sport," pointed out Gupta.
After three or four months from this event, she played North India and won gold. Then she gave trials for Miss World Asia and got selected. "Right now, I am a fitness model and a bikini athlete, which is a level up," she said, proudly.
Priya Majumder, a sportsperson from Kolkata usually plays in the category of physique and at times took in fitness too.
Talking about how the competition goes, she said her part comes under both Bikini and the one where I need to pose with music. For each pose, she needs a different make-up. "One is muscle posing and seven compulsory poses with music which is optional. One does not get points only for muscles but also for look and presentation. This game is like beauty with muscles," she said.
Sanjana from Saharanpur in Uttar Pradesh participates in the fitness physique category and won her first championship under the section in November 2014, Miss North India 2014.
"In Fitness physique there are two rounds and one for 1 min 29 seconds of music, in which the participants can choose sports like gymnastic, yoga with music in the background," said Sanjana. She has won Miss India in hattrick and gold in the Miss Asia championship.
There are generally six female divisions–Bikini, figure, fitness, women's physique and women's bodybuilding. Each state has their own bodybuilding association which is affiliated to the Indian Bodybuilding Federation (IBBF), which is recognised by the Government of India.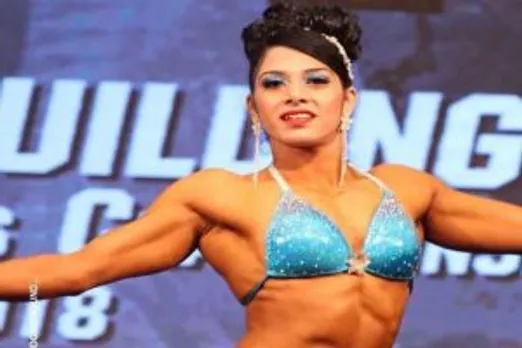 Sanjana on the stage
Dieting
According to Priya Majumder, the 23-year-old fitness model and bodybuilder from Kolkata, being in this field is not easy. She has won Miss India and Miss Asia.
"I belong to a very middle-class family and my parents could not afford the expenses that the sport demanded. So after completing her fitness course, she joined as a trainer and supported her own diet and supplements."
To prepare for Miss Asia, she had to strictly consume protein and no carbs. She has to take supplements and work out after her eight-hour job as a gym trainer. Ten days before the competition, she takes no salt.
Although, Majumder loves to eat sweets. "Whenever competitions get over. I have selected eateries that I love to visit. I love eating sweets. I eat them a lot for a day or two after competition and then go back to my regular schedule," she said.
Diets can be harsh as in lifestyle dieting one is asked to eat clean and occasional cheat days are allowed but when it comes to bodybuilding championships, the diets get stricter and repetitive. Eggs and chicken are considered important sources of protein for them. Vegetables are thrown into the diet too. Everything needs to be measured and eaten in limited portions.
"They have to repeat the same diet for all meals for at least 3-4 months till the scheduled date for the championship," said Gupta.
With the growing prices of food, dairy and meat products diets can become far too expensive. Like Majumder works to get her dieting requirements fulfilled, Gupta also finds the price harsh on her monthly budget, "At least Rs 30,000 per person is spent for the diet alone," Gupta said.
But being an ambassador for brands and having a government job lightens the diet cost for Sanjana. She remembers when she did not have these benefits, her coach Suhail Rana had helped her. "Sponsors are needed as this is a costly game. In fact, I think it's the costliest," she said.
Do Men Get More Limelight?
"This is a male dominating sport," said Gupta.
"In all our competitions across the world take place under Mister. The title that women get is of Miss but the competition headlines with Mister. There is a category for females under the main competition name which is Mister. The competition is promoted under Mister."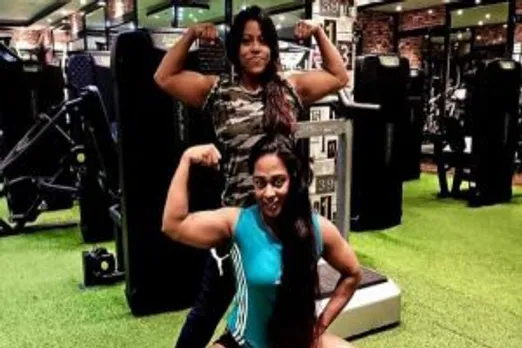 Priya Majumder
This change will take time because till now it is not a female dominating area. But at least now people know that women also participate. But still now "the ratio of women in the sport compared to men is less." Gupta plays under IBBF.
Majumder also feels the same but is happy that women are coming in. She also trains three students for these championships and one of the students has been selected for nationals, which is a proud moment for her.
Why Are Women Reluctant?
Majumder started her career in the fitness category in 2015. She began at the age of 15.
People around here often expressed surprise at her changing body structure, they used to keep pointing out her muscles and say that now she will look like a man. But after winning a few competitions, her family felt proud of her. "Now when I see my father tell his friends and relatives that is my girl, I feel proud," she said.
"If women do gym, they will get muscles like men and women were often asked not to make muscles. But now, this mentality is changing," Majumder said. She said that now women are getting sponsorships and she got two in supplements. "I had got sponsorship from BNB, Bodyline, which was helpful," she added.
For Monica, she was the only woman bodybuilder from Jammu at the time. This year, however, she sees more women joining the profession.
"I want ladies, girls, everyone to come forward and step into this profession," concluded Majumder.