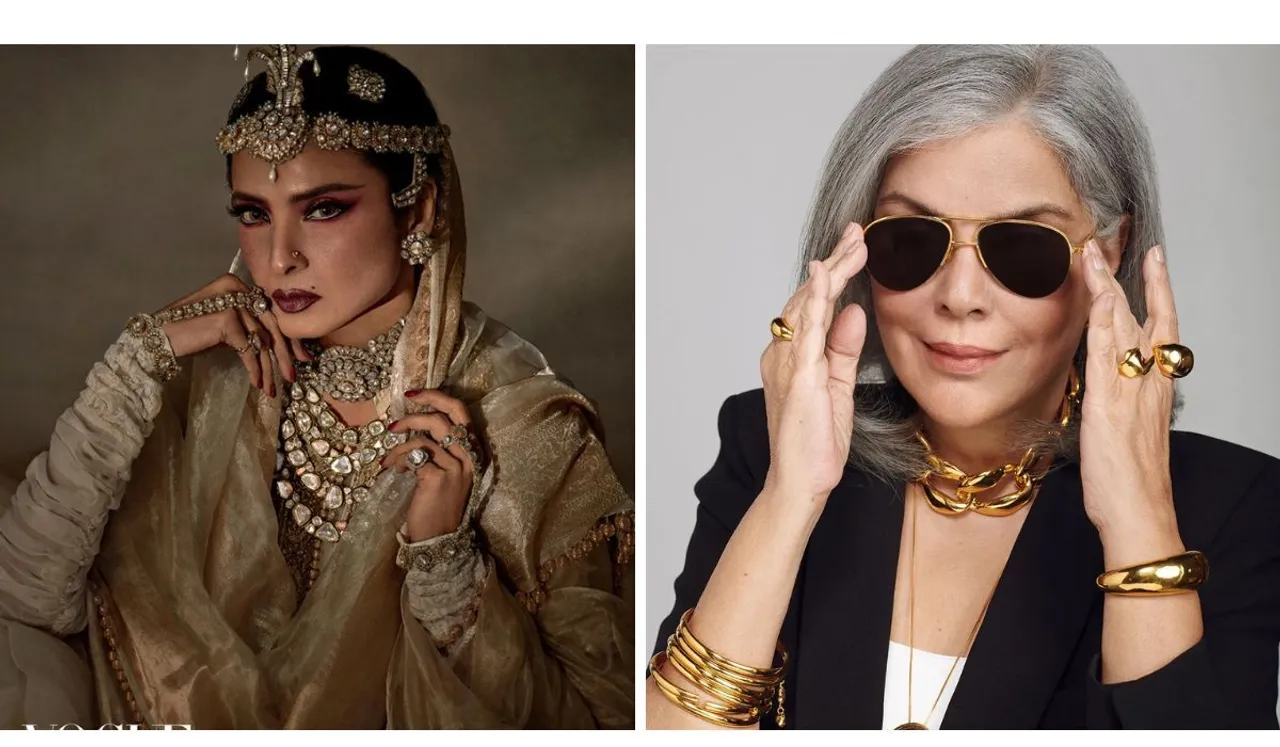 It took me three whole days to pen this piece. Not because I was procrastinating but because I was caught up in the vicious clock of work and home. The work clock would start at nine and then never end; by the time I would sit to write anything, I would go blank, having drained on all the factors, mentally and physically. Things never looked so bleak as much as they did this past week; sitting across the blank space of my keyboard, I thought, will this ever get easy?
Every time Zeenat Aman posts something on Instagram, I get an alert. I don't want to miss anything about her, her rare perspectives, her glam lookbacks, not even her 'sunny afternoon' ruminations. However, surprisingly I was late to Zeenat Aman on Vogue India party, probably lost in the frantic game of chase. 
How These 70s Women Are Reigning Today
In a diary-style entry for the magazine, Aman wrote about her career, her so-called 'comeback' with Instagram and how content she has been all these years. 
"My life is not defined by a few bad days that transpired many decades ago, and I need neither sympathy nor defence. I am content in myself," she writes, detailing her routine that consists of spending time with family, pottering, fussing over her dog Lily, and watching Netflix. 
I did not realise how much my generation needed this silver-lined wisdom until that Vogue cover dropped. 
Once called a 70s sex symbol, Aman has always pushed the boundaries of female sexuality onscreen, right from her path-breaking style to unconventional role choices, she was an icon then, and she's the same rebel today. 
She need not use the social networking platform for likes or any comeback roles; she is above all that. The pepper-haired 71-year-old resists the transience of trends and calls the shots on memories and wisdom. She admits that Instagram is liberating, offering her the freedom to express herself, to publicly speak her own truths. "As a leading actor in the '70s, I was always a subject of conversation, but almost never on my own terms. The gossip and perceptions could be suffocating, and there was rarely recourse to set the record straight," she writes. 
As she journeys to elevate her online profile beyond a certain persona, I am thrilled to witness her nonchalant way of living, almost striving to achieve a similar calm.  
Inspiring me in a similar fashion is Rekha, who does not and cannot be boxed into a singular category; refusing to dim her spirits, the veteran recently broke the internet after featuring on the Vogue Arabia cover. She sat down for a rare tete-a-tete, and Rekha appeared in a series of outfits designed by the Hindi film industry's go-to designer Manish Malhotra. Each picture exuded opulence and royalty, solidifying her status as a true fashion icon. However, the most refreshing part was the way she spoke about her life, about her relationship with her mother, and why hasn't she signed any new film yet.
"I choose where I want to be and where I don't want to be. I am so blessed to have earned the right to choose what I love. And to have the luxury to simply say no," she says, breaking every mould and showing how capable women can be if given a chance to command their own destiny.
In her time, Rekha was subject to extreme scrutiny when it came to her love life. During the interview, when the veteran actor was asked, 'When you love someone or something so deeply, does the love disappear?' 

She summed up the question in a single line, highlighting her love for her craft and her willingness to learn more each day, "No. Once the relationship is established, it is forever. Sometimes we may want more, and sometimes it's just enough." Rekha deserves to be celebrated in every way. And perhaps this is what I needed to get out of my writing rut - be willing to learn every day, and hope for a better, easier tomorrow.
Views expressed by the author are their own  
---
Suggested Reading: 'Right To Choose A Blessing' Rekha's Vogue Cover Breaks Internet