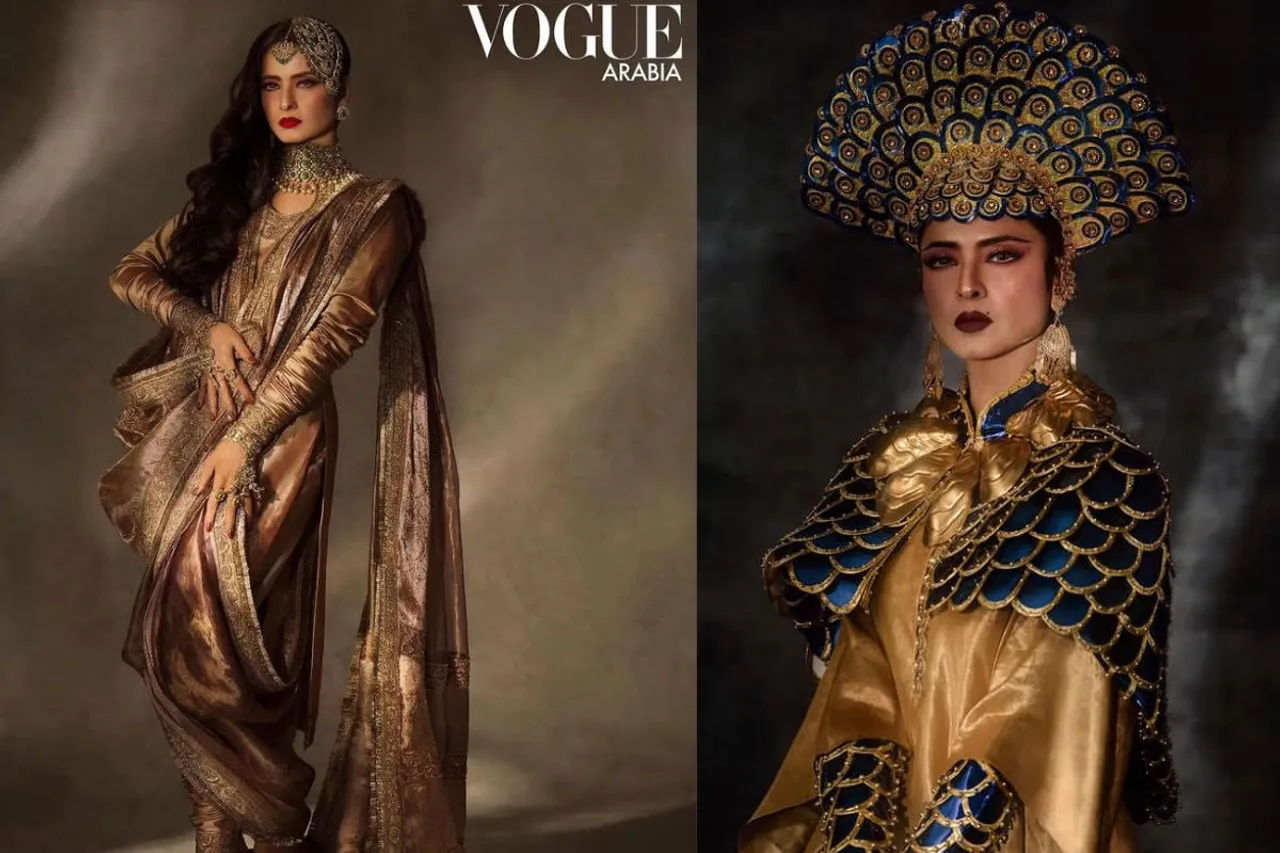 Renowned Bollywood veteran Rekha has once again captured the attention of the internet with her recent photoshoot for Vogue Arabia. In her exclusive feature as the cover star, the iconic actor opened up about her decision not to take on any projects since 2014. Additionally, she delved into the profound question of whether love ever truly disappears if it is deeply felt.
Rekha's majestic portraits from the recently unveiled photoshoot on July 3 caused a significant stir on the internet for various reasons. Firstly, it marked her return to interviews after a span of over two decades, generating considerable excitement. Additionally, the extravagant elegance radiating from her regal outfits, created in collaboration with renowned fashion designer Manish Malhotra, has captivated online audiences and sparked a wave of fascination and obsession.
She mentioned how Manish Malhotra went to great lengths to translate her vision into clothing. She expressed her gratitude towards him, mentioning that he devoted himself wholeheartedly to their collaboration, working tirelessly like a wise and patient priest. Rekha commended him as the perfect executor of her dreams.
Rekha On Vogue Arabia Cover 
Regarding her work, she expressed that her passion for it remains with her regardless of whether she actively participates in filmmaking or not. She cherishes her memories, which allow her to relive what she loves. Rekha believes that when the appropriate time comes, the right project will naturally come her way. She emphasised that her personal life belongs solely to her, but her on-screen persona exists through the perception of others. Consequently, she exercises her choice in deciding where she wants to be and where she does not. She added, "I am so blessed to have earned the right to choose what I love. And to have the luxury to simply say no."
In the same interview, Rekha was asked about the endurance of love when deeply cherished. She responded with a witty remark, stating, "No. Once the relationship is established, it is forever." According to her, the intensity of love may vary, but once established, it remains everlasting. She drew parallels between this perspective on love and her artistic craft, emphasising her innate inclination towards preserving beauty.
Rekha acknowledged her natural talent for acting but attributed her mastery to her unquenchable thirst for knowledge and her ability to approach beauty with a positive mindset. She expressed her continuous sense of being a newcomer in her field and placed trust in those who shared her level of commitment. Rekha concluded, "I trust those who demonstrate commitment as I do."
---
Suggested Reading: 5 New Shows To Watch On Disney+ Hotstar This July
---