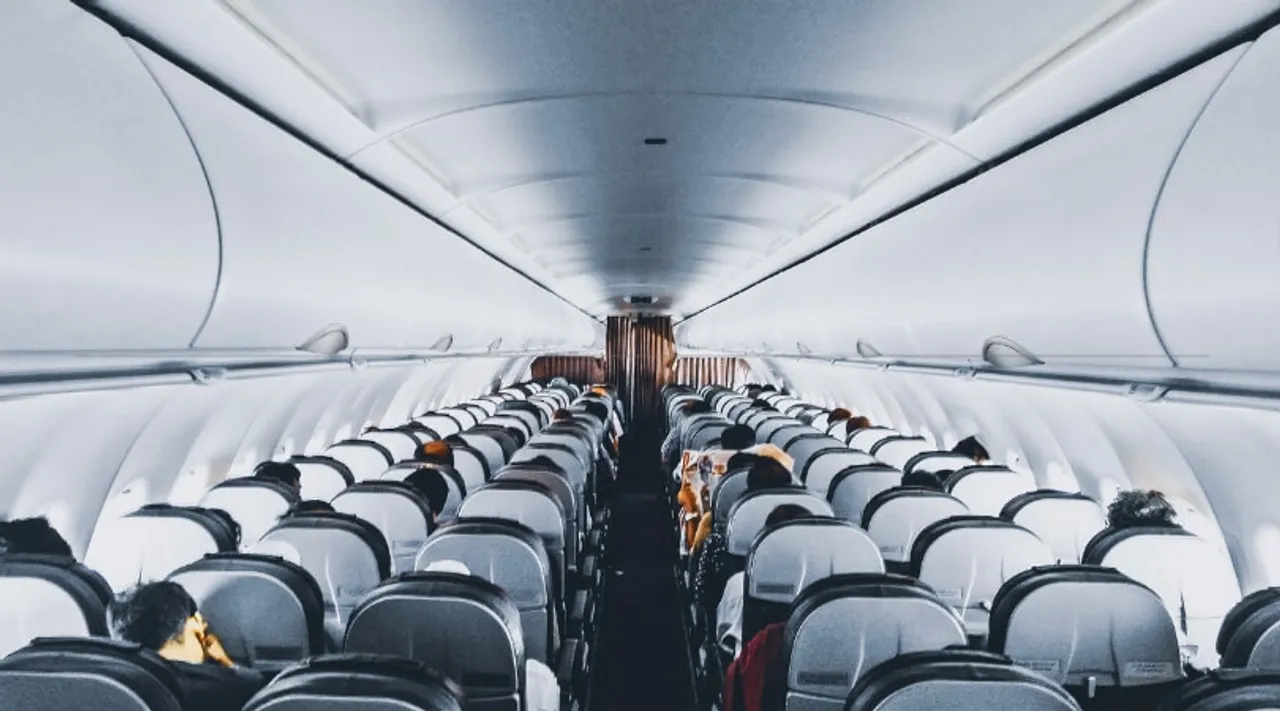 Travelling with kids can be an extremely challenging task, especially on long trips where little ones get exhausted, fussy, and begin throwing tantrums, which are hard to pacify. Along with the heavy baggage, managing fussy kids can be a tricky and exhausting task for parents. But can that justify a parent shredding their responsibility towards their children?
A TikTok user named Kristine Sostar McLellan, who was on the same flight, shared the story of a father who deliberately sidelined his fatherly responsibilities and chose to sit away from his wife and three children during the journey.
Dad Sits Away From Family To Enjoy "Kid-Free Flight"
Explaining the incident, McLellan shared that she was seated beside the mother, who had an infant in her arms, and another toddler seated beside her. Since the mother was struggling to deal with her kids while shoving the carry-on luggage in the overhead storage section, McLellan decided to swap seats with the woman's partner, who was seated a "few rows up."
However, to her surprise, the man simply said, "Great, Thanks." Further, he sent another young child to his partner, who was already taking care of a newborn and a toddler.
McLellan said in the video that, according to her, "the irresponsible father" wanted to "enjoy a kid-free flight." She was at a loss for words at the father's response. She later shared the same on her Instagram handle as well.
Netizens were left fuming at the father's insensitive action and slammed his behaviour in the comment section. A user who worked as a flight attendant said that she sees this all the time in her profession. Rarely do fathers take care of at least one child. Another user expressed fuming rage over the issue. A third user wrote that this was a perfect example of when a woman is a "married single mother."
Sadly, This Is A Common Occurrence
This is surely not a first-of-its-kind incident. Most of us might have come across instances where the mother is struggling with her children while the father, who shamelessly shreds his responsibilities, is carefree and relaxed.
This reminds me of a recent incident that I came across. I walked into a restaurant where I saw a couple dining with their two children—a toddler and an infant. While the father was swiping through social media on his phone with one hand and eating with the other, the mother was struggling to hold her infant in one hand, feed her fussy toddler, and grab a few bites of food for herself with the other hand.
As a single mother, I've been in this situation several times, but being married and having an insensitive spouse sitting right in front of you and acting indifferently while you are struggling is another level of trauma! I was fuming with rage and wanted to call out the father, but I knew I'd only be making a fool out of myself because no one would bother to back me up.
Parenting Is An "EQUAL" Responsibility Of Both Mom And Dad
Despite several discussions doing the rounds with the aim of promoting equal parenting, taking care of the children is perceived to be solely the mother's responsibility. While most men boast about having children (because it is living proof of their masculinity), want their children to carry their surname, and respect them for providing for them, only a handful of fathers understand what being a "dad" really is.
If a man is not ready to "emotionally and physically" invest himself in raising a child, why is he even having one? Why do men even today seem to think that financially providing for the family makes them a good father? How can a man be so insensitive to the struggles of his partner, who is the mother of his children? This is exactly why many women are forced to put an end to their careers, dreams, and individuality after marriage and motherhood. How long is society going to entrust parenting responsibility solely to the mother and let the father off the hook? 
---
Suggested Reading: Here's How Dads Can Be More Involved And Hands-On Parents