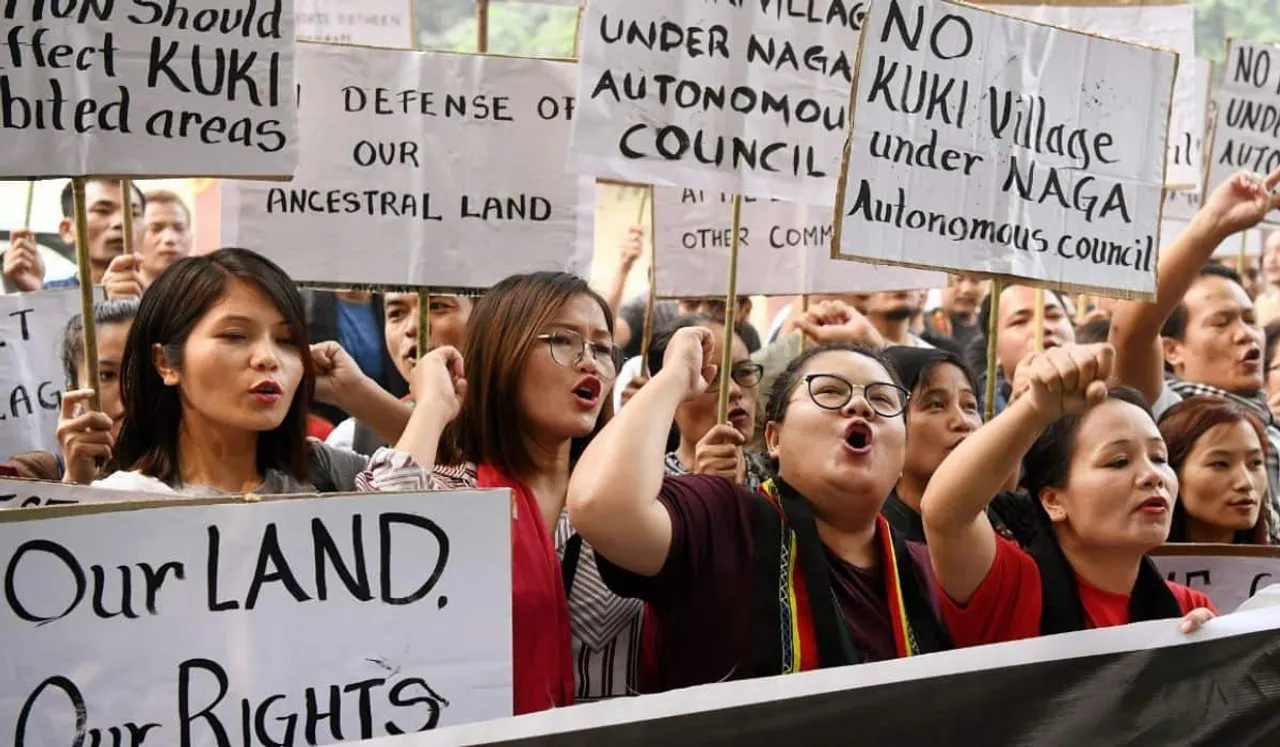 Two recent instances of
 

vicious sexual violence

 

against ethnic minority women in the Indian state of Manipur involving gang rape and murder have highlighted the problems of impunity and weak laws dealing with violence against women in India.

Video footage emerged on July 20 depicting an incident on May 4 where two Kuki women were stripped naked and forced to parade in front of a group of men from the dominant Meitei tribe. The footage went viral on social media prompting a strong response from the prime minister, Narendra Modi.
Indian Women's Struggle Against Violence 
Referring to the women as the "daughters of Manipur", Modi said that what happened can "never be forgiven". He added that the incident had "shamed India" – and that the guilty would be punished. Manipur's chief minister, N. Biren Singh, echoing this focus on punishment, said strict action would be taken against the perpetrators including the possibility of capital punishment.
Meanwhile, reports of another complaint lodged with state police concern the alleged abduction, rape and murder of two Kuki-Zomi women. The complaint says that the women were taken from the car wash where they worked and "brutally murdered" in their rented accommodation on May 5 "after being raped and gruesomely tortured by some unknown persons", believed to be "about 100-200" in number.
The incidents were part of long-running communal tensions in India's northeastern state of Manipur over land ownership between the mostly Hindu Meitei majority ethnic group and the mainly Christian Kuki hill tribes. There has been escalating violence in recent months as the state government has forced the eviction of Kuki villagers from their homes. Kuki villages have been burned down and churches have been demolished.
When members of the Kuki and Naga tribes (the two largest minority peoples) protested against their treatment on May 3, it sparked an orgy of violence, since which more than 140 people have died. More than 60,000 people have lost their homes in the conflict and are living in relief camps.
Local state machinery seems incapable of ensuring the maintenance of law and order. For two months, opposition parties in parliament have been calling for the central government to intervene, but it wasn't until reports of the video footage of the sexual violence emerged that there has been any significant government reaction.
Identity-based sexual violence
Within India, rape as a weapon to inflict harm upon minority communities has a tragically long history – often with distinct caste, ethnic, or religious motivations. During the partition of India in the late 1940s, 75,000 women were raped and many were also mutilated in the accompanying sectarian violence.
During Bangladesh's war of independence in the 1970s, Pakistan's army raped a reported 200,000 women, often with the deliberate intention of impregnating Bangladeshi women with Pakistani blood. Meanwhile, riots in the state of Gujarat, along India's west coast, in the early 2000s were also marked by mass rapes, murders, and the extreme mutilation of women's bodies.
With women being too afraid to speak out, or being too afraid to approach state agencies such as the police – who often comprise officers recruited from the same community as alleged perpetrators – much of this sexual violence was never adequately investigated. Since the 1990s, with a greater awareness that sexual violence was being perpetrated, and conscious efforts to distance victims from culturally constructed notions of "honour", efforts have been made to support women through a judicial process.
But these efforts have met with limited success, and impunity for sexual violence in conflicts continues to be all too common.
Shame and stigma continues to discourage women from talking openly about sexual violence while intimidation and the barriers to access the justice system remain a disincentive for complainants. Only where there's a clear political motive for politicians to get involved, have there been moments of success in recognising and responding to sexual violence against women.
Efforts to overcome impunity
In the 1990s, women's organisations united in their demands for better safety for women. This followed the caste-motivated rape of Bhanwari Devi. Devi was a social worker who prevented a child marriage but was allegedly gang-raped by men from the upper-caste community who had arranged the wedding – apparently to both punish her and deter other social workers from interfering in what they saw as their cultural rights. The public response was significant and successfully pressured the then government to introduce guidelines surrounding sexual harassment at work.
But nobody was convicted of the rape. The court's reasons for not finding the accused guilty included the idea that higher-caste men cannot rape lower-caste women – and neither could men in positions of power or elderly men.
In 2002, during the Gujarat riots 20,000 homes were destroyed, and around 150,000 people were displaced, with the majority being local Muslims. Between 800 and 2,000 people, mainly Muslims, were killed and there was widespread sexual violence and the mutilation of women's bodies, again with people's identity, in this case their religion, as the motive. Only one woman withstood social pressure and testified against her attackers. The accused were convicted and sentenced to 20 years in prison but served less than ten after the state government enabled their early release.
In 2019, in another caste-motivated attack, a lower-caste Dalit woman was gang-raped, assaulted and paraded naked in Rajasthan's Alwar district. The complainant and her husband were verbally assaulted by the police when trying to report the case. But once the news broke, politicians lined up to show sympathy with the survivor – presumably to secure lower-caste votes in the state.
The accused were tried in a fast-track court, found guilty the following year, and sentenced to life in prison – where they remain. It shows that fast and effective state responses can be achieved, particularly when there is political pressure.
But sexual violence against women has been minimised for too long – and responses all-too-often remain inadequate. Governments must make more effort to guarantee justice and eradicate victim-blaming within the judicial system in rape cases. Prosecutions in the two most recent cases in Manipur would be a start.
---
Suggested Reading: Will Australia Receive Red Card For Gender Equity At Women's World Cup 2023?
---
Severyna Magill is a Senior Lecturer in Law and Human Rights, Sheffield Hallam University, published the article first in The Conversation.