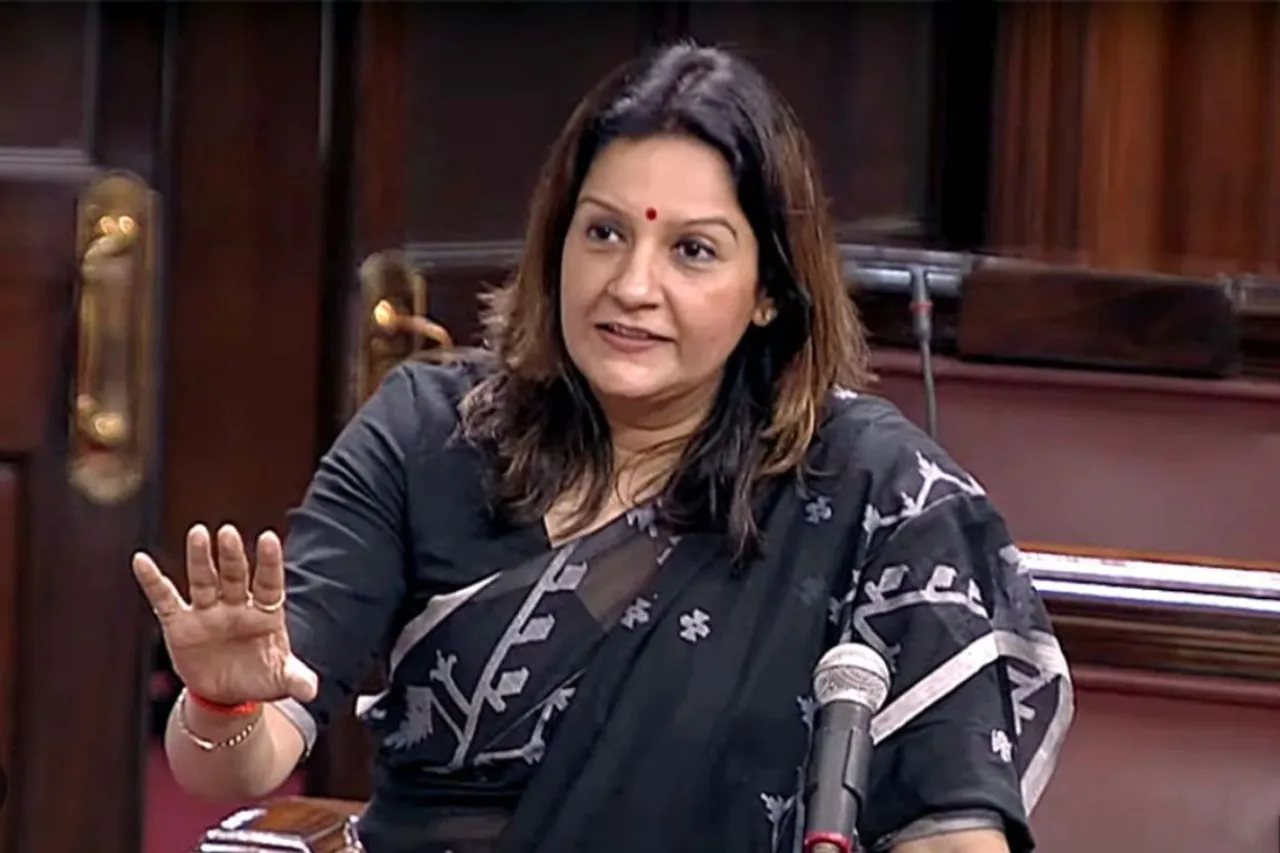 "She got that far because she is pretty," an easy statement often made to discredit a woman's hard work. Recently, a Shiv Sena MLA Sanjay Shirsat reportedly made a statement undermining Rajya Sabha member Priyanka Chaturvedi. He claimed Aaditya Thackeray sent Priyanka Chaturvedi to Rajya Sabha for her beauty. Shirsat invalidated Chaturvedi's struggles and the hard work she put into establishing a position in the country's politics. Discrediting Chaturvedi's professional accolades and using her name to take a jibe at the opposition was a new low.
How outrageous it is for a man of such stature to pass such misogynistic remarks? If the decision-makers of the country have such a prejudiced mindset, what can we expect from other workplaces like corporates, where women are already targets of sexist and misogynistic prejudices? Women often encounter scepticism about their capabilities, qualifications, and leadership skills, leading to a hostile environment, and the latest statement made on one of India's most looked-up to female politicians is yet another hurdle.
Shiv Sena MLA's Misogynist Take On Priyanka Chaturvedi
In India, there is a narrative that if a woman is in politics, she might have some jack with the higher authorities. Most people are unable to digest that women in politics are progressing owing to their sheer hard work and the mettle they bring to the table. Beauty overpowers talent here because some men think it is a means of faster success, and that they are at a disadvantage to women here. If a system is unable to put down a woman, they to assassinating her personal traits. Do we say the men in Lok Sabha and Rajya Sabha are elected for their beauty? No, right? It is hard to fathom that men can't see beyond women's bodies and even objectify their success. Women may fear for their safety and face greater risks when entering the male-dominated field, which can dissuade them from participating in politics. Women have been actively participating in politics at various levels, yet continue to be underrepresented in political leadership positions. 
Unfortunately, the number of women in politics is still low. As of 2021, women held about 14% of the total seats in the Lok Sabha, with Rajya Sabha having 12-13% women. Rajya Sabha brought the number of women MPs to 25 of the total 245, including 78 women in the 17th Lok Sabha, bringing the tally of women in parliament to 103, as per a report. It is a new record, but low compared to men. So, when such misogynist and sexist remarks are passed, it only discourages women from entering politics. Criticising women for how they carry themselves, what they choose, and their appearance, and undervaluing their hard work by calling their progress a favour by higher authority makes it difficult for women to break norms in male-dominated fields. It makes them question their choices and absolutely no reservations make sense if a woman's self-respect is assassinated publicly. 
This is not the first time politicians have used women to get back at the opposition and humiliate women for their being. Former Uttar Pradesh Chief Minister Mayawati was called ugly by UP tourism minister Om Prakash Singh. He appreciated people for being brave enough to bear with a woman with the face of Mayawati for five years. What will we call this? Well, another sexist remark from a prominent politician was to get a few votes and come into power. Sanjay Shirsat probably did the same just to undermine his opposition Uddhav Thackeray-led Shiv Sena (UTSS). The question is, should one go to any lengths? 
What's even disturbing is that Shirsat reportedly took former MP Chandrakant Khaire's name as a source of this misogynist piece of information. The fact that a name like Chaturvedi's could be used in this political mudslinger causes concern. It raises the question that if not given for the constitution would women have got reservations or a system to have a seat at the table? 
According to the past decade's political scenario in the country, women's representation in the space as leaders, party workers, and voters has not just increased but also changed the way we viewed politics. While women have evolved into integral voters in the past few years, to use their names for personal gain is a shame, whether it's women in politics, or women being made the subject of politics. 
---
Suggested Reading: Will Australia Receive Red Card For Gender Equity At Women's World Cup 2023?