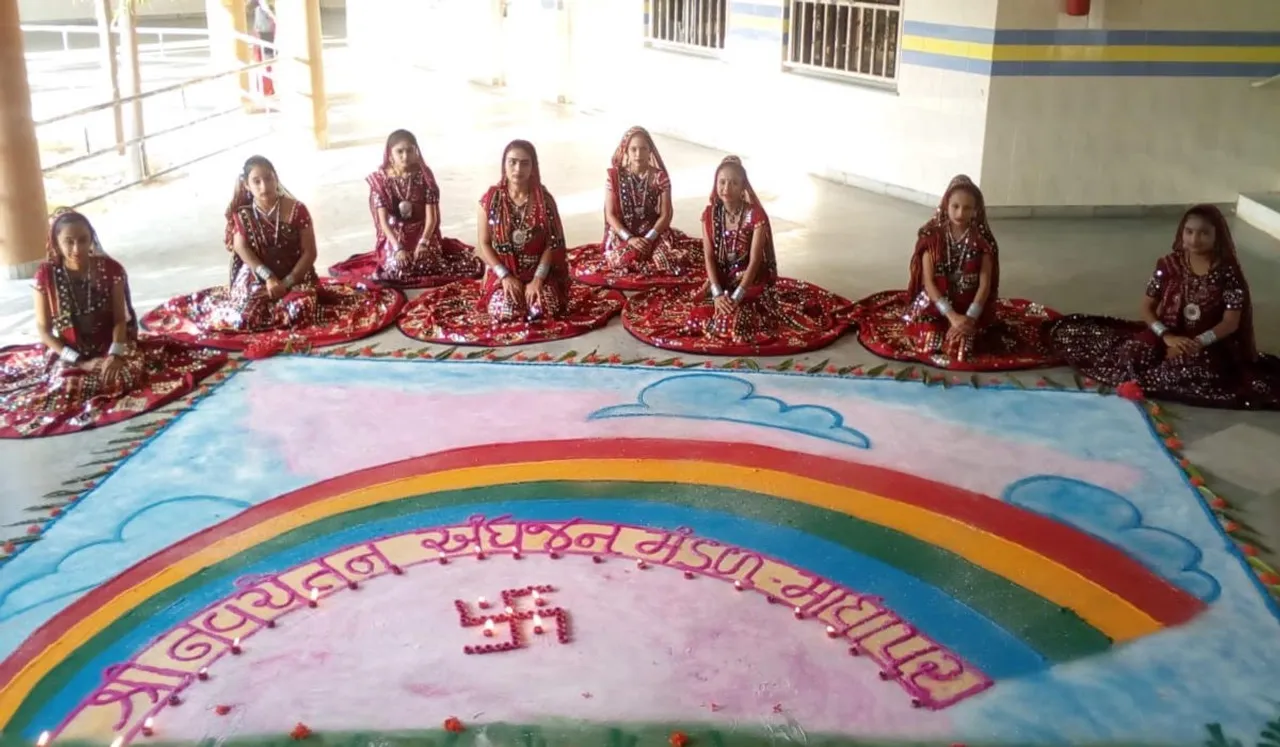 Inclusive education is enabling thousands of girls with various disabilities to study in regular schools and even get a whole lot of government benefits including financial assistance under the Samagrah Siksha Abhiyan (SSA) in Gujarat.
In 2023-24 as many as 26,200 girls with disabilities have enrolled under the Inclusive Education Scheme SSA in government schools and government-aided schools in Gujarat. In fact, Gujarat is one of the leading states which has been implementing Inclusive Education to ensure all children get inclusive and equitable education which is also their right as per the Right to Education Act.
Why Inclusive Education Matters In India
To enable schools across the state to provide proper education to Children with Special Needs (CwSN), Gujarat has planned to ensure that there is at least one school in each of the 3200 clusters, which the education department has marked out in the state. All these 3200 clusters will have at least one Inclusive School with Resource Room (In-SRR). 
These are regular schools where CwSN who are studying can avail of special education of about 3-5 hours in a week extra to help them to cope with their studies through special educators with proper aids and equipment needed for them to be able to study properly.  
Currently, Gujarat has been able to provide such In-SRRs in 2400 of the 3200 clusters which consists of around 10-12 schools in an area. Speaking about this initiative, Dr Vinod Rao, Secretary, Education (Primary and Secondary Education) said, "We are developing 3200 Schools @ one School per Cluster as Inclusive School. We will ensure qualified manpower, infrastructure and equipment to assist CwSN in learning." He said they will be able to complete all the 3200 clusters in three to five years' time. 
The Education Department also informed that currently, 20,900 of the 39,045 government schools and government-aided schools have an enrolment of CwSN in which the Inclusive Education Scheme is being implemented, which is around 53.5 percent of all government schools.
A total of 79,320 CwSN were enrolled in primary schools in Gujarat in 2019-20 of which 66,971 were enrolled in government schools or government-aided schools. Out of the 66,971 CwSN, 28,202 were girls with disabilities, which comes to 42 percent of girls enrolled in primary schools. 
But the number of CwSN enrolling in secondary and higher secondary schools drops drastically to 10,580 in government and government-aided schools in 2019-20 of which 3988 were girls with disabilities, which is 37.69 percent of the total enrolment in Gujarat. 
Table of enrolment of girls and boys with disabilities in government and government-aided schools in Gujarat in 2019-20 
| | | | |
| --- | --- | --- | --- |
|   | Boys | Girls | Total |
| Primary Schools | 38769 | 28202 | 66971 |
| Secondary schools | 6592 | 3988 | 10580 |
Source: Annual Report 2020-21of Samagra Shiksha
Overcoming ignorance 
Explaining the high dropout rate of girls, especially in secondary and higher secondary schools, Hitendra Joshi, an officer in Samagra Shiksha working in Inclusive Education said, "The major reason for lesser enrolment of girls with disabilities in the primary section is migration, lack of cultural understanding of the importance of education and also parent's own ignorance. But still, since all villages have schools till primary section many girls with disabilities are getting educated till class 8. 
It is at the secondary and higher secondary level that the percentage of girl's enrolment reduces due to the following reasons: - They are often kept home to take care of their younger siblings, also not all villages have secondary and higher secondary schools so if the distance from their homes to the secondary schools is more, girls are not enrolled. Migration of parents for work is also an issue in tribal districts."
The Primary Education Department is also in the process of recruiting 3000 special educators through regular appointments for which the posts were advertised and examinations conducted. Director, of Primary Education Dr M I Joshi, said, "As per the Supreme Court guidelines we have to appoint one special educator for 10 CwSN in the primary section from Class I-V, so we are going to appoint one special educator per one cluster of 10-12 schools once the appointment process is completed." This will ensure that there are properly trained teachers for CwSNs and they will be able to get proper education close to their homes. As it is, there are not enough special schools available to cater to all CwSNs anywhere in India so Inclusive Education is both important and necessary.  
There are many non-governmental organisations also who are running inclusive schools in Gujarat with government aid also. Shri Navchetan Andhjan Mandal is operating Inclusive Schools for girls and boys near Bhuj in the Kutch district of Gujarat. The secretary of Shri Navchetan Andhjan Mandal Himanshu Sompura, who is also a special educator explained the benefits of Inclusive Education. He said, "Inclusive Education helps students to get integrated into society, both those who are disabled and those who are not disabled children. They learn to live with each other and mixed education benefits both those children with special needs and those who are not differently abled. Also, it is cost-effective since special schools don't have to be constructed exclusively." Children get integrated into regular schools, preferably with a special resource room which provides all facilities and also has special educators.
We spoke to a parent of a blind girl who was studying in a school which had Inclusive Education. The parent Mohammed Luhar, himself a blind music teacher in another school admitted his daughter Rozina Luhar to Inclusive Primary School for Girls managed by Shri Navchetan Andhjan Mandal in Madhapur in Kutch district. Here the disabled girls are studying as boarders living on campus but the non-disabled children come as day-scholars to the school. There are a total of 110 students studying in the school of which 45 are girls with special needs.   
Mohammed Luhar said, "It is really good for children with disabilities to study in Inclusive Schools since it gives them confidence when they compete with non-disabled students. Also, all the children learn to study and work together, so they are better integrated which hugely benefits them when they finish school." 
Rozina Luhar is 13 years old and is studying in class 8. She has been studying in this residential school since class 3 and has been participating in the football team for the blind in various competitions. She has also participated in other competitions like Braille reading and writing. Recently she competed and won a prize in a poetry recitation competition where she competed with both disabled and non-disabled students. 
Another student with locomotor disabilities, Anjali Rathod is now studying in first-year college after having completed her class 12 from Inclusive Secondary School in Madhapur in Kutch. Her father Abhilash Rathod spoke to us about his daughter's progress in secondary school after she completed her primary school education in a regular school in Kutch district. Anjali got admission to class 9 in this residential school. Abhilash Rathod told us, "My daughter gained a lot of confidence after she transferred to an inclusive school. In primary, she was in a regular school but since there are no other children with disabilities and no special educator or other facilities she didn't have any confidence. Now she has so much confidence in her abilities that she goes to her college, which she has just started, on her own." 
He said, "In an inclusive school, children with special needs also get the benefits of technology which they can avail of as special facilities and equipment are provided in such schools. Also, they can get help from non-disabled children who learn to help the disabled children and both benefit from it."
How inclusive education can elevate sensitivity 
In Gujarat, girls with CwSN who are studying in government schools or government-aided schools are given a stipend of Rs 2000 per month. Apart from this, the Education Department informed that they give students equipment which is required like braille books or wheelchairs or any other special equipment and appliances needed to help the student with his or her education. Also, they get conveyance allowance, reader allowance, escort allowance, stationery allowance and education aids allowance as needed by the students. 
The Executive Secretary of the Blind People's Association (BPA), who has worked there for 44 years after passing out from IIM Ahmedabad, Bhushan Punani is an expert who has been advising different governments and other institutions about successfully imparting education to CwSN. He explained the benefits and importance of Inclusive Education, saying, "Inclusive Education is the only option where there are no special schools available for CwSN. Also, this way, girls can live with their own families in their homes as education is available near their homes and they can be close to their parents and learn skills at home also. Another thing is that in Inclusive Schools both disabled and non-disabled students benefit. Disabled students get help from non-disabled students and disabled students inspire non-disabled students with their efforts when they overcome their disabilities. So overall Inclusive Schools are beneficial and help in better integration of CwSN." 
However, there are still many challenges being faced by the state in this area. One is the low enrolment of girls in secondary and higher secondary schools despite stipends and other allowances and special schools close to their homes. Also, the dropout rate is high in secondary schools. Apart from this, there are challenges in diagnosing various disabilities, especially Special Learning Disabilities like dyslexia and disabilities like sickle cell anaemia, etc. Other challenges are difficulties in obtaining medical certificates for disabilities, gaps in human resources to provide therapeutic and academic support, lack of curriculum adaptation as per CwSN needs and attitudinal barriers among all stakeholders. 
"Society really needs to learn to appreciate and accept CwSN. This is an issue we are still grappling with," said Mr Sompura.
The author is a Laadli Media Fellow. The opinions and views expressed are those of the author. Laadli and UNFPA do not necessarily endorse those views.   
---
Suggested reading: How Gujarat Women Farmers Forge Identity As Economic Contributors