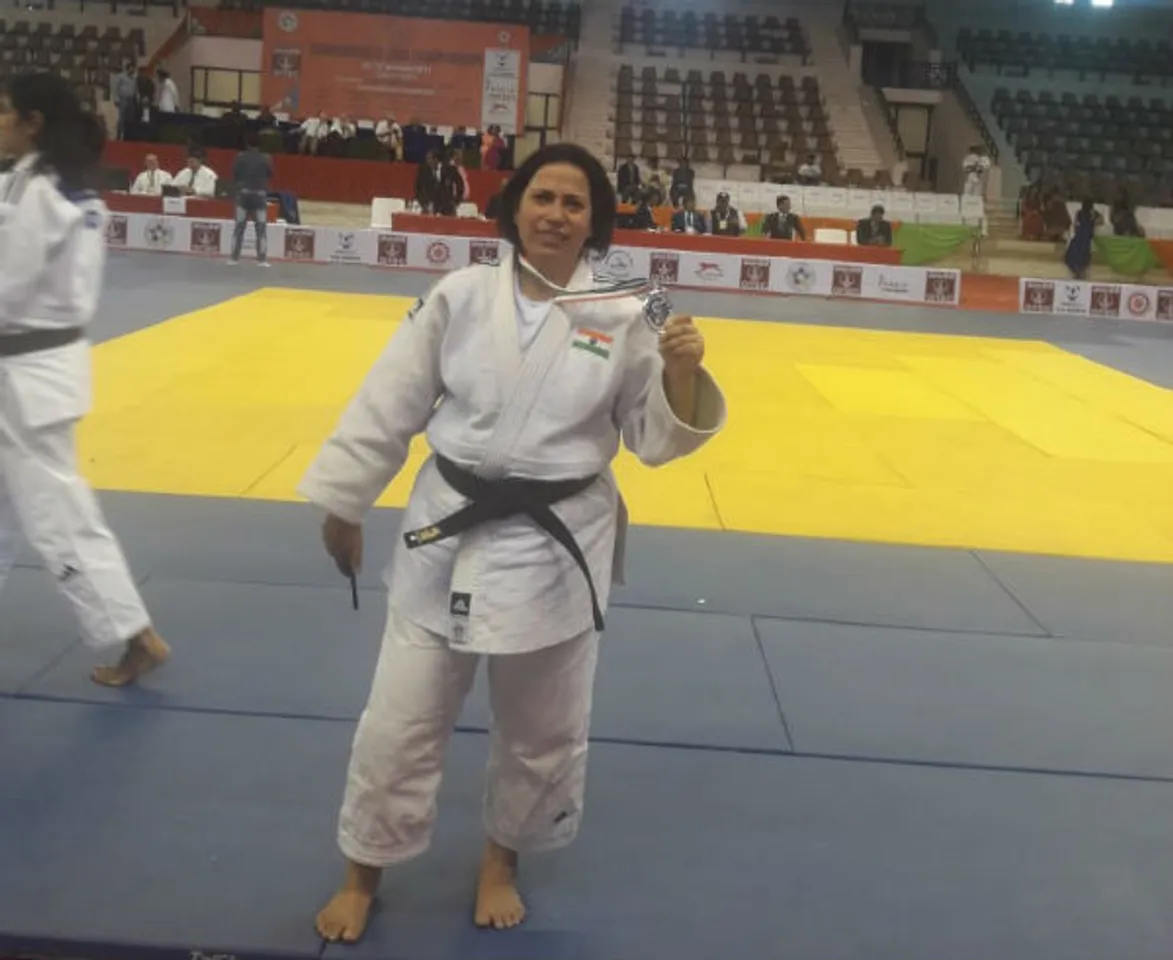 Veteran judoka Arshi Nad dons many hats, including being a Senior coach at J&K's Sports Council (JKSSC). She even won a silver medal in the recently concluded Masters Commonwealth Games, 2018 held in Jaipur. With this win, she created a record of being the first woman from J&K to win the medal.
The eldest in the family, Arshi has been practising Judo for 25 years now. Currently, she works as a Judo coach in J&K, and has the honour of being the first female coach in the state.  The mother of three from Bhilawar aspires to set up an academy for kids to learn and grow in Judo. "This Academy is my dream project, where I can pass on training to the coming generation. An academy where high-end infrastructure is available to bring out the skills of our kids," Arshi claims.
SheThePeople.TV spoke with Arshi Nad to know more about her passion for Judo and the challenges she faced as a women sportsperson from Kashmir. Some edited snippets from the interview.
What inspired you to take up Judo?
At the age of 18, due to an incident, I was motivated to learn self-defence, for which I approached MA Stadium. Here, I met my Coach, Late Virender Singh, who motivated me to join Judo. I fell in love with the sport and later took it up as my career.
When I started Judo, I was unaware that one day I would take it up professionally. Initially, it was just a self-defence mechanism, however, in due course of time it became my passion.
My coach had a strong belief in my capabilities. Due to his constant support and guidance, I was able to participate in State level and National level competitions. I represented my state many times and was able to bag gold, silver and bronze medals at various occasions. I have also participated in National level competitions and bagged a Bronze medal.
Why did you become a coach?
I kept thinking about how vulnerable women are, especially in our state and always wished to contribute towards women's safety. After Judo became my passion, my coach motivated me to join the National Institute of Sports (NIS), Patiala and later I became the first female coach in the state (J&K).
Being a feminist, I took the job as a coach in the state to further empower the girls. I was inspired to do my part,  I advocate every girl should learn a form of martial art for self-defence.
Coming from a traditionally valued society like J&K, how did you overcome the challenging times?
I was lucky to have the support of my parents and my family throughout. My parents have always entrusted their faith in me and gave me the liberty to choose my career. When I shared my decision of joining the sport and later choosing it as my career, they extended their full support. Yes, there was criticism about my choice, being in a joint family where girls were expected to only look after their home and studies, but my parents have always stood beside me, without which I would have not attained this place.
I strongly believe that sports not only provides physical strength to an individual, but also builds up mental strength.
Being a Senior coach of the J&K State Sports Council, share your strategies and insights for the sport.
Our younger generation should be motivated towards sports and its value in building up a strong and healthy society. For this, various programmes need to be started at grassroots levels, which our state is lagging behind due to lack of infrastructural support. Our kids should be motivated to actively take up sports activities besides their formal education at school.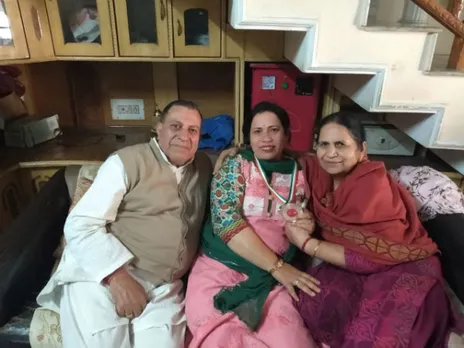 Arshi Nad, Judo player Kashmir
READ: Meet Nadiya Nighat, Kashmir's First Female Football Coach
You became the first woman to clinch silver in Masters Commonwealth Games. What were the biggest challenges that came your way?
Reaching the Masters Commonwealth Games was a dream come true. I didn't face any specific hurdles, and received support from JK sports Council and my family. However, initially I was in dilemma over whether to proceed for the game, since it was to be held on the day of Deepawali. I was a little hesitant to leave the family during the festival. But my husband insisted me to proceed and grab the opportunity.
Now my next step would be winning a Gold medal for the country in the next MCWG which is scheduled to be held in South Africa in 2019.
How do you balance your life, family and profession?
We belong to a society where the responsibility of bringing up kids is completely on the mother. Apart from my sport, I have successfully raised my three kids and try my level best to come up to the expectations of my family.
If you are self motivated, you get the ability to manage any pressure.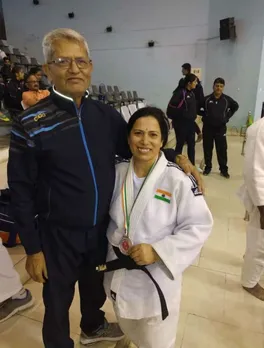 Arshi Nad, Judo player Kashmir
What do you think India lacks in terms of  appreciating all kinds of sports?
India is a country where people are unaware of the scope of sports activities other than cricket. People fail to analyse the strength and interest of their children and look for financial stability. Also, our authorities focus more on sports like cricket and thus interest in other sports gets overlooked. People need to understand the value of a sport and not just the fame associated with it.
My vision is to take Judo at the higher platforms, getting equal attention to other popular games like cricket, football and hockey.
What are the chances for girls from the state to take up the sport? Do they get as much exposure as they deserve?
Improvement has been noticed in women's participation in the game, over the years. Also, I am happy that I have been able to motivate parents of one of my students to opt Judo as a career. She is a Judo Coach in Gujarat now.
Arshi Nad, Judo player Kashmir
How sports, in general, has liberated women in the area? Do women now seek to take up judo professionally?
Women in sports are more liberated than in any other field. Sports provides various opportunities to meet and understand people from various places which further widens the thought process of an individual. Females are considered to be the weaker sex making them dependent on males of the society. Taking up sports as a career, builds physical strength and liberates women from male dependency.
The participation of girl child has increased over time with our efforts and awareness drives. We visited remote areas to motivate people and educated them about the benefits of the sports for their girl child.
READ: Meet Soliha Yousuf, Captain Women's Rugby Team, J&K
Your take on women sportspersons and gender discrimination in our country.
It is a heart-breaking fact that female sportspersons face huge discrimination in our country. Most kids are aware of the names of players of the male Indian Cricket team, whereas the number of people who know the names of the female Indian Cricket team is very low. Talking about Judo, it is a very tough game which requires a high level of physical strength, therefore, very few families allow their girls to opt for the game. Though the female participation in sports has increased over time, but still we need to do a lot to reduce the gender discrimination.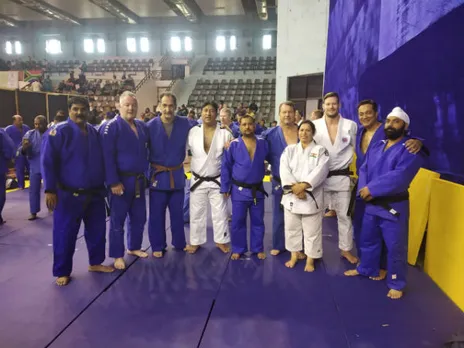 Arshi Nad, Judo player Kashmir
What would be your advice for the girls who aspire sports?
Girls who wish to take up sports should be highly self motivated and have strong determination. They should be ready to face odd situations as well.