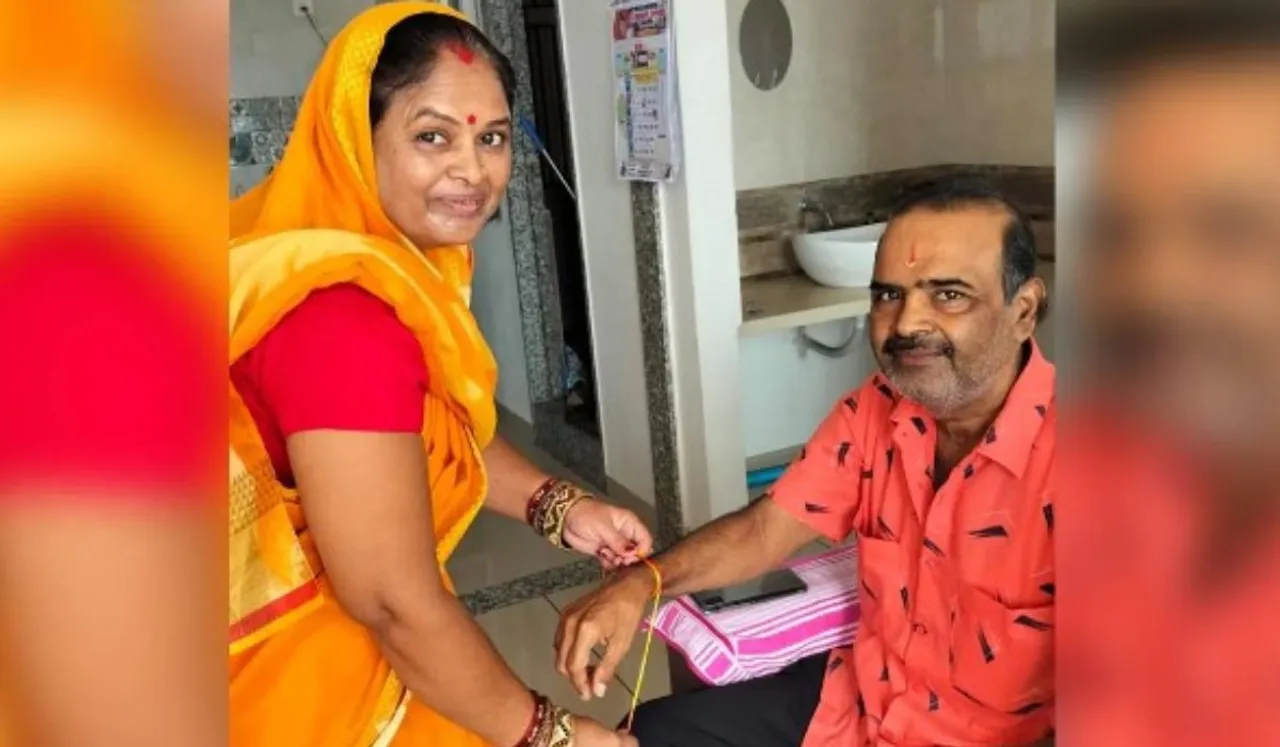 A woman based in Raipur, Chhattisgarh, has decided to donate her kidney to save her brother's life after the latter was diagnosed with a kidney disease last year.
48-year-old Omprakash Dhangar was diagnosed with chronic kidney disease in May 2022. His kidneys had deteriorated, and he was under dialysis. One kidney suffered 80% damage, while the other suffered 90% damage.
Woman Gifts Kidney To Brother On Raksha Bandhan
After extensive research, his family members decided to have him immediately undergo a kidney transplant at a hospital in Gujarat's Nadiad.
When the doctors told the family that they needed a kidney donor, Omprakash Dhangar's elder sister, Sheelabai Pal, who lives in Raipur's Tikrapara, instantly volunteered. She underwent all the necessary tests and was declared a perfect match by the doctors.
The kidney transplant surgery is scheduled to take place on September 3, 2023. The brother-sister duo is currently in Gujarat, undergoing necessary preparations for the surgery.
As per the NDTV report, Sheelabai said that she was doing it because she loves her brother and wishes him to live a long and healthy life. Celebrating the festival of Raksha Bandhan, Sheelabai Pal tied Rakhi to her brother Omprakash, pledging his wellbeing.
Sister Donates Part Of Liver To Save Brother's Life
In similar news, a 21-year-old young woman donated a part of her liver to her 17-year-old brother, who was battling autoimmune liver cirrhosis. By doing so, the sister had bestowed on him a life-saving gift for Raksha Bandhan.
The sister, Nandini Patil, is pursuing her degree in college, while the brother, Rahul Patil, is studying in class 10. Unfortunately, Rahul's health began deteriorating suddenly, and he started experiencing weakness and vomiting blood. Rahul was diagnosed with autoimmune liver cirrhosis by doctors at Medicover Hospital.
He required a liver transplant, and that's when his sister Nandini came forward to donate a part of her liver. She was found to be a perfect match by the doctors. The surgery was performed on June 26, 2023, and the siblings are currently doing well.
According to Times Of India, Nandini expressed her joy in being able to save her brother's life by donating a part of her liver. She considered it a valuable gift for Raksha Bandhan. Rahul, on the other hand, said he was grateful for his sister's kindness and called her his "saviour."
---
Suggested Reading: Choose Healthy Rakhi Gifts For Your Sister